Quick Fix Textile Solution When Transportation Bogs Down
The Temp Trail by Deschamps uses reinforced polyester to create a temporary surface.
By Michelle M. Havich, Associate Editor
D eschamps, France, has recently introduced its Temp Trail to the United States.

Temp Trail is a portable, temporary surface specifically designed to help move high-load vehicles and aircraft when the ground surface conditions would not ordinarily allow it. According to the company, this makes it ideal for moving construction and road building equipment at work sites and as a solution for recovering aircraft and helicopters that have landed on soft ground.
Tough Trail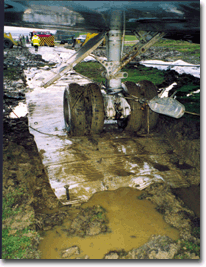 Temp Trail is made from heavy grade reinforced polyester. The material is configured as a special patented open cross-weave matting with a corrugated surface that increases wheel traction. It is available in three grades: light, medium and heavy. The heavy grade Temp Trail is reinforced with composite bars that improve load-bearing capacities and avoid rut formation.

According to the company, Temp Trail resists crushing and tearing because of its flexible and seamless woven structure. The flexibility allows use on most terrain, including sand, marsh, grassland, plowed fields and thick mud. To use, the matting is attached to the ground with ground anchors or steel stakes that fit in stainless steel grommets placed along the edges of the matting.

Temp Trail is rot-proof and resistant to UV rays, petroleum fuel and oil. The Trail is stable in temperatures ranging from -40°F to 176°F, so it can be used in any climate. It also requires little or no maintenance, as it can be cleaned with a high-pressure hose.

The Temp Trail mats are available in standard lengths of 13, 16, 33, 66,82, 164 and 328 feet, and in standard widths of 7- to 14-foot rolls. According to the company, the matting is reusable and can be rolled back up quickly and easily, of removed completely and installed at another location. Also, because of it is lightweight, the Temp Trail can be airlifted by helicopter, easing logistics and speeding emergency vehicles to crash sites.

With an available launching/recovery unit, a 328-foot-long roadway, 14-feet wide, can be installed by two people in as little as a few minutes.

Deschamps is also offering an aircraft recovery kit that consists of rolls of 7- or 10-foot-wide track, which would enable aircraft or recovery teams to build a firm and stable surface for each undercarriage. With all necessary ground anchors and connections strips, the kit can easily be stacked and stored in most standard aircraft cargo containers.

Temp Trail is NATO approved and is in use at several installations including those of Air France Industries; British Airways; Delta Airlines; Charles de Gaulle and Orly Airports, Paris; Stansted Airport, the United Kingdom; Geneva Airport, Switzerland; and Turin Airport, Italy; as well as locations in China.
---
For more information on Temp Trail, contact Gaëlle Stuit at Deschamps, by e-mail — deschamps@deschamps.fr; or contact the French Technology Press Office (FTPO), One East Wacker Dr., Suite 3740, Chicago, IL 60601; Fax: (312) 222-1237.
---
March 2000
Advertisement