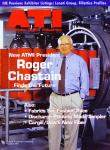 March 2000
On the Cover:
Roger Chastain, president and chief operating officer of Mount Vernon Mills Inc., and incoming president of the American Textile Manufacturers Institute (ATMI), discusses his plans and priorities in a wide-ranging interview. Chastain is shown here at Mount Vernon's La France plant.
Features
The Forecast Is Clear And Bright
Future fabric trends highlight color and refinement.
Billion Dollar Lonati Group Continues Expansion
Italian machinery maker dominates world hosiery markets.
Fillattice Stretches Its Reach Globally
Linel® elastic fiber production has increased steadily to meet growing demand.
The Hosiery Industry Comes To Charlotte
Machine makers and fiber producers promise a lively show.
Unique Fiber Breakthrough
Cargill/Dow joint venture unveils unique family of polymers derived entirely from annually renewable sources such as corn.
Textile News
Guilford Refocuses Operation To Strengthen Market Position
AlliedSignal Changes Name To Honeywell
Brian Parke Named CEO Of Unifi
Teijin DuPont See Customer Support With Integration Of Polyester Film Buisness
Auburn's Textile Program Receives ABET Accreditation
NASA Langley Research Center To License Technology
ATMI's Next President Sets Issue-Based Agenda
World trade and industry image are top priorities for incoming ATMI President Roger Chastain.
Guilford Takes Advantage Of Great Opportunity At Detroit Auto Show
Interface Solutions Purchases Lydall New York Division
Business & Financial
Economic High Note Marks Year's End
Yarn Market
Automotive, Upholstery Markets Boost Texturizers
Quality Fabric Of The Month
Quick Fix Textile Solution When Transportation Bogs Down
The Temp Trail by Deschamps uses reinforced polyester to create a temporary surface.
Fiber World
Woolrich Sponsors Cotter Names Spotts Vice President
NSC-Schumberger To Demonstrate Nonwoven Line
Shell Expands Sales Of Corterra PTT Polymers