Natural Resources
Animal and vegetable fibers for the 21st century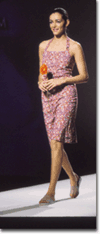 Once upon a time, there was linen, wool, silk and cotton. For millenniums all fabrics were woven and knitted with natural fibers. In the 20th century, with the advent of miracle fibers and their promises of easy wear and easy care, the demand for natural fibers declined dramatically. In l900, cotton apparel and home fabrics accounted for 80 percent of all textile products sold at retail. In 1975, that share hit an all time low of 34 percent. Orders for woolens, linens and silks slid as well.As we enter the 21st century, natural fibers are back in favor, and not to the detriment of synthetics. In a consumer-driven society, the demand is for fabrics that have the look and feel of natural fibers, the performance of synthetics. Today, synthetics are trying to emulate the comfort of natural fibers, and natural fibers are being developed with the easy-care attributes of synthetics.Aside from cotton, which can be found in any price range and in almost any type of fabric, natural fibers connote luxury. Their appeal is to a high-end niche market. With an increasing proclivity to multi-fiber blends and new technologies going into growing, spinning, weaving and finishing, this situation may soon change. Natural fibers are making inroads into new markets.Cotton is up to a 60.1-percent share of the fabric market for apparel and home textiles. Today, there are woolens that can be machine washed and dried as well as crease-resistant linens and easy-care silks. "The Fabrics Of Our Lives"Cottons origins go back thousands of years. Archaeologists have uncovered cotton textiles in Mexico and Peru dating as early as 3500 B.C. Moors introduced the cultivation of cotton into Spain in the ninth century. By the 17th century, the East India Company was bringing cotton fabrics to England from the East.Cotton might be called Americas ancestral fiber. Its cultivation in the Colonies dates back as early as 1556. With the invention of the cotton gin by Eli Whitney in 1793, cotton growth and production soared. By 1800, 17,000 pounds of cotton were exported.The Industrial Revolution in the 18th century gave birth to a modern textile industry in Britain and a demand for cotton grown in America. It was the beginning of mass production.Today, cotton is produced in 75 countries worldwide, with the United States accounting for about 20 percent. Other major growers include Uzbekistan, China, India, Pakistan, Turkey, Australia, Brazil, Mexico, Greece, Sudan and Egypt. USDA figures estimate world consumption in 1999/2000 at 90.2 million bales, the highest level in history.There are 40 varieties of upland cotton grown in this country. Quality is determined by color, cleanness, uniformity, strength and staple length. Long fibers are spun into the finest yarns. Long staple, including fine Pima cotton, has a silky luster and commands a higher price.Another long-staple cotton is Sea Island cotton, which was once grown in coastal areas of the United States, and is now available in limited supply from the Caribbean. Egyptian cotton and Sudanese cotton, grown along the banks of the Nile, are others.Short and medium staple lengths, such as those grown in the Cotton Belt and Texas, are used for denim, corduroy and mass-market knits and wovens. Very short fibers of less than 20 mm are cultivated in India and Pakistan. They are generally used for cushions and padding.Cottons comfort, absorbency, softness, washability and strength are some of the reasons for its popularity. It offers the performance consumers are looking for, and with new wrinkle- and shrink-resistant treatments, it can be machine washed and dried, with no ironing required.Long-staple cotton, with its natural sheen, and lustrous mercerized cotton are current favorites of designers. Cottons absorbency gives it an affinity to color and print, which are again in fashion. The trend to casual lifestyles and outdoor activities is also in cottons favor.Technology has yet to find a replacement for the moisture-loving cotton terry cloth towel which can absorb 65 percent of its weight. At one time, this absorbency made cotton a less desirable product for end uses such as athletic socks. With a layer of a hydrophobic fiber, such as polypropylene, next to the skin and a layer of cotton on the outside, moisture is transported to the cotton, where it is absorbed and evaporated, thus eliminating the feeling of clammy feet.In commenting on end-use areas for cotton, Ira B. Livingston, senior vice president, consumer marketing, Cotton Incorporated, New York City, said that between apparel and home products, apparel accounts for 80 to 85 percent. Cotton has 76 percent market share of mens apparel and about 49 percent of womens apparel.Livingston attributes cottons current success to his organizations strong marketing program. Much of Cotton Incorporateds international marketing budget goes into fashion services. Yarn and mill customers and color and fabric trend presentations forecast what will sell at retail two years ahead. Fabric libraries at New York marketing headquarters; at the Cary, N.C., global headquarters; and at regional offices in Dallas, Los Angeles, Switzerland, Mexico City, Japan, Singapore and Shanghai, act as a selling tool to expose market fabrics to potential customers worldwide and assist manufacturers with sourcing.Cotton Incorporateds research efforts start with initiatives in the field, including improving productivity and reducing costs, and follow through to the finished product. Agriculture research includes ways to increase yield, conservation, and disease and pest control. Textile research goes into fiber processing, fabric development, technical services, dyeing and finishing.Textile chemistry research programs look into new finishing processes that add new characteristics without sacrificing cottons natural comfort. Fabric development and research is handled at Cotton Incorporateds research center in Cary.Current research efforts underway include products which will give UV protection, stretch and recovery, and new ways to provide resistance to wrinkling. A continuing effort is the development and marketing of cotton to the carpet trade. New products for industrial end uses and nonwovens are other areas Livingston mentioned.Global product marketing efforts support exports of both raw cotton and cotton products. Latest estimates from the USDA put U.S. cotton exports at 6.4 million bales for the 1999/2000 marketing year. Mexico is the largest importer of U.S. cotton, with nearly 1.8 million bales. Exports to Turkey are 700 percent ahead of last years figures. Wool For All SeasonsWool is one of the oldest fibers known to man. Fragments of woolen cloth have been uncovered in tombs and ruins of Egypt, Nineveh and Babylon, in the barrows of the early Britons, and among the relics of the Incas and Aztecs.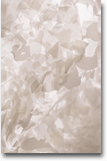 As early as 200 B.C., the Romans began to improve their flocks. These sheep were introduced to Spain, where they became the famous Merino breed. Towards the end of the 18th century, sheep were imported to Australia, which today is the major sheep-producing nation. In the American Colonies, sheep raising began in Jamestown, wool production in New England.Over the past 10 years, wool production has dropped from 1,988,102 tons in 1990 to 1,368,028 tons in 1999. In 1999, raw wool consumption in the U.S. dropped to the lowest point since 1980. Wools world market share is currently about 3.5 percent. Today, the United States and Spain each provide only one percent of total world wool production. The United Kingdom comes in at three percent. Australia, which produces 450 million kilos of Merino wool annually, has a 34-percent market share. New Zealand, the worlds second largest wool producer, has a 13-percent share, followed by China, Uruguay, Argentina and South Africa. With recent developments and programs launched by The Woolmark Company, such as Total Easy Care Wool, Sportwool, Wool plus Lycra® and Optim, it is anticipated that demand for wool will increase substantially.Today in apparel, the demand is for extra-fine wool with a diameter of 13 to 19 microns, referred to as Super 150s, and fine wool, of 19 to 23 microns, Super l00s. Both grades come from Australian and New Zealand Merino breeds. Medium-fine wool of 24 to 30 microns, which is used for sweaters and hard-wearing sportswear, comes from Crossbred and Cheviot sheep. The coarsest grades, over 30 microns, from Romney and Blackface sheep found in the United Kingdom and Argentina, go into carpets.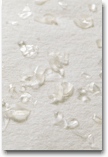 Wool is processed using the woolen spinning system or the worsted spinning system. Shorter fibers are spun woolen to produce soft fuzzy yarn for sweaters, tweeds and carpets. Longer fibers are spun worsted to produce a smoother yarn which is used for mens suitings.Wool is natures performance fiber. Sarah McCann, president and group manager, Americas, The Woolmark Company, said that wool fibers have a natural crimp, which gives it elasticity and an insulating capacity. The fiber is extremely flexible, naturally water repellent and absorbent.One of the most difficult challenges ahead is to overcome the lack of understanding about wool, McCann said. Consumers and the trade alike think of wool as heavy, hot and high maintenance. Our focus is Australian Merino wool, which is fine, light enough to be worn in summer and can be processed so it is machine washable. The Woolmark Company is funded by Australian Merino sheep producers, through the Woolmark licensing program and by sales of its new WMK Design International service. A large portion of its annual budget goes to research and development. Innovative products and concepts have been introduced, and more are in the planning stages.In 1999, Woolmark introduced Total Easy Care Wool, which is machine washable and dryable. Woolmark or Woolblendmark Total Easy Care apparel products are rigorously tested. Only those which meet the strict standards set by Woolmark may be licensed to carry this label.In the United States, Jasco Jersey was the first to meet Woolmarks criteria. Howard Silver, president of Jasco said: After multiple wash/dry cycles our fabrics dont move, and the hand actually improves. Currently there are about 30 spinners selling both woolen and worsted yarns which are licensed to carry Woolmarks Total Easy Care label.Looking at the upsurge in athleticwear, Woolmark has introduced Sportwool, which is based on the science of vapor management. McCann explains that because wool has a natural protein structure, it is able to absorb vapor from the body before it turns to water. Sportwool is a double-knit structure in which 18.5-micron machine washable Merino wool is worn next to the skin, with polyester on the outside. Sportwool fabrics have been adapted by bicyclists, runners and international sports teams.One of the newest technologies is Optim, developed jointly with CSIRO (Commonwealth Science Industry Research Organization). It is super-fine Merino wool of 14 to 15 microns. Taking wools natural crimp, the fiber is stretched and stabilized. Currently there is only one machine producing Optim, so the price is high.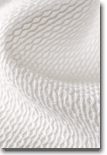 Woolmark has been working with DuPont on two programs, Wool plus Lycra® and WoolandSupriva, in areas of fabric development and marketing. WoolandSupriva will be introduced at retail in the United States this Fall.Woolmark is partnering with other industry fiber producers including programs that blend wool with cotton. Denim and jersey fabrics have been developed in Australia. In the works are partnerships to blend wool with Tencel A100 from Acordis and Dows new fiber processed from corn.One of Woolmarks newest ventures is WMK Design International, London, a design and trend consultant offering a portfolio of services for fabric and apparel companies. A team of textile, fashion and marketing specialists work together with an international network that covers 20 of the worlds markets. Services include color, yarn, fabric and styling trends 18 to 24 months in advance of each season.According to Laurie Iselin, Woolmark: From our outreach of 30 offices, we are into the pulse of what is happening globally. We can identify the newest concepts early. And with over 3,000 Woolmark licensees in 65 countries, we know not only what they are selling, but what they are developing in the way of new yarns and fabrics. Luxury Animal FiberThe ultimate in animal fibers cashmere, vicu44; alpaca, camel hair, angora and mohair are limited in production, high in price and in demand. Aside from cashmere, most often these luxury fibers are blended with wool, silk or man-made fibers.The United States and South Africa are the major producers of mohair, which comes from angora goats. The hill country of southwestern Texas is especially suited to these goats. There are about l.5 million in the United States, raised on 23 million acres. Ninety percent of all U.S. production is exported as raw fiber or top.Kid mohair is the most prized. It is shorn from baby goats up to six months old. Mohair is noted for its extreme warmth, light weight, bulk, luster, excellent wear and ability to take brilliant color. In apparel, its most frequent uses are in sweaters, brushed tweeds and fine mens suitings. In fabrics for the home, mohair velour is popular for its hard-wearing qualities, luster and luxurious touch and appearance. Blankets and throws are popular because they are warm and lightweight.The name cashmere originated in India, where shawls were woven in Kashmir from ultra-soft goat fleece. Today, about 60 percent of all cashmere is produced in China. The goats soft underhair is plucked once a year, during moulting season. It comes in white, grey, camel or brown. Pure white is the most prized color.Most Chinese cashmere is processed in Scotland. Before combing and spinning, the fiber must be de-haired to separate the fine cashmere from the coarse guard hair, resulting in a 40- to 50-percent fiber loss.The worlds finest camel hair also comes from China. The fiber is combed from the animals neck during moulting season. Biella and Prato are two of the major regions of Italy where the fiber is processed. In Biella, super-fine baby camel hair is used for knitwear, and in Prato, heavier weights are woven into coating fabrics.Alpaca, vicu44; llama and guanaco come from the hair of South American camel-like animals. Alpacas history predates Spanish conquests in Peru, where 80 percent of the worlds supply is grown. Vicus the smallest of these animals, and its hair is the most prized. Llama is the largest of the group and has the thickest fleece. The llama and alpaca are domesticated; vicund guanaco are wild. It is estimated that there are about 100,000 vicun Peru and Bolivia. Demand Up For Linen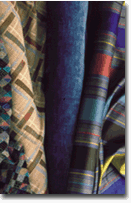 Linen is probably the oldest known textile material, dating well back to the Stone Age. It was widely used by civilized people along the Mediterranean long before the Christian era. Egyptian mummies were wrapped in linen. Newborn babies were wrapped in swaddling clothes woven of linen. Today, linen connotes luxury. Textile producers frequently blend linen with viscose or polyester and refer to the fabric as linen, or linen-look.Linen comes from the flax plant, which is ecologically friendly since all parts of the plant are used. In addition to yarn, which comes from flax stems, linseed oil, cattle cake, soap, coating for fish nets, and paint and varnish are produced from the seeds. The woody waste is used to manufacture chip board. Any dust build-up goes into fuel briquettes. Flax refers to the plant, seed and fiber. Linen applies to products made from flax fiber: yarns, fabrics, bed linens, table linens, etc.Linens market share is 2 percent. Russia is the largest flax-growing country, followed by Western Europe. Flax is harvested from early July until mid-August. The plant is pulled rather than cut to preserve the full length of fibers. Western Europe is recognized as the producer of the finest linen yarns and fabrics. About 20 specialized spinning mills in Northern Ireland, Italy, France, Belgium, Austria and Germany produce about 22,000 tons, valued at 180 million euros. At retail, the major sellers of fabrics containing linen are the United States, the United Kingdom, Italy, Japan, France and Germany.Masters of Linen, a consortium of Western European spinners, knitters and weavers, oversees quality standards, develops and promotes European linen. The Irish Linen Guild, a member of this consortium, monitors linen products made in Ireland. Both organizations give seals of quality to licensees who meet their standards.According to Pauline Delli Carpini, Masters of Linen USA: The demand for linen yarns and fabrics is up. Now our aim is to be able to sustain that growth.Delli Carpini attributes the renewed popularity of linen to the characteristics of the fiber and new fabrics and techniques employed by weavers. Linen yarns are strong and lint-free. Linen fabrics are highly absorbent, comfortable and versatile.From the finest, soft linen handkerchief or ultra-sheer blouse to gutsy canvas, linen can be knitted or woven into a variety of fabrics. Roughly 60 percent of linen production goes into apparel fabrics, 35 percent into fabrics for house and home, and 5 percent into industrial fabrics.Two reasons linen fell from grace 30 years ago are its identity with summer apparel and its affinity to wrinkling. Spinners, weavers and knitters today are coming out with new yarns, treatments and finishes to give linen a soft touch and make it a fabric for all seasons, Delli Carpini said.Linen blends are turning up more frequently. Lycra gives linen an added performance quality. Linen/wool blends have multi-season appeal for apparel. Sensuous SilkSilk has a history dating back to 3000 B.C. in China. Before the sixth century A.D., silkworm eggs were, by law, forbidden to be taken from China, under punishment of death. From Peking, following the Great Wall of China and ending in Persia, a distance of about 6,400 kilometers, caravans carried silk along the famous Silk Road to Western markets.In 550 A.D., silkworm eggs and mulberry seeds were smuggled to Constantinople. Thus began sericulture outside China. Byzantium became famous for silk textiles, used throughout Europe for royal and ecclesiastical clothing and furnishings.Attempts were made to establish sericulture in the American colonies. Benjamin Franklin tried to foster a silk industry in Pennsylvania prior to the Revolution. The high cost of labor was the major deterrent.According to Philippa Watkins, research fellow and lecturer at the Royal College of Art, London, silk accounts for less than 1 percent of the world fiber market, but its importance in value terms is several times greater. Exports of silk goods from China have exceeded $3 billion in recent years more than 10 percent of the entire Chinese textile and clothing export total, she said.Most of the worlds cultivated silk comes from the Bombyx mori moth, which consumes leaves of the mulberry tree. Other silk-producing moths are only partially cultivated. They produce what is commonly referred to as wild silk. One of these, the Tussah silkworm, is found in India. It eats oak leaves and produces a coarser fiber which is woven into shantung and pongee fabrics.World production and consumption of silk has fallen rapidly over the past decade. Watkins attributes this to both supply and demand. In 1982, when sandwashed silks, characterized by their soft peachskin touch, were first introduced, silk was at its peak in popularity. Then the technique was perfected for volume production in Hong Kong and China. Sandwashed silk became synonymous with cheap silk, and silk lost its appeal as a fashion fiber.Silk production has been falling as well. According to Watkins, the main reason is a decline in Chinese cocoon and silk fiber production. Chinas industrial expansion has taken its toll on sericulture, which is labor intensive and poorly paid.Italy, the major producer of silk fabrics in the Western world, has seen a drop in its output. Today most of the silk woven, printed and finished in Italy goes into scarves and ties. There is still a large export market, with the United States as the largest market for both Chinese and Italian silk goods.


June 2000
Advertisement