Interest Rates, Oil Prices Affect U.S. Economy
By Dr. Constantine G. Soras, Economics Editor
Energy Prices Continue To Decrease; Producer Price Index Remains Steady
The most recent economic reports show that the combination of higher interest rates and still rising oil prices are beginning to take a toll on the U.S. economy. In the past, this combination was a precondition for a recession.

The unemployment rate rose in May to 4.1 percent from 3.9 percent, matching the first quarter rate which was the lowest since the fourth quarter of 1969.

Non-farm payrolls grew by 231,000 jobs in May due to the hiring of 357,000 temporary workers to assist with the Census 2000. This means that the private sector of the U.S. economy lost 116,000 non-farm jobs, following April's surge of 414,000.

Construction payrolls declined for the second month in a row, falling by 29,000 in May. Manufacturing employment fell by 17,000 jobs in May after adding 10,000 jobs in April.

The Producer Price Index for finished goods was unchanged in May after dropping 0.3 percent in April. The index for finished goods excluding food and energy prices rose 0.2 percent in May and was up just 0.1 percent in the previous two months. Energy prices came down for the second month in a row after skyrocketing in February and March.

Consumer prices edged up 0.1 percent in May, after staying flat in April. The core inflation rate, which excludes the volatile food and energy prices, was up 0.2 percent, matching April's rise.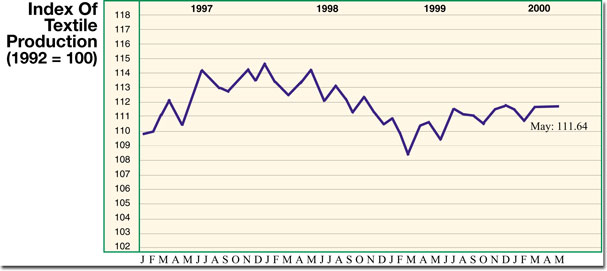 Warm Weather Boosts Utility Output; Trade Deficit Lowered
Industrial production rose 0.4 percent in May following strong gains of 0.7 percent in April and March. Warm weather boosted output of utilities by 1.4 percent in May after rising 2.6 percent in April. Factory output grew 0.7 percent in May on top of sharp gains of 1.1 percent in April and 1.5 percent in March.

Meanwhile, the operating rate held steady at 82.1 percent for the second month in a row. The utilization rate for factories was 81.2 percent in May, slightly down from 81.3 percent in April.

Housing starts fell 3.9 percent in May, to an annual rate of 1.592 million units. The weakness was in single-family units, which declined 5.4 percent to 1.250 million from 1.321 million in April. Multi-family starts rose 2.1 percent in May to 0.342 million units.

The U.S. trade deficit of $30.44 billion in April came down from a record $30.61 billion in March, reflecting the strong pace of economic activity. Exports were virtually unchanged at $86.70 billion, while imports eased 0.2 percent to $117.14 billion.

Business inventories grew 0.4 percent in April, while business sales declined 0.6 percent in April. As a result, the inventory-to-sales ratio edged up to 1.32 in April from 1.31 in March.
Department Store Sales Up; Synthetic Fibers Prices Still Surging
Results for textiles and apparel were disappointing. The industry's payrolls continued to shrink, falling 0.4 percent in May. The volatile jobless rate for textile mill workers plunged to 3.3 percent in May from 5.4 percent in April.

Sales by textile producers were off 0.6 percent in April. With inventories rising 0.5 percent in April, the ratio of inventory-to-sales climbed to 1.57 in April from 1.55 in March.

Textile output dropped 0.9 percent in May, erasing the 0.8 percent gain in April. The operating rate for textiles dipped to 84.6 percent.

Responding to the six interest rate hikes since last summer and high energy costs, consumers are spending less. Retail sales declined 0.3 percent in May and fell 0.6 percent in April.

Furniture and home furnishings were off only 0.3 percent. Sales at department stores, however, were up 1.1 percent. Without autos, spending was unchanged in May after falling 0.4 percent in April.

Producer prices of textiles and apparel moved up 0.2 percent in May. Prices surged 1.5 percent for synthetic fibers, advanced 1.0 percent for processed yarns and threads, and moved up 0.2 percent for carpets. Prices edged down 0.1 percent for finished fabrics, for home furnishings and for greige fabrics.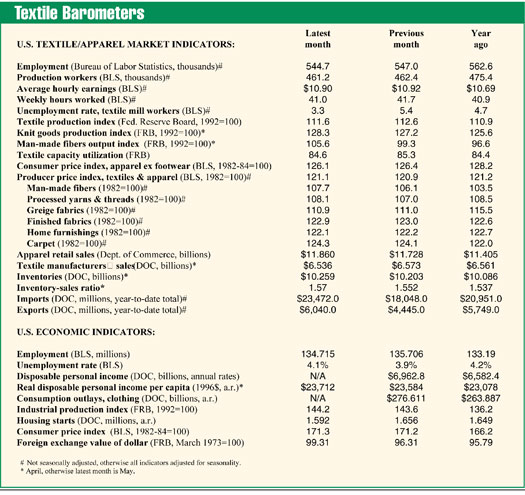 July 2000
Advertisement