These Days You Have To Be Nimble
By J. Karl Rudy, Technical Editor
W eavers are experiencing much the same problems as spinners. That is, business for cotton is pretty good but markets for non-cotton apparel are not good at all.

One weaver said: "Pricing is terrible for all fabrics and it has gotten so bad that we can't even pass on to the customer any of the recent increases in the price of fiber. Customers are quick to remind us that there is a flow of cheap apparel and fabric coming in from offshore and they are not kidding about using that source."

Most of the cotton has been harvested so there is not much activity in this area. There is still some cotton in the fields in southeastern South Carolina but the crop there received considerable damage from recent hurricanes, according to a respondent, and may not be harvested.
Ring-Spun Strong
Ring-spun cotton yarn is still on a roll. Business is reported as good to excellent. Prices have also firmed up according to one such spinner.

The story for open-end yarns though continues to be sad.

One spinner said, speaking about open end yarn pricing: "There is just no bottom to it price-wise; however, we have seen a slight increase in volume for both open-end and plied yarns."

When asked about anticipated running conditions over the next three to six months, he said: " There are no projections anymore. We now have to line up our running conditions on the next phone call. There is no longer any continuity to any orders, no logical planning either, and this makes it more costly, but we have to do it to stay in business."

Another spinner said essentially the same thing: "These days you have to be nimble." He was, of course, speaking of the "short" orders all manufacturers are forced to accept.

Several spinners reported that their mills ran full or nearly so during the Thanksgiving period. They also reported that they were planning stoppage on just Christmas Eve and Christmas Day. All of this is apparently due to the fact that their shipments are good and their inventories under control.

An open-end spinner, discouraged about the state of his markets, said: "It's very disheartening. It's gotten so I don't look forward to coming in to work like I did 10 years ago. A 10/1 OE yarn was selling then for $1.35 (per pound) and customers were not mad. Customers now have contracts which they frequently break without any concern of how it affects the spinner. It could be taken to the courts — but it never is." In his opinion, customers would like a consistent supply of quality yarn from the same producer.
1999 In Review
In reviewing the past year, low cotton prices set records several months during 1999. From January to December, there was a reduction in the price of cotton of some 17 cents. The Yarn Market lost two of its respondents due to plant closings during the past year.

Synthetic yarn and fabric sales went from poor to terrible due to the ever-increasing flood of imported yarn and garments. Spinners were resigned to the lack of programs on the part of their customers which would allow them to plan their manufacturing operations. In addition, styling changed the denim market from boom to bust.

Virtually all spinners feel that there is no legitimate pricing anymore. This problem was voiced every month without exception. Blame was placed everywhere — from imports to the textile industry itself.

There were some positive areas during the year. Ring-spun yarns continued to show no signs of weakening in volume. Pricing was generally stable. Industrial applications for synthetic yarns remained active and every spinner reported little or no inventory.

The industry is changing. To stay in business we will have to be part of that change. It will involve the ability to change styling quickly, deliver yarn rapidly, maintain consistent high quality, keep costs low, control inventory and modernize.
Happy New Year
We have passed through the 1900's and celebrated our passing into the new millennium. The Yarn Market wishes all of its readers the best for the New Year. The best prices. The best sales. The most profit.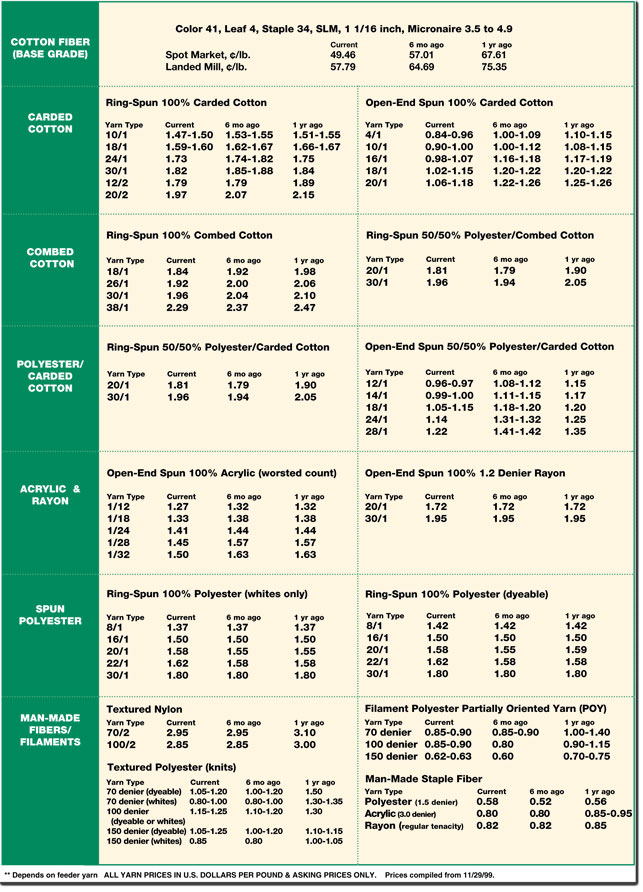 ---
January 20000
Advertisement