Success Through Partnership
Parras Cone gives its parent companies a competitive edge.
By Chuck Norton, Assistant Editor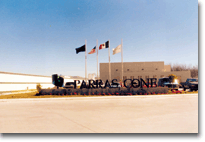 I n 1996, Cone Mills Corp., Greensboro, N.C., and Compañia Industrial de Parras, Mexico, opened a 50/50 joint venture for the manufacture of denim yarns and fabrics. The plant, known as Parras Cone, was a newly built, modern manufacturing facility.

With an annual capacity of 30 million yards of denim fabric and 10 million pounds of sales yarn, the Parras Cone facility has allowed Cone Mills to stay competitive in today's global textile marketplace.

The production processes at the plant include yarn manufacturing (which is 100-percent open-end) warping, long-chain dyeing, rebeaming, reslashing, weaving and finishing.
Facing The Challenge
Although the Parras Cone plant was built as a state-of-the-art facility, there have been several improvements to the production and peripheral areas of the manufacturing complex. In production, a 10-percent capacity expansion in the weaving department was completed in 1998. Investments in other areas were primarily focused on the enhancement of product flexibility and in Y2K preparation.

As would be expected, there are some challenges to doing business in Mexico, as there would be in any foreign country. Marcus Bradsher, Cone Mills, said: "Some of the challenges that have occurred include language training, understanding differences in cultures, learning how to conduct business effectively in the foreign country and learning how to get things accomplished that require bureaucratic or political influence."

While these were important issues, not all the challenges facing the Parras Cone project were directly attributed to substantive issues. The latter half of the 1990s were marked with world economic fluctuation and among these was the unstable value of the peso in the mid-90's.

"In the case of the Parras Cone project, we experienced the Mexican peso devaluation in 1994-95 which had a dramatic impact on the Mexican economy and created some challenges in getting our project completed and started up," Bradsher said.

After production was completed, new challenges arose in the operating environment. "We spent enormous amounts of time and money on training, which paid off tremendously," said Bradsher.

"We developed a vision for the company, which the entire organization bought into. We developed a set of core company values that focused on respect, trust, integrity, high operational expectations, safety, communications and recognition."

Production levels at the facility have been outstanding. This has allowed Cone to focus on improvements in non-manufacturing-related issues such as the company's performance on quality and customer service.

With the success of the Parras Cone facility, Cone Mills has moved even further onto the forefront of the global textile marketplace.
Looking To The Future
Cone is currently participating in a joint venture project with Guilford Mills, Greensboro, N.C., in the state of Tamaulipas, Mexico, where the companies are building an industrial park designed specifically for textile and apparel plants. Guilford currently has a plant underway at this site and Cone has engineering plans developed for another denim plant that it wants to start sometime in 2000.
---
January 2000
Advertisement