Stretching For Success
The spandex boom continues.
By Virginia S. Borland, New York Correspondent
I n the 1990s, spandex consumption more than doubled. Current annual world capacity is estimated to be about 300 million pounds. Spandex producers forecast a growth rate of between 8 to 10 percent a year.
The Major Players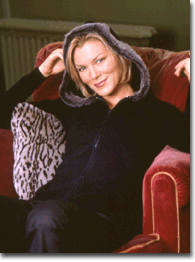 Bayer Corp., the most recent entrant into the U.S. market, opened its manufacturing facility in Bushy Park, S.C., in 1995 with initial production of 3,600 tons a year. In less than five years their capacity at this plant has increased to 6,400 tons. Additional plant expansions at their Dormagen, Germany facility brings total annual world production of Bayer's Dorlastan® spandex fiber up to 15,000 tons.

Globe Manufacturing Corp., Fall River, Mass., has three facilities in this country, producing a total of 25 million pounds of spandex fiber a year. Their newest plant, located in Tuscaloosa, Ala., opened in 1994 with the idea of expansion. This has happened four times, increasing output by more than 50 percent.

DuPont, the world leader, is producing spandex at 10 facilities in North and South America, Europe and Asia. In 1999 they opened two new plants, one in Northern Ireland, the other in Singapore. Recent expansions have taken place in Argentina, Mexico, China and Japan, and expansion is underway in Brazil. Today Lycra® brand spandex is a household name, ranked eighth worldwide for brand recognition for textile products.

Part of the success of spandex is due to availability and price. T-shirts containing less than five-percent spandex can be purchased inexpensively at stores like K-Mart. This mass appeal has not damaged its reputation at designer levels where novelty fabrics with a lot of stretch are sought after by names such as Giorgio Armani, Donna Karen and Tommy Hilfiger.

Why this phenomenal demand for stretch? According to Bill Girrier, assistant vice president, marketing and business development, Globe Manufacturing: "It's performance more than fashion. It's like putting reinforcing rods in building walls — you can't see them but they give integrity to the product."

Jan Nolan, marketing and merchandising manager, Bayer Fibers, said: "The consumer understands the benefits of spandex, the comfort, durability and shape retention it provides. Today women are moving faster and demand more comfortable clothing." With increasingly casual lifestyles, demands are for products that are comfortable and easy-care, and spandex fits the bill.

Steve McCracken, president of Lycra and vice president of DuPont said: "Today textiles are consumer driven. In the last 20 years there has been tremendous growth in knits because they are comfortable.

"Lycra is a major element of knitted apparel because it improves the fabric quality and keeps it from stretching out. Woven fabrics are now looking to that quality image with the inclusion of Lycra."
Spandex Replaces Rubber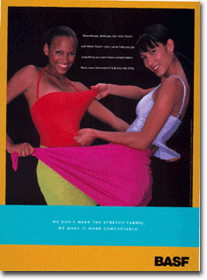 Before spandex there was rubber. Globe began as a manufacturer of rubber in 1945. Their products went into foundation garments, waistbands and socks. Today they are still making rubber thread, with 90 percent of the rubber thread capacity in this country. Their major efforts, however, are in the development and sales of spandex fibers.

Spandex fiber, which is also referred to generically as elastane, was invented by DuPont in the 1950s. Immediately successful in corsets and girdles, DuPont's Lycra offered lightweight control as a replacement to heavy rubber. In the 1960s, spandex became an integral component of support hose, intimate apparel and swimwear.

Globe came onboard with the production of Glospan® spandex fiber in the early 1960s. In the 1970s they opened a facility in Gastonia, N.C., close to the hosiery industry, to produce a soft modular high elongation fiber which is used for pantyhose waistbands.

The polyurethane chemistry process, which is the basis for the manufacture of spandex, was invented by Bayer in 1937. In 1964 Bayer began production of Dorlastan in Germany.
Fiber With A Memory
Spandex today is blended with every other fiber, natural or man-made. It is even applied to leather for suppleness and comfort. Small amounts of spandex (2 to 5 percent) add enough stretch to fabrics to provide comfort. A higher quantity is used for intimate apparel, athleticwear and swimwear.

In addition to the comfort factor, providing garments with give and recovery, spandex adds performance. Apparel manufacturers can eliminate darts and cut fewer sizes. Spandex's memory, lessening wrinkles and bagginess in garments, is a factor cited by consumers.

Along with the expected applications for stretch in foundation garments, intimate apparel, hosiery, activewear and swimwear, spandex is finding acceptance in many other apparel and non-apparel areas.
Lycra With Wool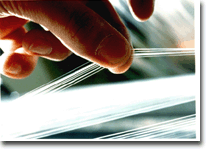 In Fall 1995 DuPont joined forces with The Woolmark Company (then IWS) to launch "Wool plus Lycra," a global marketing and product development program. Many of Europe's leading woolen mills are selling this blend for a variety of apparel categories, including suits for men. According to Woolmark, the addition of 4-percent Lycra to a wool fabric significantly improves its easy care and performance.

According to McCracken, "The marriage of Lycra with wool is a natural. Both fibers are niche market products. From an image standpoint wool projects status, it is the base. Lycra is the spice. Working together we can innovate new technologies in fiber spinning, mill processing and fabric development."

Denim and chino are two specific fabrics where stretch is happening, adding a comfort factor to workwear and casual wear. Men's shirtings and lingerie satins are cited by Nolan for spandex growth potential. Even sheer and transparent fabrics are available with stretch.

Another new area for spandex is footwear, including dress shoes. For more than two years DuPont has been working with tanneries, materials suppliers and manufacturers around the world. The American Podiatric Medical Association has awarded their Seal of Acceptance to Lycra in leather and Lycra in artificial leather materials designed for footwear.

McCracken said: "Probably there is no area where consumers are more concerned about comfort than their feet. We anticipate a huge success with Lycra in this area." One program has been launched with J. C. Penney, another in Canada.

Another apparel category mentioned by McCracken is sweaters. "A small amount of Lycra helps a sweater to retain its shape and keep it from bagging. The problem here is cost. Sweaters are knitted on hand looms which require more expensive core spun yarns."

Spandex has made inroads in non-wovens as well. Baby diapers and bandages are two products mentioned by Bayer, DuPont and Globe.

Form, fit and comfort are some of the reasons Glospan has been so successful here," Girrier said. "We have a product manager and separate sales force just for diapers. It's a different product. In apparel the fiber has a lubricant applied to it. In non-wovens we don't add lubricants or laminates so the adhesive will stay."

With all of this success, spandex producers are not sitting back and enjoying their profits. Plans are underway for new product variants, further plant expansions, and new marketing strategies.
Energy And Opportunity
Anticipating market needs, DuPont is constantly developing new products to meet consumer demands. Today there are 1,500 Lycra variants. Some of these are additives others are designed for a specific product.

Lycra 3D was specifically developed for the hosiery market for improved fit. It stretches in all directions.

Lycra Soft has a flat stress/strain curve, providing extra comfort. Its primary use is in intimate apparel and hosiery waistbands. In 1999 DuPont introduced Matte Luster Lycra® 164B which was developed for circular knits. It is a chlorine-resist fiber with improved uniformity, durability and whiteness retention.

The newest direction, according to McCracken, is fine-denier Lycra which is going into circular knits and woven fabrics. He also cites woven fabrics for menswear. "Lycra in worsted wools for men's suits is beginning to take off in Europe, which is more fashion oriented than America. We are also seeing a demand for Lycra in shirting fabrics and in denim."

These innovations are not always easy. According to McCracken: "One of the biggest problems is that with a lot of woven fabrics the cost of using Lycra is more than the cost of the fiber. It's an area of technology DuPont is working on with mills. We have 60 technical marketing people in the field every day, as well as a research team of 50 who are constantly developing new variants.

"We are working on ways to bring down mill costs. We are also helping garment manufacturers, showing them how to cut and sew Lycra content fabrics. Stretch fabrics are more alive."

Based on the success of Wool Plus Lycra, McCracken doesn't rule out other alliances. Today Lycra is mostly blended with nylon, which he refers to as another niche fiber. Cotton and polyester are, according to McCracken, the fastest growing fibers. Linen and silk are other niche fibers where Lycra can bring something special to the quality and appearance of fabrics.

"Stretch is here to stay," he said. "Lycra is an ingredient crossing all channels and price categories. It is opening the gates to more comfortable clothing. It has penetrated high profile apparel brand names, such as Gap, Banana Republic and Dockers.

"One of the problems we see is that as spandex becomes more competitive, more producers will come in at the low end. We don't want Lycra to go the way of the polyester double-knit industry. Right now we are happy with our brand image. We have high standards. Lycra brand stands for comfort, fit and quality. If too much second grade commodity fibers comes into this country it can hurt the image of stretch. We will try to combat this by reinforcing our Lycra brand and what it stands for," McCracken said. "We are continuing to work on new applications and new technologies; we have energy and creative opportunities."

When asked about specific new products in development, McCracken said: "You may expect a call early in 2000." Stay tuned.
Globe Sells To World Markets
Glospan® and Cleerspan® spandex fibers are distributed in 40 countries through five major distribution channels. Available in 15 through 5,040 deniers, Globe sells to a diversified range of fabric, apparel and non-woven manufacturers. One-third to one-half of their production is exported.

Circular knits and hosiery currently are major end uses for Glospan and Cleerspan.

"Pantyhose is a mature market," Girrier said. "We see little growth potential there. Nonwovens and narrow waist bands are markets where we have always had a large share. The non-wovens business is growing and we're growing with it. Nonwovens are getting away from latex. A lot of personal care products, such as rubber gloves, are moving to spandex."

Menswear is another area mentioned. Girrier noted that men's fashion socks and intimate apparel are new end uses for Glospan. In woven fabrics there are shirtings, denims and chinos.

"The challenge with woven fabrics is to get them to the market cheaply," he said. "The technology has been developed in Europe. You need core spun yarns to bury the spandex yarn. In knitted fabrics you can ply the yarns. The issue is cost and availability, there is not much equipment in this country to handle core spun yarns."

Warp knits are also high on Globe's list. "Our warping capacity has been increased by 50 percent. We sell on beams, which are heavy, so a lot of this will go to NAFTA countries," Girrier said.

In l999 Globe launched Type S-17 B, a new product for the swimwear market. According to Jeff Enfield, product manager for fabric applications: "We've known that Glospan Type S-17 B has excellent chlorine resistance, but tests also show that the fiber is superior for UV protection, protection against yellowing, as well as protection against breakdown due to exposure to suntan oils and body oils associated with perspiration."

More new Glospan variants will be introduced this year. "We team up with our customers and focus on what the market wants," Girrier said. "Customer service develops new products and creates new products out of old ones."

A fiber compatible with micro-polyester for high-temperature dyeing is one Globe is planning to introduce. The company is also working on a heavier denier spandex.

Quality is a high priority at Globe. In 1996 Globe achieved ISO 9001 registration status. "This assures our customers they are getting the best available fiber which has been carefully checked through every step of processing," Girrier said.

Future expansion is under con-sideration at Tuscaloosa and possibly a new facility will be constructed at an undisclosed location.

"We also organize growth through upgrading equipment and improving efficiency at existing facilities," Girrier said.
Dorlastan Remains Strong
At Bayer, Nolan sees Dorlastan going into every category of apparel, "from top to bottom, everything from blazers to pants and skirts." Hosiery and intimate are major end uses for Dorlastan which Nolan says will continue to be strong. Stretch denim, lingerie fabrics and men's woven shirtings are areas for future growth.

One new area for Dorlastan is in seamless garments, an area which is gaining acceptance in foundation garments and swimwear. Bayer is working on other new products and applications, "Which we will be able to discuss early in 2000," Nolan said.

At Bushy Park, Bayer offers a fully operational mill to serve customers needs. Working in partnership with customers, Bayer technicians assist with all aspects of fabric development. The knitting laboratory contains advanced warp, circular and hosiery knitting machines. On-site dyeing and finishing enables fabrics to be dyed using either a jet or beam dyer and stretched on a tenter frame.

Dorlastan spandex fiber is available in both dull and clear lusters in a full range of deniers from 10 to 1,120.
New Entry From Korea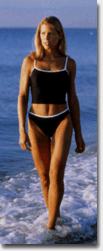 Last year Hyosung Corp., Seoul, Korea, increased annual production capacity of spandex fiber to 8,800 tons, a substantial gain over their 1992 entry of 180 tons. Current sales are to circular knitters, warp knitters and weavers. A large percentage of their business is to hosiery industries for both pantyhose and socks.

Most of their production is bright fiber in deniers from 20 to 140, with elasticity up to 600 percent. Hyosung spandex is promoted as "resulting in outstanding yarn uniformity and unsurpassed processability.
---
Fillattice Boosts Spandex Image Worldwide
Fillattice has always been identified with products of high technological content, therefore it is no surprise that the company's line of spandex yarn has gained worldwide top recognition. As a major component of Fillattice's overall product line, the spandex production is presently in Italy from where all major markets are served. Fillattice strives to be an exemplary resource for spandex yarn by offering customers top-notch service, superior quality and consistency of the product.

Today, Fillattice proudly boasts of being one of the top producers of spandex fibers in the world. Although it is an organization with a worldwide scope, company officials emphasize that the American market is an important testing ground for the manufacturer. Therefore it is a true challenge against domestic suppliers. The well-stocked storage and distribution center in Charlotte, N.C., has been fully prepared to deliver products on customer demand. Plenty of Linel spandex and Linel Comfort spandex fibers are stored in Fillattice's facility and are available in denier counts from 10 to 1,880.

Due to their characteristics, Linel and Linel Comfort spandex fibers add comfort, regularity and wearability to all fabric applications. Linel spandex fibers provide a soft, silky feel due to a high number of filaments and are well suited for applications such as circular knitting, warp knitting, weaving and hosiery manufacturing.

The company is convinced that the new century promises to be a time of continued expansion for Fillattice, as spandex materials are in higher demand from the consumer's side, they become an even stronger component of apparel production. Fillattice philosophy is to continue to offer high technology products at very competitive prices. Product quality and customer service are of utmost importance for Fillattice and well trained technical associates are ready to assist customers in all their needs.

Fillattice was founded in 1953. The Italian-based fiber manufacturer began by producing rubber thread made from natural latex. In the 1970s, the company diversified into the manufacturing of elastane and introduced its breakthrough Linel spandex. The success of Linel paved the way for Fillattice's entry into the stretch fabric market with Lineltex tricot stretch fabrics where it has enjoyed being one of the world's leaders.
— By Eric Vonwiller, Technical Editor
---
February 2000
Advertisement