ATME-I 2000 Two Many
Consolidation is likely needed to restore glory to America's premier textile trade show.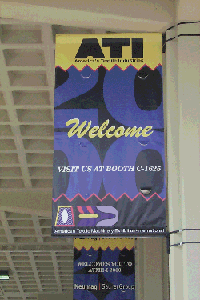 Three decades ago, the American Textile Machinery Exhibition-International (ATME-I) was the crown jewel of a thriving domestic industry and the Palmetto International Exposition Center, the palace in which it was displayed. Then known as Textile Hall, this venue was recognized as one of the largest and most accommodating trade show sites in North America. The host city, Greenville, S.C., was billed as the Textile Center of the World, and while this might not have been absolutely true, the town had at least a claim to the throne because of the number of plants, spindles, looms and industry employees in the immediate area. In this then-new expo center, Textile Hall Corp. and the American Textile Machinery Association (ATMA) hosted the initial editions of ATME-I, an event held every four years that has attracted machinery manufacturers and buyers from around the world.Thousands upon thousands of visitors poured into this Southern anchor of the American Industrial Revolution, their pockets overflowing with dollars to buy the latest and finest models of textile machinery and components from such companies as Draper, Saco Lowell, Hollingsworth and a host of other American manufacturers. Orders were placed as well for European machinery that was beginning to emerge as cutting-edge technology. Back in the early days, show attendees could see offerings in yarn prep, fabric formation and finishing all under one roof and at one time. Representatives from the worlds major mills, most of them American, left the show with the promise of more productivity to expand their industry-leading positions, and machinery manufacturers closed their displays with hefty new orders and volume substantial enough to keep production lines running at capacity.Times change, though, and the world moves on. To put it kindly, the market for new textile machinery in the United States is flat. Even the normal upturn evident after previous cycles of industry inactivity an upturn seen in almost every other developed economy in the world this year has not happened to any great degree in the United States. U.S. mills are losing the battle in the production of commodity products, and more and more machinery manufacturers market aggressively in the United States because of image rather than profit.In the midst of such conditions, it should come as no great surprise that exhibitors at ATME-I 2000, by and large, found the show to be disappointing. While few would argue that ATME-I has ever superceded International Textile Machinery Association (ITMA) as the worlds premier textile show, there is a growing feeling among ATME-I exhibitors that the shows stature is decreasing and that something needs to be done to infuse the exhibition with new life. Recapturing The LusterThe paramount issue is combining the two segments essentially, spinning and weaving into one event every four years, as was the case up until 1976. It is the stated mission of both ATMA and Textile Hall to accomplish this, although logistics and timing are proving to be major obstacles.Almost without fail, exhibitors interviewed by ATI pointed to rejoining these segments as the most expedient and perhaps the only avenue by which to restore some of the lost luster of this tarnished gem.Pre-show statements from both ATMA and Textile Hall indicated some immediate progress was at hand and that the 2000 and 2001 editions of the show would be the last in split format. That notion, however, was quickly put to rest with the following release from ATME-I on the first day of the show:[ATMA] and Textile Hall Corp. have concluded that [ATME-I] will be held in Greenville, S. C., presumably in 2004 and 2005, under the current split show format.On June 5, 1999, the two organizations announced their intention to consolidate ATME-I into a single show. That objective has not changed. The co-sponsors will continue to evaluate the feasibility and advantages to the textile industry in the Americas, as well as to all the machinery and service exhibitors located throughout the world, of providing a single, all- process machinery exhibition.ATMA and Textile Hall Corp. have co-sponsored ATME-I for [more than] 30 years and in the present format since 1976. They have pledged their full support to produce for the textile industry in the Americas the best exhibitions possible.It was almost as if a collective sigh of disappointment emerged from the show floor when the announcement was made public. Some exhibitors spoke to ATI only on condition of anonymity, while others spoke freely for the record.I hope you have the courage to print the truth, one exhibitor with a large investment in floor space said. Attendance is terrible. They say attendance is down only slightly from the last show (1997). What they are not saying is that attendance was lousy at that one, too. At any given time, I guarantee you there are more people manning the booths at this show than there are customers on the floor.Final attendance numbers released support that contention. Textile Hall and ATMA originally forecast 15,000 visitors to the show and then, in a somewhat bold revision, upped that number to 18,000. Actual figures, though, revealed traffic of only 9,763 total visitors, down approximately 12 percent from the previous show. Total attendance, including exhibitors and booth personnel, was 14,623, still well below projections. Attendance at ATME-I has fallen by about 25 percent since the 1992 edition of the show.Textile Hall Executive Director Bob Ellis, however, emphasized quality of attendees over sheer numbers, saying more than a third of the visitors were decision makers. He disagreed with the assessment that the shows results were disappointing.
The show was certainly disappointing for some exhibitors, Ellis told ATI after ATME-Is conclusion. And we were certainly disappointed in the total number of visitors. But I think the majority of exhibitors were happy with the level of business conducted.Ellis attributed the decline in attendance to several factors, most notably the generally flat textile economy in the Southeast and the closing of numerous plants in the area since the last ATME-I.I talked to quite a few executives who anticipate an upturn around the first of the year. They say they plan purchases then based on information they gathered at the show.Ellis also said the announcement that the format would be split in the next cycle is not absolutely definitive. Sources close to the event said ATMA and Textile Hall were stalemated in planning, with ATMA steadfastly maintaining that the next cycle must be combined, while Textile Hall presented the logistical implausibility of such. This could not be confirmed by ATI through official sources, but Ellis did offer some enlightenment on the issue. It is the stated objective of ATMA and Textile Hall to sponsor a combined event, he said. Right now, we are looking at how that might be accomplished. Floor space is a major issue. Approximately 85 percent of the available exhibition space was used for ATME-I 2000, and 90 percent is projected to be occupied for the 2001 segment. Possible options include installation of temporary exhibit space for ATME-I or permanent expansion of the facility.Ellis said it is important that the show remain in Greenville, central to the U.S. textile industrys manufacturing base. Rumors circulated that other sites were under consideration notably Atlanta, Charlotte and Orlando but problems such as suitable venues, scheduling and proximity to potential visitors were major obstacles. Mixed ImpressionsExecutives of several of the larger machinery manufacturers and distributors were careful in how they worded their impressions of ATME-I 2000, obviously torn between the need to accurately report their experiences and the desire to put a positive spin on a key industry event. And there were major orders placed Rieter, Savio, Dilo, Neumag and others reportedly left the show with substantial deals. What we are seeing, though, is the same people that we saw at the last ATME show, said Harold Hoke, CEO, American Savio Corp., which received orders for both its Geminis twister and Orion winder. We are not seeing the same depth that we saw in the past. Companies are not sending as many of their middle management people. Yet, these people are the ones who will be the decision makers in the very near future.Added Rodger Hartwig, vice president, Symtech Inc.: This is an opportunity for problem solving that a lot of people are missing, and that concerns me. Many folks who only see how their own plants operate could benefit from the solutions available here. Perhaps attendance by these people wont result in immediate business for a lot of companies, but it would expose them to processes and technology they havent seen and that could result in more business in the future.Hoke agreed, adding, Companies used to use this as a training show. The people who were being groomed to be decision makers came here to learn. It concerns me that we dont see as much of this. The one thing that is going to keep the U.S. industry competitive is innovation. And this is where innovation is on display.With economic conditions within the domestic industry being what they are, all of those interviewed said a combined show would likely result in a significant increase in visitors.I think combining the segments, ultimately, is the only chance to keep the image and level of involvement in a U.S. show intact, Hoke said. Hartwig agreed, but also pointed to the level of investment companies have to make to fully support two shows within just a few months. Its difficult for us. This is an expensive proposition. From purely a cost standpoint, we cant justify being here with the current level of attendance. But, as well, given the stature and image of this event, we cant afford not to be here. Consolidation would be a tremendous asset and would offer an opportunity to realize a much better return on our investment.Ueli K. Schmid, president and CEO, Rieter America, concurred. Reflecting on the show in general, one must question the return on investment, he said. Even with the substantially reduced area and number of exhibits, we have to ask ourselves about the cost-effectiveness of such an event. In a global world with communication at light speed and travel logistics our fathers could not even dream of, we must ask ourselves how we can reach our customers most cost-effectively. Besides, shows in China, the United States, India, and Mexico within a time frame of eight weeks are counterproductive and ignore a changing world.Rieter, however, was one of shows big winners. In addition to generating orders, ATME-I 2000 provided the company the opportunity to present the joint corporate identity of Rieter and ICBT and allowed the company to showcase its new compact spinning offering. Granted, the number of visitors were not as great as in past shows, Schmid said. We can view the number of visitors from different angles and with different judgments. However, we all agree that the caliber of visitors was impressive. Also, we had the privilege to welcome all major companies from the United States, many from Mexico and important ones from Central America, Canada and South America. Quantity Versus QualityFor some, the show was as much about image as quantity of orders. Saco Lowell, Greenville, S.C., perhaps the sole remaining U.S. machinery manufacturer with worldwide name recognition, used ATME-I to introduce its complete spinning mill, composed of equipment from both the venerable manufacturer and its sister company, Fiber Controls. Saco Lowell is now an independently owned, private company, the assets of which were purchased last year from Hollingsworth as part of the latters decision to refocus on its core business.I would have to say this has been a good show for us, said Behzad Khaleghi, Saco Lowells marketing director. We generated a lot of interest in our machines, and we anticipate orders from both South America and the United States to materialize as a result of this show. Saco Lowell had the single largest display booth at ATME-I 2000 in order to make as big a re-introduction as possible. But, Khaleghi said he expects participation in future events to be more limited. For us this year, under new ownership and with a new identity, it was a must. But, one does have to question the return on investment of such a large display. Looking AheadUltimately, as the dust settled and exhibitors began dismantling equipment either for shipment to customers or back to their own locations, the sense for the future of ATME-I was one of guarded optimism. Is the show, in its current form, a second or third-tier event, behind the major European and Asian shows Most would say so. But do Textile Hall and ATMA have at their disposal the ability to elevate the show to its former status With a combined spinning and weaving exposition, that answer, according to show attendees, is a resounding Yes.
Editor's Note: Executive Editor Jim Phillips, Senior Technical Editor Eric Vonwiller, Fibers Technical Editor John E. Luke, Spinning Technical Editor Dr. William Oxenham, and Nonwovens Technical Editor Richard G. Mansfield contributed to this article.
Editors note: For five days, editors and correspondents from ATI traversed the halls of the Palmetto Expo Center to attempt to define and report the pulse of ATME-I 2000. The following pages detail those efforts. Executive Editor Jim Phillips provides a wrap-up of ATME-I 2000 from the perspective of exhibitors and show sponsors. Then follows a report on the offerings of selected exhibitors and industry segments by Phillips, Senior Technical Editor Eric Vonwiller and Technical Editors John Luke and Richard Mansfield.Next month, ATI will continue its post-show coverage with Technical Editor Dr. William Oxenhams review of spinning technology, including new developments in compact spinning, perhaps the most exciting technology displayed at ATME-I 2000. In an upcoming issue, Technical Editor Richard Mansfield will review nonwovens fabric formation.


December 2000
Advertisement