Economic Expansion Still On Track
Jobless rate lowest in three decades; inflation remains under control
By Dr. Constantine G. Soras, Economics Editor
R
ecent economic reports point to an economic slowdown, but there is no evidence that the 10-year economic expansion is about to end.
The October civilian jobless rate held at 3.9 percent, the lowest in three decades. In October, 137,000 non-farm jobs were created, following a 148,000 gain in September. Construction jobs grew by 34,000, while factory payrolls were unchanged.
The producer price index for finished goods rose 0.4 percent in October, after soaring 0.9 percent in September. The core rate of producer prices, which excludes food and energy prices, declined 0.1 percent in October, following a 0.3 percent rise in September.
Inflation remained under control. The consumer price index increase decelerated to 0.2 percent in October from 0.5 percent in September. Core inflation was up 0.2 percent.
Industrial output declined 0.1 percent in October, following gains of 0.4 percent in September and 0.5 percent in August. Factory output was unchanged, while utilities output dropped 1.9 percent. The operating rate lowered to 82.1 percent from 82.5 percent in September.
October housing starts inched up to 1.532 million units at an annual rate from 1.530 million in September. Single-family units edged down 0.2 percent to 1.227 million, while multifamily units rose 1.3 percent to 0.305 million.
Business sales advanced 0.4 percent in September, and inventories grew 0.1 percent. The September inventory-to-sales ratio slipped to 1.33 from 1.34.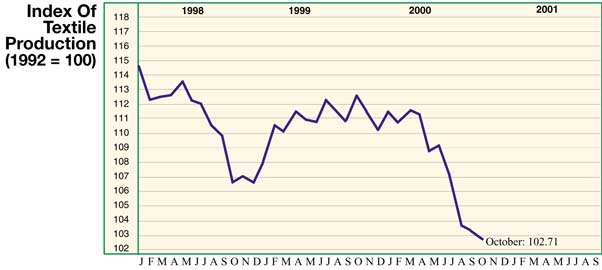 Consumer Spending Up In Third Quarter
igher interest rates and the surge in energy costs took a toll on U.S. economic activity in the third quarter. The nation's output of goods and services grew at a modest annual rate of only 2.7 percent, after rising by a robust 5.6 percent rate in the second quarter. While consumer spending continued to be strong, government spending and overall growth were lower due to the winding down of the U.S. Census and the termination of the temporary Census workers. Inflation, as measured by the GDP price index, subsided to 2.0 percent at an annual rate, down from 2.4 percent in the second quarter.
While real consumer spending slowed down in the last two quarters, third quarter growth, at 4.5 percent, was strong. In the spring quarter, consumer expenditures grew at a rate of 3.1 percent.
Capital spending on equipment and software — a major factor for economic growth and productivity gains — slowed down to 21.6 percent from 28.7 percent in the second quarter. Nonresidential investment on structures was up just 1.7 percent, following a 4.5-percent gain in the second quarter. Inventory investment was virtually flat after contributing a 0.5-percentage point to growth in the second quarter. The negative impact of higher rates was quite evident on residential investment, which fell 9.5 percent in the third quarter.
Retail Sales Continue To Rise; Producer Prices Up For Textiles And Apparel
extile output declined 0.7 percent in October, after falling 0.2 percent in September. The operating rate dropped to 77.9 percent from 78.4 percent.
Shipments by textile manufacturers plunged 1.5 percent in September, after a 2.1 percent drop in August. Total shipments of $58.36 billion through September were 0.7 percent behind last year's pace. With inventories up 0.6 percent, the inventory-to-sales ratio rose to 1.68 in September from 1.64.
October textile payrolls shrank 1.0 percent. The jobless rate inched up 0.1 percent to 3.2 percent.
Retail sales rose 0.1 percent in October. The weakness was mainly in automobile sales, which retreated 1.0 percent. Retail sales excluding autos showed gains of 0.4 percent in October and 0.7 percent in September. Building materials sales jumped 1.6 percent, following a 1.5-percent decline in September. October sales rose 0.3 percent for furniture and home furnishings, 0.4 percent for general merchandise sales and 1.0 percent for apparel and accessories.
Producer prices of textiles and apparel rose 0.2 percent in October, after falling 0.1 percent in September. Prices rose 0.6 percent for carpets, 0.3 percent for synthetic fibers and 0.2 percent for processed yarns and threads. Prices were unchanged for finished fabrics but declined 0.1 percent for greige fabrics and 0.7 percent for home furnishings.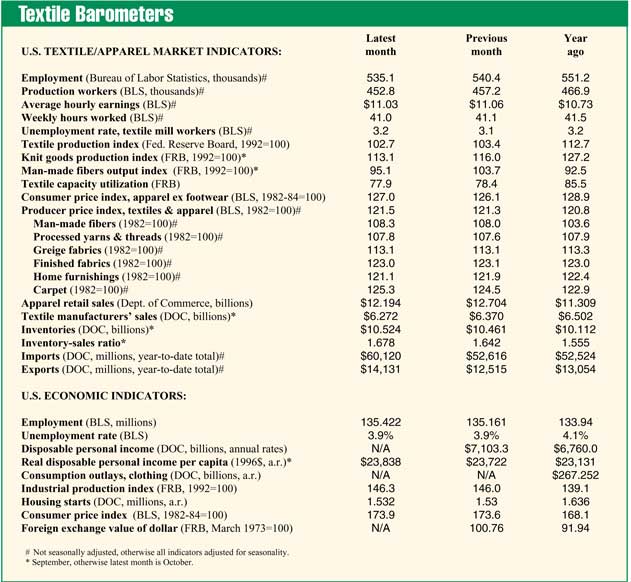 December 2000
Advertisement