Digital Developments
This years CADExpo will spotlight a variety of design technologies and business solutions.<b>By Teri Ross</b>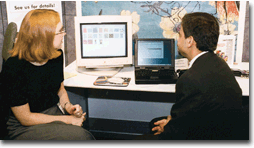 Long before the term Internet became ubiquitous, its significance was marked in the media by the number of times the word appeared in news coverage. Using this method of measurement, one might best summarize this years CADExpo Plus as the Internet and Digital Printing Conference. With its focus on design technologies and business solutions for the apparel, textile, home fashions and interior industries, this years exhibition at the Hilton New York, August 21-23, will be the new millenniums first look at not only the changing landscape of the industry, but also the new products being produced as a result of emerging technology. Vendor ExhibitsThis years show will feature a broad range of design, marketing and production solutions.Montreal-based Age Technologies will be showing its line of Clicdesign modules, Adobe Photoshop® and Illustrator® plug-ins for industry-specific design requirements. In addition to the companys existing modules for creating weaves, plaids, prints and recoloring, as well as an art library organizer, the company will be featuring its newest module for texture mapping or draping directly in Photoshop. All modules are available for both Windows® and Macintosh® systems.New York City-based Colour Matters will be demonstrating its CM-32 and Fashion Toolbox Windows solutions for designing prints, knits, weaves and draping.Datacolor, Charlotte, N.C., developers and manufacturers of color control, formulation and Internet-based color communication systems, will be showing Colortools QC Systems for Quality Control, the Spectraflash 600 Plus CT spectrophotometer for color measurement and its line of Colorite products, including ImageMaster, ImageMatch and ImageSync. The company will be featuring an upgraded version of ImageMaster with enhancements that include a new calibrated printer option that delivers precise color output.Los Angeles-based DigiFab is a software developer for digital textile printing applications, a manufacturer of pre-treated fabrics for digital printing, a marketing company promoting CAD software and related services, as well as a service bureau. The company will be exhibiting the upgraded version of its printing software, an upgraded textile raster image processor (RIP) for driving additional printers, as well as its pre-treated fabrics for use with digital printing technology.Gerber Technology Inc., Tolland, Conn., a supplier of CAD/CAM solutions, will be demonstrating its Artworks Studio and Product Data Management (PDM) software. Artworks Studio is a modular suite of Windows-based graphic tools used to design, manufacture, merchandise and illustrate a variety of hard and soft goods. PDM is a Windows database used to develop and organize construction, cost and measurement information. The company will also feature WebPDM®, an enhancement of the PDM management program.Improved Technology Inc., Tilton, N.H., a service bureau that also offers support for IRIS printers, will demonstrate Chromazone-tx, a totally integrated fabric printing system for samples and strike-offs at an economical price, including hardware, software, support and service.Isis.net, a New York City-based U.S. distributor of graphic and 3D design, product development and pattern-making software for both Windows and Macintosh, will be showing upgraded software versions of Koppermann Tex Design, Koppermann Tex Define, Koppermann Tex Store and PAD Marking and Grading. Recent upgrades to the Koppermann products include Internet support, enhanced functionality, a new graphical user interface (GUI) and database support.Lectra Systems USA, which provides sales, support and service of CAD/CAM products for its parent company in Paris, will be showing U4ia, PrimaVision, ColorWeave, 3D Visual Merchant and ProStyle Windows NT software, as well as its digital printing solutions.MacDermid ColorSpan (formerly ColorSpan), Eden Prairie, Minn., manufactures high-speed digital fabric-printing systems using ink-jet technology. The company will be demonstrating its DisplayMaker FabriJet XII digital fabric printer in addition to Textiler, a Windows NT software RIP for processing CAD files.Monarch Design Systems, Glendale, N.Y., will be exhibiting Macintosh and Windows CAD solutions, including Pointcarresign software, Monarchive image database software, Punto embroidery design software, Plaids and Stripes and ColorExchange (Adobe Photoshop plug-ins), Envision texture mapping software, TypeStyler text effects software and FashionFindings clip-art software.Network Systems, Greensboro, N.C., develops resource planning, manufacturing and distribution software specifically for the vertical sewn products industry. Of its 14 integrated software products known as the net collection, three new ones will be shown at the CADExpo, including Net SalesExec, a customer relationship management tool to highlight emerging sales trends, product group analysis and profit margin performance; Net ProductionExec for managing plant capacity, department scheduling and WIP manufacturing; and TrackingPortal.net, which supports Internet-based communication with daily production and shipping information.NedGraphics, developers of Windows software for the fashion, print, weave, knit, carpet and merchandising markets, will be showing upgrades of several products. Fashion Studio 2000 supports several new features, including cable-stitch libraries and vector-sketching tools. Printing Studio with LayerMaster now supports the ability to separate screens for engraving, screen-to-print color matching and digital textile printing. Also available for demonstration will be DesignCOM, a fully customizable Internet-enabled database archiving solution, as well as the latest e-commerce visualization solutions (such as texture mapping over the Internet).ScotWeave, Scotland, will be exhibiting upgraded versions of its CAD/CAM software for both dobby and jacquard woven designers along with a full range of software for the flatwoven and velvet markets.Showbran Graphics, a New York City CAD service bureau, will be showing a custom white image library for use with any texture mapping or draping software. The company will also show a new lenticular imaging process that can produce a true 3D image. Shima Seiki U.S.A. Inc., Cranbury, N.J., provides high-tech knitting machinery to manufacturers in North America. Production equipment is supported by its Windows-based design system. The company will be showing WholeGarment samples produced from its proprietary technique for sweater manufacturing without seams. Samples from Multi-Gauge FIRST, the companys most recently developed machine capable of manufacturing fabrics and/or garments with different gauges within the same garment, will also be exhibited.Sophis USA, a subsidiary of Sophis Systems NV, a Belgium-based developer of software for textile design and coloration for the printing and woven sectors, will be showing its next software release, Socrates 2000, which is based on the Linux operating system. The company will also exhibit textiles printed on the Sophis Digital Printing System. Fabrics will include cotton printed with reactive dyes, silk printed with acid dyes, polyester printed with disperse dyes and a variety of fabrics printed with pigment dyes.Stoll America, the U.S. subsidiary of the German parent company, will be showing new software for its Sirix Design System, the software used to run the computer-controlled flat knitting machinery (CMS).Stork Screens America Inc., Charlotte, N.C., will be offering a complete range of digital textile printing solutions for both sampling and production. The company will be introducing acid dyes for the Amber Jet Printer as well as its total jet print solutions, including software, substrates, substrate pre-treatments, printers and post-treatment devices. Educational SeminarsMany feel that the future of the textile and apparel industries in this country lies with our ability to employ the technology that will make us more competitive in a global marketplace.As we move forward, the trend toward a shifting manufacturing base will be difficult to reverse, said Jerry McCaskill, general manager, Sophis. The industry will have to take advantage of current and emerging technology to protect and hopefully grow the American textile industry. U.S. manufacturers must completely re-evaluate their business model and invest in technology to survive.With these visions in mind, the CADExpo will be the venue for many educational seminars on design, design trends and design technology.The National KnitwearandSportswear Association (NKSA), sponsors of the Expo, will offer seminars Monday through Wednesday on The Impact of Color The Hottest (and Coolest) Trends; Instincts, Values and Creativity: Fall 2001/02; Black/White and Real! Interiors Colors and Trends 2000; Color Technology 2002; and The Indefinite Landscape of Color for Fall 2001/02.The Computer Integrated Textile Design Association (CItdA) Symposium, taking place on August 21 and 22, is billed as a Reality Check keeping in check the latest advances in design technologies and their applications for a rapidly changing business environment. Scheduled seminars include The Realistic Guide to Digital Printing; 3D Reality; Designing With a Production Mind; Setting Trends for Design Over the Web; Building the Global Network Insights for the Fashion Industry; Designs for Real Life; and Keeping it Real on the Web. On August 21, they will co-host an evening cocktail reception with Kimberly Clark Printing Technologies and e-color at Tavern on the Green.Monarch Design Systems, in cooperation with CItdA, will sponsor a special breakfast for educators on August 22. This informal gathering will provide fashion and textile design educators a chance to network with colleagues, share ideas about funding for technology, learn about industry-sponsored projects and more.
For More InformationShow and symposium registration is available at www.cadexpo.com and www.citda.org or by contacting NKSA at (212) 366-9008 or CItdA at (336) 379-0603.
Editors Note: Teri Ross is a writer, speaker and consultant focusing on CAD/CAM technology and process improvement strategies for the sewn products industries.She is owner and president of Imagine That! Consulting Group, publishers of the award-winning techexchange.com. She can be reached at tross@techexchange.com or at (952) 593-0776.
August 2000
Advertisement