CAD Makes The Mill Run At Chopak
Fabric design and visualization with computer-aided design systems spurs business and productivity.
Weaving TechnologyATI Special ReportCAD Makes The Mill Run At Chopak Fabric design and visualization with computer-aided design systems spurs business and productivity.Chopak Mills is the New York Sales and Design Headquarters for Carthage Fabrics Corporation. Herman Chopak built the mill for manufacturing textiles in Carthage, N.C., in 1950. Initially, the mill wove nothing but taffetas for lining. Later, it shifted to fabric for window treatments, then back to apparel.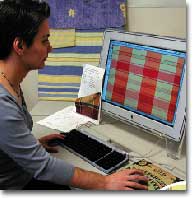 Chopak now focuses primarily on designing and producing woven fabrics for the home-furnishings market. Utilizing Dornier and Vamitex looms in widths from 45 inches to 130 inches, air-jets and rapier, the product mix includes jacquard and dobby fabrics in yarn dye, piece dye and greige goods. End uses for these fabrics include upholstery, top of the bed, window, shower curtain, blanket, dress taffeta and ribbon. Chopaks long list of customers includes both converters and manufacturers.Diversity and customization are key to the companys success. Walking our weaving area is like going to the supermarket, says Kim Lennox, Chopaks design director. Almost every loom is weaving a different product.Our strength is our ability to run many different products with many different qualities. Our design staff is willing to create product to meet each customers needs. We interpret customer artwork as well as develop our own ideas.CAD Weaves Its Way Into Everyday OperationCAD came to Chopak in 1997 and has made its presence felt in two main areas product development and presentation, and manufacturing. Chopak uses Pointcarrextile design software from Monarch Design Systems, Glendale, N.Y. CAD uses include matching custom colors, scanning novelty yarns, designing weaves and making fabric simulations.It has provided a tremendous boost to the quality of our presentation, said Lennox. Printing plaids and stripes in multiple colorways for presentations is key to helping customers decide to move forward with projects. Once a pattern is chosen in a specific colorway, then the fine-tuning takes place. This is usually as easy as adjusting a single color or enlarging the pattern.The 200,000-sq-ft manufacturing facility, with more than 150 employees, also benefits from CAD.

Formerly, all of our weaving specifications were handwritten and sent via overnight mail to the mill, which meant a lot of tedious paperwork. In order to create dobby chains for weaving, some of this information had to be typed into a chain-cutting machine. This was done for each pick in the pattern, and some of our chains are hundreds of picks long, said Lennox. Now we are able to convert our weave information into Staubli files for dobby or Bonas files for jacquards. These files are e-mailed directly to the mill. The Staubli file is transferred electronically to the chain-cutting machine, eliminating the need to type it in. The e-mailed jacquard file is practically loom-ready when it reaches the mill. Additionally, clear printouts of the draw, chains, filling and warp patterns are created quickly and easily as a backup.In 1998, a special interface was developed for Chopak to make jacquard loom disks directly from the Pointcarrobby software.Simulated Samples Mean BusinessSampling has taken on an entirely new meaning at Chopak. The realism of the digital fabric simulations has virtually eliminated the need to create actual samples. Every project we create for a customer starts with sampling, Lennox said. To us, sampling means anything we share with our customers to help them define or visualize the end product and move them closer to the goal of the production order. Before we had the CAD system, a sample was a crude drawing or a handwoven piece of fabric that took two weeks or longer. With CAD, the first sample can be a simulation created the same day. This quick response time creates a momentum that is important to keeping each project going.Expanding UsageBuilding upon the companys successful product presentation capabilities is the next step that Lennox foresees. We would like to expand our system to make ourselves more presentation-savvy, including software which would enable us to show customers our fabrics draped onto sofas, beds and other furnishings.


August 2000
Advertisement