Fiber Producers Seek New Niches
After weathering the worst in fiber imports, the U.S. fiber industry looks for recovery in 2000.
By John E. Luke
P reliminary results for 1999 man-made fiber shipments are filtering in, and it is not too soon to draw some conclusions about the period and suggest lessons they teach us about 2000. Early indications point to 1999 as a year of relative success in poundage distribution and relative disappointment in pricing.

Comparing fiber shipments for 1999 with similar figures for 1995 through 1998 seems to suggest that while domestic producers have recovered position in some markets, several large U.S. product markets have been captured by imported fibers, fabrics and garments.

Fiber prices currently reported in the market point clearly to the adversities faced by producers. Increasing numbers of 8- to 10-percent price increase announcements, particularly on polyester products, bear witness to the profit pressures created by reduced poundage volumes exacerbated by the need to be world price competitive to run extremely large fiber plants at levels close to design efficiency.

It is obvious that in the selected period, fiber shipment growth has centered on home fashions. More particularly, increased fiber shipments have gone to the carpet industry. As reported, nylon filament and staple and olefin filament have been the largest beneficiaries.

Separating carpet from total home fashions however, reveals some disturbing statistics (Table 2).

Fiber shipments for consumption in carpet face have risen at an annual compounded rate of 3.4 percent through the period; man-made fibers for carpet backing, olefin in particular, have grown at a slightly higher rate, 3.8 percent annually compounded, continuing the displacement of natural materials by synthetics. These rates are not unexpected considering the rate at which new housing and commercial structures have been built in the past five years. Total 1999 fiber use in non-carpet home fashions has retreated to 1995 levels despite the binge in new housing starts.

The most interesting part of this equation is the relative movement of filament and staple fibers in this market. The use of man-made staple fibers increased in non-carpet home fashions by an almost 1-percent annual rate fed by olefin in broadwovens and nonwovens and offset by slight decreases in polyester. At the same time, filament fibers dropped by slightly more than 1.3-percent annually.

Polyester is a major synthetic filament material in non-carpet home fashions. Despite the conventional wisdom that home fashions are somewhat immune to the impact of import competition, domestically produced home fashion fabrics and manufactured items are being systematically attacked by imports.
Domestic producers are losing out, at least in basic items, to imported fibers and most likely to imported manufactured home fashion items.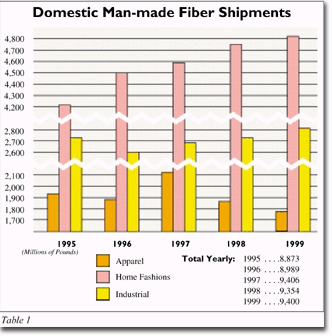 Polyester Filament
Through 10 months of 1999, polyester filament producers and consumers ran up a 37+-million-pound negative export balance. The combination of textured and POY yarns generated more than 70 million pounds of positive exports but this good news was overwhelmed by an almost 90-million-pound negative export balance in fully drawn yarn. It is increasingly obvious that polyester warp materials for woven home fashions are under attack from imported yarns.

It is interesting to examine domestic producers' shipments of polyester filament to domestic markets. In the five-year period, only one of several primary markets has grown for domestic producers, broadwoven with a modest 3.5-percent annual growth. Use in circular knits is flat at approximately 200 million pounds, warp knits have dropped an average of 9 percent per year and use in tires, mechanical rubber goods use is flat at approximately 265 million pounds and all other end uses also demonstrate a downward trend. Considering that polyester has proven to be the workhorse of all these markets, the displacement of domestic production is troubling for the healthy future of the U.S. industry.

One last filament item is worthy of note. The third largest negative export balance in fiber trade, almost 60 million pounds in the first 10 months of 1999, is generated by textured nylon of 450 and greater denier. This is composed of approximately 120 million imported pounds offset by approximately 60 million export pounds. Much of this product is found in soft sided luggage, including backpacks, etc., markets and represents two separate divisions of trade.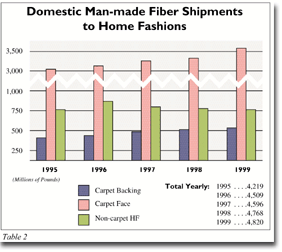 Staple Fibers Complexity
If understanding filament distribution is relatively easy, staple is a much more complex exercise without, however, seriously different conclusions. Table 3 illustrates a business that is mature in the aggregate but still contains significant opportunities for interfiber competition.

To start, olefin producers generated a positive export balance of almost 90 million pounds offset by a relatively benign negative balance in acrylic of almost nine million pounds and an overwhelming negative balance of more than 400 million pounds of polyester staple. If we insert import considerations we see that the staple fiber business is mature, a polite way to say, a business with little or no growth and one with potential for price sensitive market share exchanges.

Domestic producers must create substantial value added niche product/market programs or profitable export programs. Prices will be dictated by market share targets designed to insure plant operating rates.

Polyester staple is the two-billion-pound gorilla of the almost four-billion-pound domestic staple fiber market. The use of domestically produced polyester staple has been impeded by mature customer industries and substantial offerings of inexpensive imported staple. For example, circular knits are major customers for imported polyester staple although recently T- and sweatshirt markets have softened substantially as slightly more formal dress-up/dress-down Fridays replace the grunge look.

Polyester in fiberfill has matured with garments more slender and less bulky; fiberfill no longer holds its '80s growth attraction.

Staple in nonwovens continues to grow at an approximate 5.5-percent annual rate but the growth is virtually all in olefin fibers at a 10+-percent annual rate while polyester participation remains flat. Polyester is sufficiently large that it has momentum; producers need to trade that for material development aimed at niche markets in home fashions and industrial markets.

The same picture shows in apparel. In Table 3, polyester is the major manmade fiber in broadwovens accompanied by small amounts acrylic and even smaller quantities of nylon. In no surprise to regular readers of this space, apparel has been ravaged by imports. The effect shows in total apparel shipments in Table 1 and the impact on polyester in particular is quite clear in Table 3.

Let's take another look at acrylic. Acrylic producers have enjoyed relative success with woven and knitted microfibers with growth rates in the period approaching 50 percent. While acrylic staple's success in part masks polyester's shrinkage in apparel, this achievement is buried by significant rate decreases for acrylic fibers in craft yarns, sweater markets and acrylic doubleknits.

As additional international capacity comes on stream, particularly in the colder climes of China, U.S. acrylic sales change from net export to net import.

The year 2000 should show significant recovery for the synthetic fiber producers in the United States. The industry has weathered the worst of fiber imports resulting from the Asian flu although it still faces continuing pressure from garment and manufactured product items. The industry appears to have used the past several years designing programs to insulate at least some of its products from direct imports. It also seems to be focusing on product/market areas; i.e., home fashions and industrial items, less susceptible to import competition.

The secret now lies in speeding these products to market; whether we call it niche or some other term, it is a substantial portion of salvation for the domestic industry.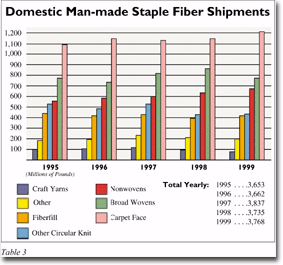 ---
Editor's Note: John E. Luke is owner of Five Twenty Six Associates Inc., Bryn Mawr, Pa., a consulting firm specializing in strategic marketing and operations facing textile fiber and fabric manufacturers. He is also a professor of textile marketing at Philadelphia University.
---
April 2000
Advertisement