Staying Ahead Of Demand
As demand for chenille continues to increase, Quaker Fabrics moves to improve quality and productivity.
Quaker Fabric Corp., Fall River, Mass., the largest single manufacturer of chenille in the world, has benefitted from chenilles growth in popularity for both upholstery and apparel fabrics. Quakers steep sales growth and need to meet customer delivery requirements meant increasing their production capacity, motivating the company to consider finishing dryers that would give them better productivity as well as a quality consistent with customer specifications.The recent installation of the new PS 2100 tenter frame dryer from Wolverine ProctorandSchwartz gave Quaker a line that allows for excellent quality while running faster than its own finishing operations. Meeting DemandsAmong the factors which led to the purchase of this new tenter frame dryer in our continued interest in high-efficiency technology and our constant concern for worker safety, said Angelo Nicolosi, manager of Quaker Fabrics Finishing Division.Quaker processes well over one million yards of fabric each week in its fully integrated operations in Fall River. For the past five years, sales have grown at a compound annual rate of more than 10 percent, reaching $252.6 million in 1998. Patented technology for chenille, a growing export business, planned penetration of the office furniture segment and a steady demand from domestic residential furniture manufacturers for the 3,000 patterns in Quakers product line have all contributed to the companys growth. More than 2,000 employees work at the plants five to six days a week, 24 hours a day.The PS 2100 dryer, central to the finishing operation in Quakers Fall River plant #1, increased the plants finishing capacity by 20 percent. Company man- agers are also pleased by the equip-ments operating controls in this new generation dryer, which have en-hanced both final fabric quality and throughput. The PS 2100 tenter frame dryer from Wolverine ProctorandSchwartz combines the best attributes of penthouse and low-profile type dryers into a new tenter frame dryer with advanced design features. The PS 2100 dryer occupies less floor space than a traditional low-profile dryer for comparable fabric widths and resolves the cleaning issue inherent in both penthouse and low-profile dryers by including side doors down the full length of the machine for maximum accessibility and cleanability.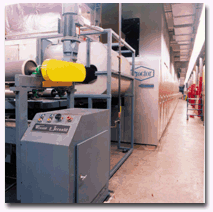 The end of the drying process at the Quaker plant. (Photo courtesy of Wolverine ProctorandSchwarz) The PS 2100s nozzle configuration permits uniformity in air and temperature distribution without the need for dampers. Nozzles are available with either slots or arrays of holes. Two fans in each control zone allow independent control of back and face air impingement volumes and flow ratios. The advanced control systems for the PS 2100 also are a benefit for textile manufacturers like Quaker, who use every opportunity to increase efficiency in their operations.Linking the controls on the Wolverine Proctor PS 2100 dryer with other control technologies available today makes the line operator more of a technician. Now our operators can manage the process while at the same time running the equipment, Nicolosi said.They like that empowerment, and the result is higher productivity of both personnel and equipment. Customer SatisfactionBetter control throughout Quakers finishing operations are important to customer satisfaction too. Customer specifications are becoming more rigid, with fewer allowable variances. Quaker is installing new technologies as quickly as possible to meet this challenge.We have many recipes on file, with a lot of settings already established in our finishing operation, Nicolosi said. But the line operators have to intervene in the process constantly, because when we need to change recipes for the next fabric to be finished, there are other elements of the changeover that must be managed. So even though the dryer settings are well controlled by the PS 2100 controls, these controls are integrated with other information fed into a Delta T system so that we can run even faster and more efficiently and still get the repeatability and consistency of the final fabric we need.Upholstery customers are becoming increasingly sophisticated. Like others in the business, Quaker is committed to keeping a few steps ahead of customer needs. Its a real challenge, as the quality demands keep increasing at the same time that customers demand lower prices. Installing new and improved equipment for higher efficiency and using software programs for quality and throughput control are one of the few ways that textile manufacturers can meet customer needs and still maintain margins.Certainly we keep an eye on raw materials prices, Nicolosi said. We know that we spend a lot of money on latex. Now with our Delta T control system, we can use the PLC technology available and make latex weight adjustments right at the control screen in our finishing area.Our Delta T system also ties into the PS 2100 controls, so we can also control the heat on both the top and bottom of the fabric independently, thoroughly curing the latex on the back of the fabric without scorching the fabric face.Control of the heat is precise on the PS 2100. This improvement alone has eliminated overdrying and given Quaker better final quality.Weve also decreased our energy costs on this line, Nicolosi says. "Must-Have" CriteriaCapacity constraints at Quaker provided a motivation for the process engineering department to look for ways to get higher productivity. With additional capacity needed, Quaker managers developed a 22-item list of must-have criteria and evaluated all available drying technologies against this list.A big item for us was the cleaning issue, because of the nature of chenille, Nicolosi said. On this score, the PS 2100 was far superior in accessibility and ease of cleaning. A member of our finishing area staff can walk on one side of the dryer with a broom and take the lint out just as fast as he can walk the length of the dryer. This was a vast improvement over low-profile and penthouse dryers.Quaker also looked at the control packages offered, both in terms of existing offerings and also future capabilities. This criteria eliminated some dryers immediately, such as those still using manually based controls.The pinning system and rails were also considered. Quaker wanted a center pull chain for better repeatability, and the WindsorandJerauld tenter frame housed in the PS 2100 offered this option along with advanced rail guiding, an overfeed-underfeed system and automatic chain tensioning in a rugged and reliable design.The ability to cure latex at high speeds was one criteria that had an additional demand associated with it the dryer also had to be able to prevent scorching when there was a line stoppage. The PS 2100 does this automatically switching the nozzle burners to low fire and adjusting the fans to bypass hot air out of the machine immediately.When the machine starts up again, the burners come up to heat quickly, and the fans adjust immediately. The PS 2100 at Quaker has five zones, each 20 feet long, with two circulating air fans per zone.Processing speed was a crucial consideration. The PS 2100 is capable of giving Quaker much faster line speeds in general. Above and beyond mere processing speed, Quaker looked at the ability of various dryers to process their specific fabrics.Chenille is particularly difficult to handle, and many dryers choke on chenille, Nicolosi said. It was important that Wolverine ProctorandSchwartz offered us airflow control on both the top and bottom of the fabrics.Our decision-making process brought us down to considering four tenter frame dryers, Nicolosi said. What won the order for Wolverine ProctorandSchwartz was the accessibility of the PS 2100 for cleaning, its overall ability to cure at high speeds, and the fact that Wolverine Proctor equipment is very robust. Getting Ready For TomorrowToday, Quaker finishes close to a quarter-million yards weekly on its PS 2100 tenter frame dryer. The dryer handles many different fabrics every day, and the variety of Quakers product line puts the dryer through its paces. One goal at Quaker is to reduce the complexity and cost in their operation, and the PS 2100 assists in meeting those objectives. The PLC tie-ins to the Delta T system enable Quaker to understand more about the drying and curing curves of each of its fabric recipes.Quakers requirements in its finishing operations is for increased sophistication due to the enhanced expectations of its current and new customers. This is particularly important for Quakers new Contract Fabric Division. The Delta T integrated control system is allowing Quaker to more precisely reproduce these highly sophisticated finishes.There are still some challenges to overcome before the integrated control ideal is perfect, and Wolverine Proctor continues to work with Quaker on the details.From our standpoint, Wolverine Proctor has been very supportive, Nicolosi said. With a project of this magnitude, you are always going to have bugs. But Wolverine Proctor told us they would never walk away when we needed support, and their handling of these post-sale issues has been very professional.


September 1999
Advertisement