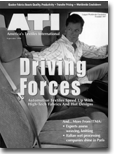 September 1999
On the Cover:
Today's textile companies are making huge advances in the field of automotive textiles. High-tech performance fabrics and knock-your-socks-off designs are the themes for the day.
Textile News
Unifi Signs Letter Of Intent For Nonwoven Equipment
Automotive Business Takes A Global Approach
Mount Vernon Signs Agreement With Nisshinbo
Evolutionary Not Revolutionary
ITMA ReviewBy Dr. Mansour Mohamed, Technical Editor Evolutionary Not Revolutionary
U S And European Textile Industries Urge Government Action
Transfer Pricing Worldwide Crackdown
JPS Industries Completes Sale Of Yarn Business
Frostman Files For Protection Under Chapter 11
Growth Capital Obtains Funds For Textile Manufacturer
Spotlight On Supplies And Services
Staying Ahead Of Demand
Quality ImprovementsAn ATI Special Report Staying Ahead Of Demand
Business & Financial
The Pace Of Economic Activity Decelerates
Yarn Market
Cotton Carryover To Double Next Year
Quality Fabric Of The Month
Don't Be Afraid Of The Dark
Reflective Technologies Inc. has created a safer way to job at night.
Fiber World
Unique Carpets Introduces Two New Lines
Engineered Fibers Opens Short-Fiber Cutting Facility
Nylstar To Acquire AlliedSignal Nylon Yarn
Interface Chooses Shell Corterra For New Solenium Flooring System
AlliedSignal Introduces New Fiber For Seatbelt Safety
Recycling Becomes A Reality For The Carpet Industry
KoSa Showcases Flame-Resistant Polyester For Hotels
StarWeb Filtration Media Receives Media Award
PGI Honors Companies With Miratec Awards
Dyeing Printing & Finishing
Electro Cam Expands Line Of Geared Resolvers
Burlington Chemical Creates New Reducing Agents
Uniqema Creates New Structure For The Americas
GretagMacbeth Creates Textile Color Control System
GenCorp Unveils Name For New Company
DuPont To Build PVA Bulk Handling Facility
Dyadic Industries Announces Name Change
BetzDearborn Introduces Antifoam Treatment Programs
Genencor To Acquire Equity Position In ProdiGene
Avebe Introduces Starch-based Printing Thickeners
Nordson Introduces New Drum Melter
Eastern ColorandChemical Creates New Reducing Agents
DyStar Purchases Dye Manufacturing Facility
Keystone To Continue Offering Sulfur Dyes
Knitting / Apparel
DuPont Adds The Lycra Shop To Its Website Services
Beisler Announces Improvements To Stitchers
Wardwell Braiding Expands Product Offerings With Deals
Lectra Systemes Acquires Colorado International
Textured Yarn Association Elects 1999-2000 Officers
Gerber Businesses Exceeding Expectations
Knitters Gain FlexibilityandFunction
Raitech Introduces QuickCut Swatch Cutter
Guilford Develops New Line Of Swimwear Fabrics
Techexchange Com Adds New Demos To List Of Features