Warm Hands, Warm Heart
The SealSkinz® line of high-performance waterproof gear from Danalco are a perfect match for outdoor activities.
By Michelle M. Havich, Associate Editor
W ith the weather getting cooler, outdoorsmen are thinking about how to continue to do the things they love and still stay warm and dry. SealSkinz® by Danalco, Duarte, Calif., may be the perfect fit.
Keeping Warm
The colder months bring with them several seasonal outdoor activities such as hunting, ice fishing and skiing. All of these have the potential for being miserable if you are cold and wet. Danalco has designed its line of SealSkinz gloves and socks to prevent that from happening.
The SealSkinz brand is made with the patented SealSkinz MVT (Moisture Vapor Transpiration) design. This proprietary design features three layers of state-of-the-art materials including an outer layer of nylon along with DuPont's Lycra® for stretch-to-fit, durable comfort. The Lycra prevents the socks from falling down or losing their shape.

The second layer is the MVT membrane that lets perspiration out while preventing water from getting in. And finally, an inner layer made with DuPont's Coolmax® wicks away perspiration from the skin. Coolmax diffuses perspiration over a wide surface area to allow it to evaporate quickly.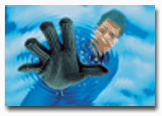 SealSkinz high-performance, waterproof gloves keep hands warm and dry, allowing the wearer to be more comfortable in cold weather. (Photo courtesy of Danalco).
Other Comfort Features
The SealSkinz line also has many features that enhance the comfort and quality of the products. First, they feature a unique seamless construction that helps prevent blisters and chafing, even after hours of rigorous activity. With its stretch-to-fit design, a sportsman could even thread a fishing line while wearing the gloves.

Gripper dots on the palms and fingers of the gloves and the soles of the socks provide excellent control and gripping power in any weather condition. According to the company, each sock and glove is high-pressures tested to ensure there are no leaks.
Past And Future
Danalco was founded in 1970 by Cole Williams, and entered the recreational and outdoor apparel market in the early 1990s. It specialized in the development and manufacture of high-performance waterproof wear.

SealSkinz are one of the few apparel products to be ISO 9002 certified by the International Standards Organization. This guarantees the consumer enhanced product quality, reliability and effectiveness at a reasonable price; improved health, safety and environmental protection.

Today, SealSkinz are being worn by armed forces worldwide including the U.S. Navy Seals and the British Royal Marines as well as top adventure racers and extreme sports figures.
---
For more information about SealSkinz, contact SealSkinz media relations at (310) 229-5771, or visit them on the web at www.sealskinz.com.
---
November 1999
Advertisement