Southern Hospitality By Association
STA emphasizes professional development and fellowship.
Alfred Dockery, Executive Editor
and Michelle M. Havich, Associate Editor Southern Hospitality, By Association STA emphasizes professional development and fellowship. The Southern Textile Association (STA) offers textile managers opportunities for professional development through tailor-made seminars, leadership opportunities and chances to meet and network with their peers. The associations purpose is to get operating executives and operating people from the plants together to exchange information, knowledge and experience about issues involving textile manufacturing, said James Payne, STA president and manager, Piece Dye Operations, Cone Mills. STAs strong emphasis on the manufacturing manager is just one of the elements that makes the organization unique. Founded in 1908 and spanning three states, it fills an important niche for textile professionals.STA focuses more on the line supervisor and the manufacturing people out in the plant, said Dan Nation, executive vice president of Magnolia Manufacturing and second vice president of the association.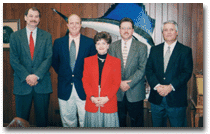 The STA board (l. to r.) Dan Nation, Magnolia Mills; Lyman Hamrick, Hamrick Mills Inc.; Lillian Link, STA; Henry Surratt, Springs Industries Inc.; and James Payne, Cone Mills Corp. It is a good way to get those guys out of the plant into an environment where they can meet their peers, make some contacts in the industry, learn what is going on and attend technical seminars. MembershipThe association has been growing steadily from about 600 members in 1994 to just over 700 members from 233 companies this year. STA leaders would like to continue this growth, and the association is actively recruiting new members. Ideally, the association would raise its membership to the level of 800 to 900, according to its leaders.We want to grow our membership and try to provide our membership with every tool that we can to help U.S. textile manufacturers do a better job, said Nation.It is so economical. It is $40 a year to be a member of STA and anywhere from $12 to $25 per seminar to attend, so it is not a money issue. If people are trying to save money, this is the place to go.Each STA membership is an individual membership. The companies to which the members belong are not asked to join or subsidize the organization.I would like to express to people who aren't members of STA that we are not a little cliquish family, said Lyman Hamrick, vice president of Manufacturing, Hamrick Mills and first vice president, Southern Textile Association. Our membership is open to anybody. They would be welcomed as if they had been members for years. Organizational StructureThe association has three divisions: the South Carolina division, the Piedmont division and the North Carolina/Virginia Division. Each year, each division holds two seminars one in the spring and one in the fall. These seminars are open to anyone who wishes to attend, and experts from throughout the industry cover subjects that are current concerns. Seminars draw a considerable audience. For example, last year 1,353 people attended STA events.The North Carolina/Virginia division typically meets in Greensboro, N.C.; the South Carolina division in Clemson and Clinton, S.C.; and the Piedmont division in the Charlotte, N.C., area.All three divisions come together twice a year for a winter seminar usually held in Charlotte in January and an annual meeting usually held either in Asheville, N.C., or Hilton Head, S.C., in June.These seminars that the divisions hold for supervisors, department manager and above are tailor made for that group of people, said Henry Surratt, plant manager, Aileen Plant, Springs Industries Inc. and member-at-large on the Executive Committee of the Southern Textile Association.There are a lot of seminars available to the textile industry but to my knowledge these are the only ones that are tailor made and specifically designed to meet specific needs.We have technical sessions but we also get into the human resource issues: the tenure of associates, staffing plans, absenteeism and things like that. We really try to make sure that we are offering something that the shift supervisor, the department manager, etc., can benefit from and take back to their facilities. Variety Of TopicsA recent seminar held by the associations South Carolina division illustrates the rich variety of topics covered. The seminar, held at Presbyterian College in Clinton, featured five technical breakout sessions.One covered effective cleaning for ring, open-end and MJS spinning. Another was on key quality points for spinning systems. A third discussed the benefits of pre-wet sizing to reduce costs in slashing. The fourth topic covered utilization of weaving machine monitoring systems to improve performance.Finally, for the plant maintenance area, a session covered Y2K issues regarding plant auxiliary equipment, which included an actual checklist of items to be concerned about.Any time you can get more than 300 people to attend a seminar on Friday night with the ACC basketball tournaments going on that weekend, it tells you a lot about the value of the programs being offered, said Lillian Link, STAs secretary/treasurer.I am really surprised that more companies dont participate in STA, said Hamrick. There are so many organizations that still arent taking advantage of this. When I, as a manager, can send my subordinates to a seminar of the value and quality that was put on in Clinton, and feed them a meal for $12 there is not a bargain like that anywhere out there.Speakers at the various meetings run the gamut. These have included plant personnel, academics, economists, political commentators, motivational speakers, counselors and even law enforcement professionals. Vendors are also welcome to come and share their knowledge.One of the things we have always stressed with STA is that when we have a supplier make a presentation; he is not up there to sell his equipment, Payne said.We dont want them to sell us their equipment. We want them to talk about the principles of operation for anyones equipment; the specific things we are looking for, items that are important. Over the 15-to-20 years that I have been associated with STA, very few people have gotten up there and even attempted to launch into a sales effort. Winter SeminarThe STA Winter Technical Seminar gives members a chance to gain insight into a broad range of topics. A look at this years Winter Seminar illustrates the range and value of offerings.Perry Stephens from the Timken Co., a bearing supplier, spoke about preventative maintenance. James Lemons of the N.C. Center for Applied Textile Technology highlighted the training opportunities provided by his organization.Lt. George Booth of the S.C. Law Enforcement Division covered responses to workplace violence. Col. Roy Mathis, U.S. Army Retired, discussed chaplains in the work place. There was a polyester fiber and economic overview by Dr. Michael Bermish of Wellman Inc. Harry Buzzard of the American Textile Machinery Association (ATMA) spoke on planning for and subsisting at ITMA. Annual MeetingThis years annual meeting will be held in Asheville at the Grove Park Inn on June 23-26. The current President of the American Textile Manufacturers Institute (ATMI), Doug Ellis, Southern Mills, will address the meeting. The ATMI presidents address is a regular feature at STAs annual meeting.Robert Barnhardt, dean of the N.C. State University College of Textiles will speak. T.P. Hall, from the Cole School of Business will give a talk entitled The future is not like the past. Other speakers will discuss economic and communications issues.At the annual meeting, we do not have a very technical orientation, Payne said. We try to have more human resource issues, motivational speakers, economic updates. That tends to be the gist of the annual meetings.The annual meeting offers members a chance to socialize, play golf and more importantly learn about their peers. There is also an opportunity to network and forge personal relationships.When I go to the annual meeting, I can probably hit 60 percent of my customers, Nation said. That is important to me. You get to know these people outside of business, outside of sitting in an office selling yarn or talking about employee problems that makes business a lot easier.One of the biggest assets of being a part of STA to me is networking. I know more people in this industry through my association with STA, probably tenfold, than any other way.A good network of textile contacts can be a lifesaver. Nation related to ATI about how he had been able to solve a recent problem with some air-jet spinning frames by calling Hamrick.I called Lyman because he has the same equipment and asked him what had he seen. Without STA I wouldnt have been able to do that, Nation said.At the meetings, the members really get to know each other. They also get to know each others families.The annual meeting is a family affair, said Hamrick. I take my children. I want them to know my friends in the industry. It is just a time to get some inspirational speaking and to take a little R and R, and everybody needs that. STA is a family that is the way I look at it. Awards And DonationsAt the annual meeting, STA often gives out awards. These include the Chapman Award and the David Clark Award. The Chapman Award was named in honor of James A. Chapman Sr., James A. Chapman Jr. and Joseph W. Chapman of Inman Mills The award was established to recognize individuals for exemplary service to the textile industry.The David Clark Award, named for the founder of STA, honors past presidents of the association who continue to contribute distinguished leadership and service to the association and through it to the textile industry for 10 or more years following their service as president.In the past few years, the association has made donations to the textile colleges at its annual meeting. So far it has given $20,000 and plans to continue this practice whenever association finances allow. Leadership DevelopmentThere are also plenty of opportunities for leadership development within STA. Each of the three divisions has a planning board with eight to 10 people. There are three officers per division. The STA Board of Governors is made up of 25 people. The Executive Committee offers five members a chance to move up stage-by-stage to increasing levels of responsibility.Another key point is the growth and development opportunities not only for people attending the seminars but also for division officers and board members, said Surratt.All of us are involved in planning and scheduling seminars. There are organizational skills, communication skills and management skills that are developed as you grow with the organization.There are also opportunities to meet and learn from another generation of mill managers. We have people who ran plants some years ago and are still very active in the association, said Hamrick. Folks like George Blomquist of Parkdale Mills, Steve Epps of Springs Industries and Jack Scott of Greenwood Mills. When you talk with them at an annual meeting or a Board of Governors meeting, you realize that the principles of what we are trying to do have not changed whatsoever. The technology has changed to some degree, but the principles have not changed at all.We may have advantages that they didnt have like monitoring, but nothing has changed about what we are trying to do as far as spinning quality yarn and weaving quality fabrics, Hamrick said. Benefits And OpportunitiesThe Southern Textile Association Inc. was established in 1908 as a nonprofit organization of individuals in the textile and related industries with a common interest in all phases of textile manufacturing.The purpose of the association as stated in its charter is:To promote good fellowship among its members,To exchange professional knowledge and experience on subjects relating to textile manufacturing,And, to promote other social, educational, personnel relations, research, and other scientific activities for the benefit of the members, their companies and the textile industry. Membership in STA offers the opportunity to network with peers in all sectors of the textile industry through personal contact and association.The current membership of over 700 people draws from virtually every sector of the industry from yarn spinning to fabric finishing, including suppliers of fiber, machinery, replacement parts, dyes, chemicals, and services. This permits seminar topics to be discussed in terms of the impact on the total manufacturing chain.Furthermore, networking provides producers of primary products such as fiber and yarn the opportunity to interact directly with knitters, weavers, and others for mutual benefit and support in producing quality textiles for domestic and global markets.
For more information on the Southern Textile Association, contact the associations office at P.O. Box 66, Gastonia, N.C. 28053; Phone: (704) 824-3522; Fax: (704) 824-0630.
May 1999
Advertisement