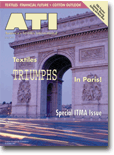 May 1999
On the Cover:
Textiles triumph in Paris at ITMA '99. This issue of ATI features extensive previews of major ITMA exhibitors in weaving, spinning, knitting and quality control.
Textile News
Wise Industries And Befama Complete Agreement
Making The Most Of Tax Breaks In The Year 2000
BFGoodrich Shareholders Approve Coltec Merger
DuPont Announces Polyester Joint Ventures
Springs Moves Into Fabric Lampshade Market
ITMA 39 99 Knitting
ATI Special Report ITMA '99 Knitting
BATI-b Names Norton As New Assistant Editor
Textiles On The Egde Of 2000
ATI Roundtable
ATMI Outlines China Concerns Forms Bobbin Agreement
Southern Hospitality By Association
Industry Insight
Akzo Nobel Plans To Transfer Information Services
Value Systems Form Group-Purchasing Company
Business & Financial
U.S. Economy Continues To Grow
Yarn Market
Quality Fabric Of The Month
Safe Fun In The Sun
Solarveil America has introduced a revolutionary new line of sun protection apparel that will change the way you play in the sun.
Fiber World
Shell Chemicals And KoSa Form Marketing Company
Future Focus 39 99 Seminar Pinpoints Dramatic Changes
Isolyser Announces New Spunlace Technology
Multi-Fil System Produces Melt-spun Nonwovens
U S Polyester Fiberfill Producers File Petition
AlliedSignal To Expand Polyester Fiber Production
American Nonwovens Obtains Three ISO 9000 Certifications
Rhovyl Fibers Make Comfortable Bedding
DuPont-Akra Begins Polyester Production
Dyeing Printing & Finishing
AlliedSignal Receives Supplier Excellence Award
Clariant Introduces MatchWizard Color System
Van Air Systems Expands Its Air Dryer Offering
DyStar Introduces New Black Dye Alkaline Dyeing System
Weber Creates New Brochure For Its Printing Applicator
Martin Color-Fi Granted Reorganization Extension
Ciba Specialty Chemicals Produces New Washfast Dye
Atlas Creates New Client Education Division
Printsource Design Lab Announces Name Change
Knitting / Apparel
Registration Documents Available For IMB 2000
AAMA Strengthens Government Relations
Tarrant Apparel Group Aquires Assets Of CMG
Burlington Announces New Apparel Structure
Woolmark Holds Sheepwalk In New York City
Liberty Fabrics Acquires Enterprise Coatings
Schoeller Textil Receives Editor39 S Choice Award
Cone Denim Announces Ring Spun Marketing Campaign
DuPont Introduces New Chlorine-Resistant Lycra
Springs Announces Sale Of Ultrafabrics Division
Glen Raven Mills Mails First Edition Of New Catalog
Better Methods Alexander Launches Network In Mexico