Volume Up, Pricing Too
By J. Karl Rudy, Technical Editor
Volume Up, Pricing Too
Even though prices for raw cotton improved somewhat, a respondent in this area does not feel markets show any signs of strength.

"There is not much optimism for price improvement this year," he said. "I understand farmers have been told, 'If you can get a contract for 65 cents, take it!'"

There seems, however, to be a bit more optimism on the part of spinners this month.
Spinning Competition
One spinner said: "I want you to write this down, and I want you to know that I'm not kidding when I say that our markets are very, very strong. We are running full and could actually ship more than we can produce. We feel pricing is headed up and will hold.

"Our customers will not react well but there is a mutual sensitivity among those of us in the industry to the pricing difficulties we all face, so I expect higher yarn prices will hold. Spinners have been beaten down badly because of it and we need help."

Circular knits, specifically the T-shirt trades, are in financial difficulties according to this spinner and he reported a rumor that another round of price cuts were in the making.

In discussing the closing of one of the largest outerwear knitters in the business, one spinner said: "When they stopped production, there was hardly a ripple in the market. They just quietly went away."

Sad, isn't it? A respondent who makes open-end yarns mostly for the hosiery and weaving trades said: "Markets are decent but margins are terrible."

He then mentioned something which may be of interest to you: "When integrated weaving operations are closed, the spinning portion of the mill continues to produce yarn.

"In addition to the internally produced yarn, the weaving mills were buying yarn from outside sources. Now the spinning portion of the mill is competing with spinners by selling yarn on the open market. That is the reason we do not expect a major change in market conditions," he added.

He went on to mention the fact that yarns are being discounted. He cited 6/1 ring-spun cotton yarn being sold for $0.80 per pound. Another example was an 18/1 open-end yarn sold at under a dollar. As a manufacturer, how can you do that and stay in business?

Concerning the comment above about spinning portions of weaving operations becoming yarn sales operations, these "new" spinners may have some difficulty in adapting to the rigors of producing a yarn competitive with mills who have been selling yarn for years.

Making a yarn for your own use is quite different from making yarn specifically for a customer. If you are such a customer, you may want to ask why the weaving operation was not successful. As you know, many weave rooms had major problems with productivity and quality because of yarn quality from their own spinning rooms.

Synthetic fiber spinners report that prices have stabilized for both polyester and acrylic yarns. Markets for both are also slightly better and, as a result, mills are running full. Markets for 100-percent spun rayon are virtually non-existent. Some spinners have discontinued this line but others will still produce the product to order.

Weavers report that cotton bottom weight markets are reasonably good and that their mills are running full. Markets for filament fabrics, on the other hand, continue their downward spiral. Most of the blame is placed on imported fabrics although changing customer tastes and demands are a contributing factor.

Weavers in these trades are looking for alternative styling to keep the mills running but we may be witnessing the decline and fall of yet another segment of the textile industry.
Denim Agin'
A brief follow-up on the denim problems mentioned in earlier issues of the Yarn Market indicates that markets for this fabric have improved somewhat. Many mills have moved to the production of khaki to replace lost denim production.

One denim weaver said: "There are a lot of imported garments coming in (mostly from Mexico) but much of this production is made from domestic yarns. I do not think the denim markets will ever completely recover."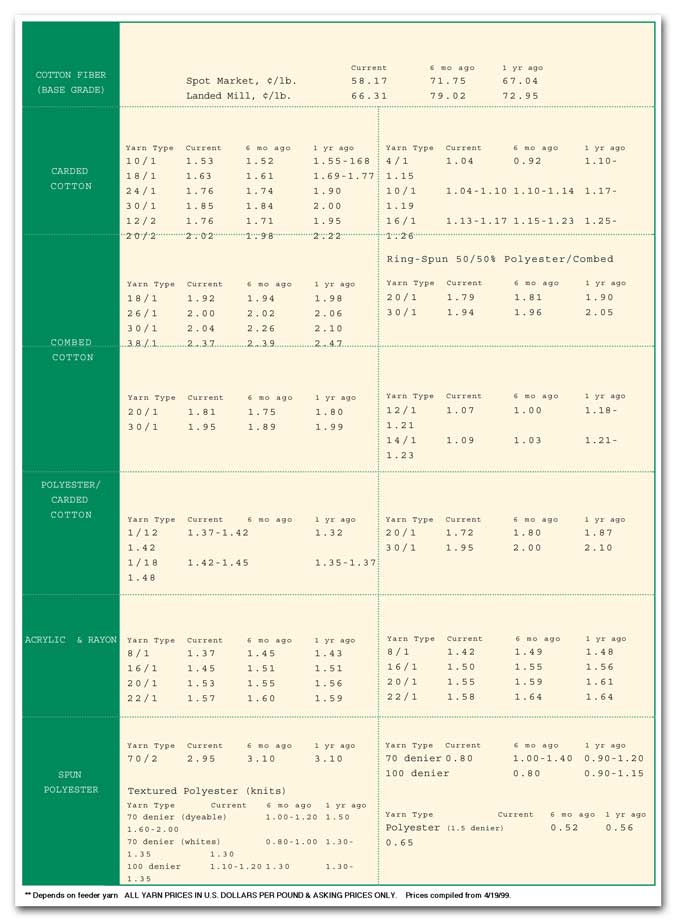 June 1999
Advertisement