New Technology Creates Business Strategy At Unifi
Technology engineering means less sowing and more reaping for one of the world's top yarn manufacturers.
Technology engineering means less sowing and more reaping for one of the world's top yarn manufacturers.
By summers end, Unifi Inc., Greensboro, N.C., one of the most successful textile yarn producers and processors, will have spent four years building three new manufacturing facilities and automating 20 existing plants in the Unifi group. An analyst familiar with Unifis plant engineering has labeled these facilities truly world class.Many at the company have begun to believe that automation isnt enough to ensure the companys industry leadership position. They are all excited about a concept that is being called Technology Engineering, whereby variations of automation technology are used for productivity enhancements in non-traditional areas of the plant. Technology Engineering has evolved at Unifi from a concept into a business strategy. Unifi is beginning to define itself as a service as well as a product company.The company recently announced its manufacturing integration service initiative. This initiative will offer both knowledge and products like Plant Monitor, which can be adapted to and integrated with most manufacturing environments regardless of industry. LXE Inc., a leading manufacturer of wireless data communications systems and Unifis radio frequency (RF) technology vendor of choice, has played a pivotal role in Unifis recent paradigm shift. According to Mike Smith, Unifis director of worldwide business and manufacturing systems, the company has used LXEs RF equipment since 1994 for typical inventory control applications found in many high-volume warehouse operations.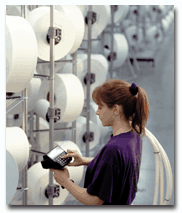 A hand-held computer with scanner is used on the floor for trouble shooting. LXE was Unifis vendor of choice when it needed RF support for some of the more complex automation, like directing automatic guided vehicles (AGVs) around the plant floor. Ever since, LXE has helped Unifi to implement new and creative applications of RF technology.An important force behind Plant Monitor and other product offerings has been LXEs participation in the process that led to actual product development.Unifis configurable and adaptable software products and integration services are a way for the company to leverage its investment in automation technology. By consulting for other manufacturers interested in maximizing their own technology investments, Unifi will also be able to exploit a core competency that it has developed over the last several years.What were really trying to provide is our ability to examine an issue within a manufacturing process and come up with an enhancement using technology, Smith said.These enhancements result from improvements to product quality and lowering manufacturing costs through consistency. We are continually looking at our own processes and devising new applications for information and automation technology. To Be The BestThe earliest business strategy of Unifis Chairman and Founder Allen Mebane was to be the highest quality, lowest cost producer of synthetic yarn in the world. Mebane led the charge into this area because these processes can be highly automated.Due to the low cost of electrical power in the United States relative to other places in the world, Unifi found that automation drives market leadership. The companys recent plan for diversification has evolved from the same strategy. Unifi soon hopes to become a dominant force in yet another market that is dependent on automation expertise: Technology Engineering consulting.In the same way that software companies name versions of their software packages, Unifi progressively numbers its new plants. T5 is the companys latest texturing plant in its complex of facilities located in Yadkinville, N.C.T5 was designed with many innovative technologies in mind. Though the company does showcase T5 and other of its highly automated plants to customers, vendors and trading partners, other manufacturers seeking creative applications of automation technology in their own facilities are also finding their way to Unifis door. A division of consultants at Unifi is now being deployed to work on these business opportunities. Creating A SolutionOne of the first questions the team seeks to answer is: How can we most completely leverage this companys investment in existing technology If a facility already has an RF infrastructure in place, like antennas, network control units (NCUs), and radio frequency units (RFUs), the team will devise ways to leverage it into productivity enhancements in other areas. If youve invested in an RF-based system for inventory control, why not use it for other productivity enhancements Smith asked.One of Unifis main manufacturing processes is texturing. In a texturing process, speed saves. The faster you can run your machines, the more product you can produce. Breaks occur when the yarn snaps as it moves through a machine. Texturing machines traditionally are equipped with sensors wired to lights that indicate when a break occurs. A staff of machine operators patrol the aisles between the machines looking for lights and fixing breaks. With help from the manufacturer of the texturing machines, Unifi was able to develop a way to tap into the break sensor located on each position. Unifi was then able to interface a connection between the sensor and an Oracle database. Specifics on which machine number, position and the day and time the break occurred are now stored in the database. Employing the existing RF antennas in the plant, Unifi and LXE went one step further by writing a program that would send an RF signal back from the Oracle database to LXEs 2330 model computers with hand-held scanners used by plant operations personnel (operators and maintenance and quality technicians).The RF computers can also dispatch maintenance fixers directly to the machine number where the break occurred, and once at the machine the fixers can consult the 2330 for detailed information about the event. The 2330 displays a menu of adjustments they can make to fix the position. The fixers then record on the keypad of the computer which option theyve chosen, and the information is sent back by RF to the Oracle database to become part of the positional history of the machine for effective long-term maintenance. Programmed ProductionTasks involving ergonomically unfriendly positions requiring heavy lifting, twisting and repetitive motion have been replaced by automatic guided vehicles (AGVs), conveyors and other material handling equipment. Where people used to have to load and unload spools of yarn ranging around 12 pounds on to pin trucks that could hold up to 40 spools, robots now do the job. Where people used to have to push loaded pin trucks to and from the machines and packaging areas, AGVs in Yadkinville now traverse the plant on smooth guide paths cut into the floor. An Oracle-based application acts as the plants traffic control system.In Unifis extrusion-based fiber manufacturing plant, LXEs RF equipment is the conduit through which the communication to and from the AGV passes. Smith explains that when the winders doff, a signal is sent from the machine to the traffic control system. A response signal is sent by traffic control to the LXE 6220 network control unit, which then broadcasts the signal through three LXE RFUs strategically placed throughout the plant, which communicate with the 5460 model LXE RF modems onboard each AGV. The modem directs the AGV on a travel path to the winder, and once there the AGVs mechanical arm picks up the packages. When the loading process is complete, the onboard modem sends a signal back to traffic control system, which then communicates with the modem to direct the AGV to the off-loading area, where the mechanical arm unloads its cargo onto pucks for packaging.The system is so dynamic that the traffic control system is able to predict when and where a doff will occur. The system will send an RF signal through the modems to dispatch the closest AGV to the machine getting ready to doff. No time is wasted if an AGV is already parked and waiting by the machine. Each AGV constantly communicates back to the traffic control system to ensure that the amount of travel time for each one is minimized.


June 1999
Advertisement