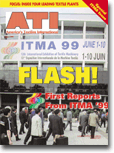 June 1999
On the Cover:
ITMA closed a few days ago - now ATI readers can take an inside look at the show in Paris in this issue. And FOCUS on four outstanding manufacturing operations in ATI's annual FOCUS feature.
Textile News
New Trade Show Spotlights Textiles Trim And Sourcing
Alabama Textile Association Elects New Officers Directors
ITMA 39 99 Abounds With New Developments
Springs Announces Two AFI Plant Purchases
Sterling National Forms Business Network Group
Reinventing The Jacquard Business
BATI-b Honored By Magazine Association Of Georgia
BFGoodrich And Coltec Merger Delayed By AlliedSignal And Crane Lawsuits
Georgia Textile Association Elects New Officers Directors
Pillowtex Announces License And Distribution Agreement
Growth Continues For Strong U.S. Economy
New Technology Creates Business Strategy At Unifi
Yarn Market
Quality Fabric Of The Month
New Fabric Stalks A Market Share
Corn becomes the latest fabric to take to the runways.
Dyeing Printing & Finishing
New Reactive Dyes Produced By BASF
Ciba Introduces New Reactive Dye
IIMAK Line Includes Foil Option For Printers
New Oils Allow Softening Without Yellowing Of Fabrics
Norcross Creates New Viscosity-pH Controller
DyStar Introduces Newly Enhanced Website
New Guide Available For Transfer Printing Of Plastics
BFGoodrich To Take Over Mexican Distribution
Air Products And Chemicals Announces Relocations
New Coating And Finishing Machine Produced By Stork
Knitting / Apparel
Beisler America Introduces Sewing Attachments
RVL Completes Acquisition Of F G Montabert And UPDL
Lectra Systemes Acquires Prima Design Signs Letter Of Intent With Stork
Leveraging Internet Technology
Hyman Brickle Completes Purchase Of Rochambeau
Artificial Finger Tests Frictional Properties Of Textile Fabrics
Pacific Coast Announces Extension Of Merger
Kellwood Completes Merger With Koret
NKSA Launches Websites For Yarn Fair And CAD Expo
Burlington And Tarrent Apparel Plan Joint Venture
Signa Apparel Announces New Credit Facility