January 1999
Compiled by Greg W. Powell and Deidre E. Boulware
Cotton Subsidies Depleted; Prices Below Decade Average
Cotton spot prices are currently trading on the NYCE below the decade average. Despite the cotton industry's competitive edge and expectations of weak demand in 1999, cotton prices have not softened, even though global production has decreased.

On December 15, step two of the cotton industry's three-step competitiveness plan, which allowed for subsidies, ended. Step two mandated a government subsidy to domestic textile mills and cotton exporters when the U.S. cotton price exceeded the Northern Europe price by more than 1.25 cents a pound during a four-week consecutive period.

Funding under the step-two plan was capped at $701 million for 1996 through 2002. According to Shelly Hale, NationsBanc Montgomery Securities analyst, the U.S. Department of Agriculture reported cotton subsidies have increased to over $400 million per year since 1997. As a result, the subsidies have been depleted well before 2002, causing an immediate decrease in cotton prices.
In Textile News
On December 10, Springs Industries announced its agreement to acquire Regal Rugs Inc., for approximately $30 million. Regal complements Springs' bath and accent rugs product line.

The Dixie Group Inc. recently completed the sale of its Tarboro facility to Pillowtex Corporation for $11.5 million and has signed a letter of intent to sell its knit fabric operation in Jefferson, S.C.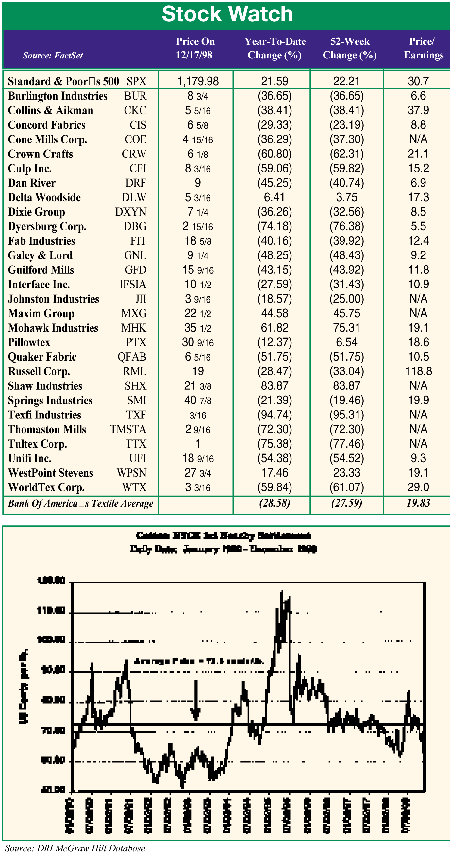 January 1999
Advertisement