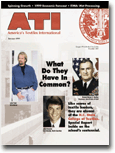 January 1999
On the Cover:
For 100 years North Carolina State University College of Textiles has provides thousands of students with the technical and managerial know-how to lead a modern American industry.
Features
Research: Developing New Textile Technologies
The NC State College Of Textiles Celebrates 100 Years Of Progress
Courses take students from steam engines to microprocessors.
TECS Provides Students With Many Options
TATM Tailors Itself To Meet Changing Needs
Textile News
ITMA Preview Innovative Wet Processing Solutions
The dyeing and finishing sector turns to the latest technology to reduce costs and increase productivity.By Peter J. Hauser, Ph.D.
Mount Vernon To Purchase Assets Of Arkwright Mills
Dorlastan Spandex Expansion On Schedule
Not Just Textile Leaders
A look at some famous College of Textiles alumni outside the industry.ATI Special Report
A Good Year For German Machinery
Textile machinery manufacturers in Germany report solid exports worldwide, especially in Latin America.
Mayer Opens New Facility In South Carolina
Freudenberg And Milliken Announce Partnership
Conitex Paper Cones Forms Joint Venture With Sonoco
WestPoint Stevens Moves To Enhance Supply Chain
The Link Report Focuses On The Future
First Union Provides Line Of Credit For Dan River
Mount Vernon's World-Class Slub Yarns
Customer-driven spinner services diverse markets.
Air Products Wacker-Chemie Launch Joint Ventures
New Dates Announced For OTEMAS 2001
Ciba Calls Off Merger Agreement With Clariant
Spinning's Predicted Growth
Greater and more efficient production will be achieved through increased use of rotor, air and Vortex Spinning.By William Oxenham
Dixie Group Plans Purchase Of Multitex-Globaltex
Business & Financial
Yarn Market
Quality Fabric Of The Month
Flight Of Fashion
Cellulose acetate, which was once used on airplane wings, is now one of the hottest fabrics on the market.
Fiber World
World39 S Largest Carpet Shear Demonstrated
BBA Nonwovens Licenses InterSpun Technology
Synthetic Industries Adds Seventh Extrusion Line
GenCorp Acquires PolymerLatex39 S U S Acrylics
Demand For World Polypropylene To Expand
Fiber Controls Introduces Innovative Dosing Machine
Reemay Introduces StarWeb Substrate
Wooding Begins Production At Basalt Filament Plant
Johnston Named Preferred Supplier For Baseball Bats
H And S And AlliedSignal Introduce New Spectra Fiber
AlliedSignal Forms Asian Fibers Company
Forstmann Announces Closing Of Louisville Plant
Dyeing Printing & Finishing
Henkel Introduces Higher Yield Isostearic Acid
ICI Surfactants Breaks Ground For Expansion
Knitting / Apparel
Lion Apparel Kicks Off Second Century Of Progress
Technology Drives Business
Visitors to CITDA learn how modern CAD technology revolutionizes design.
Tactel Embarks On Exhibtion With A High-Impact Look