Textiles Race For Safety
NASCAR and textiles flourish in the Southeast but the link is more than geographic.
Cover StoryBy Steve Goldberg Textiles Race For Safety NASCAR and textiles flourish in the Southeast but the link is more than geographic.Ned, help me. Im burning! The plaintive cry came from the overturned racecar of Glenn Fireball Roberts, one of NASCARs first true heroes, as he lay trapped with fuel pouring out into an already raging fire.Roberts, whose ironic nickname came from his baseball pitching prowess, was burned on over 60 percent of his body. Amazingly, he survived the fire until pneumonia claimed him six weeks later.In 1964, a race drivers uniform might have been a pair of white jeans and a T-shirt soaked in a fire-retardant solution, perhaps a light jacket and a helmet that wouldnt be allowed on a construction site today. Hill Overton, a longtime radio journalist, vividly remembers when Roberts Ford got tangled up with Ned Jarrett and Junior Johnson and careened through the fence at the second turn of the Charlotte Motor Speedway during the World 600.Roberts didnt have the protection of a rubber bladder in the fuel cell or a sealing ball that keeps the gas from pouring back out the fill intake on an overturned car. And he didnt have anything close to the fire suit that protects drivers today. Spirit Of Innovation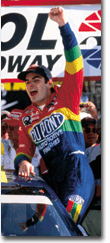 Bill Simpson was only trying to save his own skin in 1958 after his hurtling car wouldnt slow down and drove off the end of a dragstrip. When he got out of the hospital, he borrowed an idea from the Air Force and proceeded to put a parachute on the back of his dragster to help stop it.The idea worked, other drivers liked it and suddenly it was a business. Today, Simpsons operation, headquartered in Mooresville, N.C., has grown and provides suits and accessories for drivers and crews in different sectors of racing.In 1963 at the Pomona Fairgrounds, Simpson had just made a pass and was standing at the end of the dragstrip by his car. The next instant would change his life forever and affect many to come.Here comes a car that blew up under the lights and the fellow who was driving, a kid named Chuck Brandon, burned to death, Simpson remembers.At that point in time we wore Bardahl jackets just a silk jacket with a T-shirt underneath and jeans. The next week he went to a welding supply company and quizzed them about the shiny suits that the guys working in foundries had.He bought one of the bulky outfits, made of aluminized rayon by 3M and took it back to his race shop. He gave it to Mary Walker, his first employee, who is still with him today. She modified the suit as best as possible.It was very uncomfortable to wear, but I thought, man, this thing would really work, Simpson said.The third time he wore it, the same thing that took the life of Chuck Brandon happened to Simpson. His engine blew, causing a nasty oil fuel fire and the bulky, uncomfortable suit did exactly what he expected it to do. He started buying more welding suits and modifying them for drivers. When his supplier balked at improving the process, Simpson went directly to 3M to get the materials and started cutting and sewing the suits himself.By 1967, Simpson had moved from dragsters to sports car racing. One of his racing buddies happened to be Pete Conrad, the astronaut who would fly Apollo 12 to the moon two years later. Conrad told him about a new material by DuPont, a high-temperature nylon used for the parachutes of the space capsules on re-entry.Simpson was excited about the new material and asked the Gemini and Apollo pilot if he could help procure some of it to experiment with. Conrad, who had to be empathetic to Simpsons cause after losing three colleagues in an Apollo I test fire, agreed.He got me some yardage and we produced a fire suit out of it, Simpson said. It was a first-generation Nomex®. We did two layers of that, and then behind that we put a batting in and a couple of more layers. We put it on my partner and put a torch to it and he stood there for almost 30 seconds. And that started the new generation of fire suits.Simpson, who dropped out of school after the eighth grade, says that race drivers were a wild bunch of people in the 70s, unlike today where the business side has changed everything.You werent looked on with high esteem; you were looked at like you were some kind of outlaw.Even as part of that wild bunch, when Simpson went to compete in the Indianapolis 500 in 1970, he had a difficult time convincing his fellow drivers Bobby Unser, Johnny Rutherford, A.J. Foyt, among others of his suits capabilities.In those days, burn prevention was less scientific. Simpson says most drivers wore dipped cotton a solution of 25 percent borax and 75 percent water drip-dried on a hanger.Im not so sure that they didnt believe it, but when I finally said, Hey, Im tired of talking to you guys. Im going to set myself on fire and then Im all done. If you think it does what I say it does, then fine, you can buy my stuff. If you dont think it does that, then dont buy my stuff. And dont bother me any more. And thats what I did.Simpson had to take dramatic action to get his point across to drivers he politely calls stubborn. To make good on his promise, he walked over to a fence away from the pits, doused himself with gasoline and someone lit the match. Impressed with his bravado, Foyt took the opportunity to cook a hot dog over the burning Simpson.All 33 drivers in the Indy 500 that year were wearing Simpson fire suits. Turning Up The Heat Measuring How Hot It Really GetsIts not the temperature, but the energy flow released upon the surface that causes injury, said Tom Neal, a senior research associate at DuPonts Nomex division.That energy is measured in calories per centimeter squared per second. For example, he says, the hottest point of a cigarette lighter would be about one calorie (approximately 1,850°F).Nomex is an aramid fiber that closes and thickens under heat, which adds to the fibers protective qualities. Those protective qualities are measured by Thermal Protection Performance (TPP), an insulation value rating that determines how long it takes to see an onset of second-degree burns. To calculate the rating, both radiant energy and direct flame are measured. Numbers Tell The StorySimpson suits come with TPP ratings from 6 to 35, and these numbers are improved with the use of Nomex underwear, headsocks and socks. By comparison, a firefighters gear has a TPP rating of about 35.A rough estimate, and those used by the SFI Foundation, would be that approximately half of the TPP rating or double the SFI rating is the time in seconds of protection afforded before a second-degree burn would occur. SFI rates protective clothing at 1, 3, 5, 10, 15 or 20. The non-profit organization was established to issue and administer standards for racing and performance automotive equipment. -S.G. The Name Is Nomex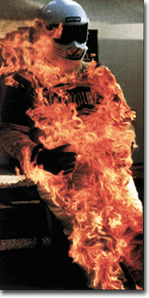 DuPont says Nomex was developed for applications requiring dimensional stability and excellent heat resistance. It is available in fiber form (continuous filament and staple) and sheet form (paper and pressboard).Along with protective apparel, Nomex products are used in hot gas filtration, automotive hoses, electrical insulation, aircraft parts and sporting goods. Nomex fibers consist of long, rigid molecular chains produced from poly-metaphenylene diamine. It does not flow or melt upon heating. Decomposition and charring does not proceed at a significant rate until well over 350ºC without melting, and Nomex is both chemically and thermally very stable.Most race suits actually use Nomex IIIA, which is 5-percent Kevlar, adding strength and break-open resistance, according to Scott Margolin, a marketing executive for DuPonts Nomex division.Nomex III has a lot of things going for it that other fibers dont, claims Simpson. One, its fabrication ability; two, its utility value, how well it wears; three, its dyeability; four, its comfort; and five, its availability. All that together puts Nomex at the top of the list as a choice for a fire-suit fabric.Simpson suits come in a bright, shiny filament Nomex with a stretchy knit fabric, breathable with a relaxed fit; a matte finish gabardine Nomex III, a woven fabric with limited stretch and a starched feel; or a Sateen Nomex with a semi-shiny finish, a woven fabric with limited stretch and a soft feel. Time To Escape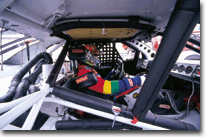 How long does a driver have when everything hits the fan According to NASCAR Busch Series racer Mike Laughlin, its 19 seconds.I had 19 seconds; thats all I needed to save my life. He survived a spectacular inferno when his car, less than one lap into a race at Homestead, Florida, was tapped from behind at about 130 mph coming out of turn four, spun around and backed into the wall super hard. It ruptured the fuel cell, which was full.The car slammed the wall, did a couple of 360s, spinning in the ignited fuel. Laughlin says he saw the flames and was already unbuckling his belts and pulling off the steering wheel before the car stopped moving.I was in the actual fire for 19 seconds; the suit had done a super job, Laughlin said. I mean it just saved my life. The fuel was inside the car, it was just everywhere. It was unbelievable how calm you actually are when something like that happens. It took place in 19 seconds, but it felt like you had forever to sit there and think about it and what you need to do to get out of the car. His injuries were limited to severe burns to his hands he wasnt wearing gloves and second-degree burns to his neck because he wasnt wearing a headsock. He was also burned at the ankle where his double-layer suit pulled away from his protective driving boots. Laughlin says the burn damage to his hands stops right at the sleeve of his suit, comparing it to a tan line. It was right to the limit on that suit, he said.Winston Cup driver Steve Grissom remembers crashes at Dover and New Hampshire where the fuel pump came loose in a wreck and flames engulfed his car. He says that there is a lot to think about, getting the net down, the steering wheel off, the radio disconnected.I knew I had the time to calm down and get out of the car like normal, Grissom said. Without a doubt, its given me confidence in the situations Ive been in where fires been involved. You dont have to panic and it gives you time to get out of the car safely.Grissom wears a two-layer Simpson suit with underwear, gloves, shoes the works. Each layer gives you that much more time.Laughlin wasnt wearing Nomex underwear in his crash. I didnt have them on at the time but I definitely do now.Margolin reinforces the need for Nomex underwear: The key is to not wear anything meltable such as cotton/poly blend underwear. It doesnt matter if the suit protects you if the clothing underneath is melting.Most NASCAR drivers wear a two- or three-layer suit. Simpson says that more than 70 percent of driving suits are custom made to order, the minority of his sales in standard suits going to entry-level drivers. Suit ConstructionThe first step in building a drivers suit is the measurements. Measurements are taken in person by Simpson staff that travel the country servicing different race series and teams or sent in by the customer with 12 different measurements from neck to cuff. There are 12 design options in the current catalog, along with a number of styling options available for collars and cuffs, pockets, arm and back gussets, epaulets and, of course, the all-important embroidery.The embroidery (embroidery to a drivers suit is like decals to his car almost every available space is sold) is actually done before the material for the suit is cut. Simpson uses a variety of the newest Barudan 15-head and single-head machines to decorate the working clothes of the speed demons and their crews. Each head has nine colors of thread, offering a racing rainbow of choices.The measurements are fed into a computerized Gerber Accumark from Gerber Technology that can plot to paper for hand cutting or directly to an automatic cutting machine. Simpson uses a Gerber Cutting Edge, a low-ply (three at a time) cutter, 36 feet long and 72 inches wide. The system organizes patterns for minimum waste.At the start of the season, a Winston Cup or Busch series level driver may order anywhere from four to 10 suits. If a large number are requested, the necessary layers are cut with a round knife, more like a precision 5.25-inch circular saw.The uniforms are then quilted as specified, along with any striping or custom trim. For added protection, all seams are double- and triple-stitched in stress areas, and the interior seams are overlocked and stitched flat for comfort. To prevent separation, all suit fabric ends are matched, folded and interlocked stitched. The Future Is Now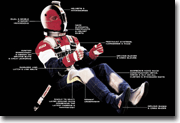 This month at the Daytona 500 Simpson will introduce his next innovation in driver safety, again in an exclusive partnership with DuPont. They will introduce a first look at the use of Kapton®, a polyimide film that they are working to develop into a fiber and that Simpson says has, in preliminary testing, shown tremendous capabilities in fire protection and a significant improvement over Nomex alone.Kapton will never take the place of Nomex and its not intended to do that, Simpson added. What it will do is act as backup to it, another layer of insulating material.Thermo-Man®, an instrumented mannequin with 122 sensors, created by DuPont in the 70s to test protective clothing for military pilots, will take Bill Simpsons place for the barbecue demonstration this time as they compare a Kapton-reinforced suit to the current Nomex-only design.Harry Gumm, a development consultant for DuPont, is working with Simpson on the Kapton project. We are taking the knowledge gained from aerospace and bringing it to fabrics and fibers and microproducts, he said.He stresses the need to balance a wide variety of properties, including thermal conductivity, smoke generation and dexterity. Gumm says that on the Limited Oxygen Index (LOI) measurement scale of flame resistance, Kapton shows a remarkable difference, scoring 37, while by comparison, Kevlar is rated at 29 and Nomex at 30.In other uses, such as insulation and parts, DuPont says Kapton polyimide film has been used successfully in various applications at temperatures ranging from -269ºC to 400ºC and has excellent abilities to maintain its properties in harsh environments.As long as NASCAR and the NHRA (National Hot Rod Association) dont expand the schedule to include the Jupiter 500 or the Martian Winternationals any time soon, those ranges shouldnt be tested.It wont stop with the drivers suit. Simpson and his team are salivating with ideas for the versatile Kapton. Along with other racing applications, other end-uses are on the horizon.Were going into the industrial safety equipment business in a big way, Simpson said. When you find a new fiber or fabric or a new something and you try it and it works, it just moves the bar up a little bit. And the bar has moved up so much in the past 20 years that if you started on the floor it would go through the top of the ceiling.
February 1999
Advertisement