Riding The Wave
Relative industry newcomer Polymer Group Inc. takes the market by storm.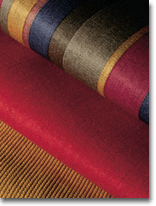 Polymer Group Inc. (PGI), North Charleston, S.C., has only been on the scene since 1992, but it has already pushed past BBA Group Plc to become the third largest producer of nonwovens in the world, topped only by Freudenberg Group GmbH and DuPont.Its a low profile company, but according to Chairman, PresidentandCEO Jerry Zucker: We have been growing at an extraordinary rate. Our growth has been acquisitions as well as organic in nature, and we have the broadest range of technologies of any nonwoven producer in the world.Were a hell of a lot more than just a textile company. Were a technology company, Zucker says, claiming it has more in common with companies like Intel or Microsoft than conventional textile operations.The core of this fast-growing company began when Zucker and James Boyd, PGIs executive vice president and chief financial officer, purchased the FiberTech Group from Scott Paper in 1992. Zucker and Boyd had been in nonwovens prior to that. Zucker was owner of Reemay, an operation he bought from DuPont and later sold.PGI grew quickly with other acquisitions, including Bonlam in Mexico, purchased from CYDSA in 1994 and JohnsonandJohnsons Advanced Materials Co. a year later. Fitesa, Mooresville, N.C., was acquired in 1996. The biggest and most headline-grabbing acquisition came in 1998, when it acquired Canadas Dominion Textiles. PGI purchased Dominion for its nonwoven operations and then divested other non-related operations such as Swift Denim
(see Passion For The Product,
ATI
February 1998)
.The Dominion acquisition also included Dominion Sudamericana, a joint venture in Argentina.The company has grown from $120 million in 1992 to $800 million today, thanks to 22 manufacturing plants in eight countries in North and South America and Europe, employing over 3,800 workers.PGI has been publicly traded on the New York Stock Exchange since 1996. Miracle TextilePGI produces over 150 products which are sold in more than 80 countries. But these days PGI is most excited about a new proprietary fabric called Miratec®, which was introduced in April 1998
(see Quality Fabric Of The Month,
ATI
December 1998)
.In my opinion, Miratec, which stands for miracle textile, is an absolute revolution in the technology of textiles, Zucker says. Its not just a major breakthrough in what everyone considers a nonwoven but is a whole new way of constructing a textile. It alters the paradigm of what a textile is.Terri McDonnell, vice president of the Miratec division of PGI agrees. Its not a nonwoven, its not a woven, and its not a knit. Weve always had those three categories of textiles but we believe this is the fourth. Its a proprietary fiber-to-finished-fabric process and can produce light or heavyweight textiles.Some industry experts wonder if this system, which is harnessed to state-of-the-art computers and lasers, will spell the doom of the loom. Zucker speculates that the system has the potential to eliminate the need for looms for about 65 percent of textile applications. Indeed a bold statement. Wave Of The Future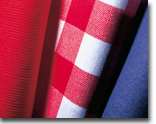 This new technology uses an entanglement process, but unlike conventional nonwovens, Miratec can be made of cotton and other natural fibers as well as man-made fibers.The equipment used in making this miracle fabric is capable of turning out hundreds of feet of fabric per minute.Thats talking about near paper machine speeds as opposed to textile technology, Zucker says. The highest speed looms do 900 picks a minute while the more conventional machines do 200 to 400 picks a minute.But even more amazing than the speed is the unconventional way this system works.The technology is just startling, and there are virtually no limits to the fabric constructions it can duplicate, he continues. Traditionally, making fabrics started with bringing in fibers, opening the bales, carding, drawing fibers into a sliver, spinning, and then going through all the weaving or knitting and then finishing processes.In a typical mill today, if you need a sample of something new, it will take at least six weeks, even if they have nothing else to do. We can give you a Miratec sample in one day.Thats because this system bypasses all of those traditional processes and goes from fiber to fabric in one pass. We can take a fabric, any fabric, scan it and put that digitized pattern into the computer where it can be cleaned up or altered if necessary. Or you can start with a graphic representation or even a mathematically-derived design.That image is then transferred into a system called APEX, which uses high- pressure water to directly manipulate fiber into fabric. Its a combination of laser imaging, new web forming technology and new finishing science.APEX offers an almost infinite design flexibility, McDonnell says. We can make a fabric with the design of a traditional textile that will perform as well, if not better than the original.Its a totally new technology. Any textile innovation in the last hundred years has been in fiber development and chemistry, rather than in ways to make a fabric. But this is something entirely new.There are obviously many applications for Miratec and lots of advantages. The beauty of this technology is that we can go from concept to commercialization in less than a month. That allows us to respond to the needs of retailers and changing consumer preferences, McDonnell said.She added that the textile designer has always been tied to the available technology and its parameters.This is incredible because there are no boundaries. For example, in upholstery fabric, where moldability is important, a lighter weight fabric may be more desirable. But in the past, the designer had to use a 10- to l2-ounce fabric because thats what the loom put out. Today we can do the same job with a 6-ounce Miratec.The computerized technology allows the system to copy anything, Zucker says, even something thats not a textile.It sounds silly, but if you glued macaroni to cardboard and took that to a conventional weaver and asked to weave a textile like that, hed think you were nuts, Zucker said. But this system can copy it. If you want the macaroni to be smooth and the background to be a basket weave, it can do that too. And we can turn an 18-inch x 18-inch sample around overnight.All this is possible because of the great advances in technology. Zucker said that the seeds of this system were actually planted a decade ago, but the concept was not fully applicable at the time.Its only in the last couple of years that you could create the real-time manipulation of lasers. Before that, you would have needed a whole room full of computers to control them.The companys cutting-edge technology is being applied to the ancient art of textiles in Miratecs new Benson, N.C., facility.This technology was initially developed to replace woven gauze for bandages in hospitals, McDonnell explains. Mr. Zucker had the vision to take it to the next level. He pushed R and D to develop very strong webs that have the design of traditional wovens.The company claims another advantage of Miratec is that it is so uniform. Traditional nonwovens do have thicks and thins, which has relegated them to hidden applications like interfacings or for various industrial uses. But while Miratec does retain some of the aspects of conventional nonwovens, these fabrics are uniform and can be jet-, beam- or thermosol-dyed, printed, textured, coated or laminated.We can also apply any finish such as Scotchgard®, flame resistant finishes or antimicrobials in the same process, McDonnell adds.I believe this technology will breath new life into the American textile market, which has suffered due to imports, she continues. The textile industry has always been slow to change. But this technology presents an opportunity to be responsive to change. Off To Market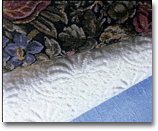 PGIs first Miratec line is projected to produce about $26 million in annual sales. Its also expected to have broad-based applications in automotive, industrial, home fashions, apparel and even reusable medical applications.Early Miratec clients have included Hunter-Douglas for window treatments, CMI Enterprises and Sommers Inc.Steve Sommers, chairman of Sommers Inc. a manufacturer of elastic and narrow fabrics, is particularly excited about Miratec and sees a great potential for using it in stretch waistbands in mens pants.PGI has also entered into an agreement with The Pillow Factory for the joint development of Miratec fabrics to be used in hotel, motel and institutional pillow applications. These new Miratec tickings are fire-resistant and contain both an antimicrobial and stain-resistant film micro-coating.Nasco Supply Company, Best Manufacturing and Baltic Linen, three major institutional distributors of linens to the hospitality industry, have also expressed an interest in this new product.PGI is currently working with Guilford of Maine Marketing Co., a subsidiary of Interface Inc. for the joint development of Miratec fabrics to be used in commercial wall paneling, wall coverings, upholstery and other interior applications. One of Miratecs great advantages is that it does not fray.If you cut and sew, you dont have to deal with the fray and thats a hidden cost saving, McDonnell says.Zucker agrees. You dont have to do anything special in production to address the unraveling problem. But there are other hidden advantages. Normally, you have to apply sizing and lubricants and finishes to the yarns just so you can weave them, he said.When conventional textiles come off the line, they have to be scoured and processed. We eliminate the need for those steps, which is a significant savings to the converter.Price is also a significant issue here. Because Miratec can be produced so quickly and with so little labor, it can be produced for far less than conventional wovens or knits. But Zucker is adamant that PGI is not undercutting the textile market.We are selling these fabrics at the same price as conventional fabrics, although there are those hidden savings just mentioned. Still, with all these advantages, Zucker was worried about the reaction of the industry.When we first thought about offering Miratec to the market, we assumed the textile mills would be our competitors. We were wrong. We introduced this in April and to our delight found that the very mills we thought would be our competitors were lined up to be our customers.Zucker claims these conventional mills have approached PGI in two ways. First, they want to purchase fabrics from us, since we can make them at lower cost than they can. But secondly, they want to ask us about licensing the technology.He insists that it is not PGIs intent to license this technology for at least another three to four years. He is still busy building his own infrastructure. As might be expected, these facilities are smaller than normal.It reduces the bricks and mortar of textile manufacturing. The footprint is smaller than youd need for a facility with the thousands of looms youd have to install to match production.However, licensing is not out of the question. He will be careful about it, concentrating on particular, small niches such as grasscloth for wallcoverings. Branching OutThe excitement at PGI may be in Miratec, simply because it is revolutionary, but the company is not ignoring its sizable business in more conventional nonwovens.The company continues to invest in research, recently spending $60 million for capital equipment and another $l0 million in R and D.According to Robert Johnston, director of investor relations, PGIs nonwoven business concentrates on four major market segments. And while the name PGI may not be familiar, end products containing its fabrics are household names, including Pampers, Levelor shades, Stayfree, Handi-Wipes and Duracell batteries.Key customers include Alcatel, Burger King, Colgate Palmolive, Hardees, JohnsonandJohnson, Kimberly-Clark, Lucent Technologies, Marriott, Owens Corning, ProcterandGamble, Siemens and Sysco.PGIs first market segment is hygiene, with such products as baby diapers, feminine care products, baby wipes and adult incontinence products. Johnston claims the company is a leader with an estimated 50 percent of the non-captive merchant market.The second segment of the nonwovens business, according to Johnston, is medical. Here, we are number one or number two depending on whose statistics you believe, he said. Our largest customer is JohnsonandJohnson and we make fabrics for all the drapes, gauzes, gowns, booties everything for the operating room.The third market is durable wipes, and according to Johnston, PGI is number one. PGI makes a variety of wipes, including retail brands such as Handi-Wipes, as well as commercial products with antimicrobial finishes used in restaurants.The forth category is the industrial and specialty segment, he says, pointing to a variety of products from bale wrap to such esoterica as battery separators and cable wrap.They are installing a lot of fiber -optic cable now and we make the cable wrapping that is swellable. If moisture gets into that cable, it causes the signal to degrade.But this interlining has super-absorbant powders, so if the cable is damaged, during digging, for example, the wrapping swells and keeps moisture out. If repairs are needed, they tend to be small ones rather than catastrophes.PGIs nonwovens are also used extensively in filtration. One of the most exciting new products for this market is HALAR® MBF, made of fluoropolymer manufactured by Ausimont USA Inc. The line of fabrics engineered for the filtration, coalescing and FRP veil markets are manufactured by PGI since the company secured product manufacturing and distribution rights from Ausimont.Whats nice about HALAR is that its a micro-fiber that produces the equivalent of Teflon fiber performance but at lower cost and with a higher efficiency of filtration, Zucker says. Its almost chemically inert, so it has a tremendous number of medical applications, like suturing material for arterial transplantation and bypass surgery.Zucker is bullish on Miratec and HALAR, but he is equally enthusiastic about the concept of nonwovens in the worldwide disposables market.A lot of what we consider necessities in this country are luxuries in much of the world. Things like feminine hygiene products or disposable diapers are out of reach in third-world countries. It takes an income of at least $8,000 per capita to consider disposables.He points out that Mercosur countries including Argentina, Brazil, Paraguay, Uruguay and Chile, with a combined population of 220+ million, is beginning to cry out for disposables. Ditto for the Visegrad region, which includes Hungary, Poland and the Czech and Slovak Republics.But Zucker is particularly optimistic about the emerging Asian markets, especially China. People are being introduced to products theyve never used before and are creating their own justification for them. There is a population of 1.2 billion in China. It doesnt take a large percentage of penetration to result in extraordinary numbers.
February 1999
Advertisement