What A Comfortable World
BASF offers today's active woman comfort yarns for both work and play.
By Michelle M. Havich, Associate Editor
O ne of BASF's slogans reads: "When your reputation hangs by a thread, you better make sure it's a comfortable one." BASF's family of nylon comfort yarns is taking that comfort to the next level with comfortable yarns for innerwear and for use in undergarments for dressing up or dressing down.
Ultra Touch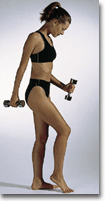 It is an industry observation that women moving into the next millennium are multidimensional, and their interest in and demand for performance fabrics has grown considerably. That is where BASF comes in.

BASF, Charlotte, N.C., introduced Ultra Touch® nylon in 1996. Ultra Touch is a family of fine-denier, high-filament yarns that bring stretch fabrics to a new pinnacle of comfort and softness. The Ultra Touch family offers a diversity of deniers and lusters in bright or matte yarns, for a variety of applications.
According to Tristine Berry, BASF merchandising manger, Intimate Apparel and Swimwear, Ultra Touch was inspired by today's more relaxed, casual lifestyles. Ultra Touch gives clothing a soft, supple feel, which women respond to.

Berry said that customers are attracted to touch and feel. The softer something feels in the store, the more likely customers are to buy it because not only do people want to look good, they want to feel good as well.

A large portion of the Ultra Touch market is in intimate apparel. Bali has introduced its Barelythere™ Lace Mirage™ group of underwear with a stunning lace design.

According to BASF, the line is created on a Lonati knitting machine for a superb, seamless fit across all body types. The seamless fit is a plus, as it won't show through today's body-conscious clothing styles.
As for the active woman, BASF plays a huge part in the new Elita h.tech Sport collection, which is a sports-specific collection made with BASF's Ultra Touch with Elita's Intera™ finish. The Intera treatment disperses moisture across the fabric for easier and faster evaporation, so the garments keep the wearer cool and dry or warm and dry.
Shimmereen
Another popular type of nylon from BASF is Shimmereen®, for stretch satins. According to the company, the resurgence of interest in bright satin has pushed sales of Shimmereen nylon to new heights.

Shimmereen offers a wide variety of advantages to the wearer. Its fine-denier nylon yarns combine with spandex, offering stretch as well as control. Also, it has an ultra-glamorous look in shimmery satin fabrics. In dyeing, Shimmereen achieves exciting, streak-free colors, the company says.

But beyond looking good, the fabric also feels good to wear. BASF said that fabrics made with Shimmereen are as "soft as summer, offering a feeling of bareness."
Other Developments
BASF has also created Micro Touch™, a real microdenier nylon. Micro Touch is specially designed for spandex applications, making stretch fabrics extra soft and comfortable.

While Micro Touch is not widely available in the garment form, fabric development is burgeoning, and BASF feels that the market is ready for a real microdenier nylon.

Silky Touch® is another member of the BASF comfort yarn family. The company says that this microdenier nylon (0.8 dpf) is designed for the most delicate non-stretch, intimate apparel end-uses.

Fabrics made with Silky Touch feel finer than silk, but afford the carefree maintenance only possible with nylon.

So if you ever do find yourself hanging by a thread, if it's from BASF, at least you'll know you look and feel good while you're doing it.
February 1999
Advertisement