Automatic Results
CMI finds more than efficiency improves after renovating its spinning facility.
Automatic Results CMI finds more than efficiency improves after renovating its spinning facility. When you have a facility that is more than 100 years old, there are sure to be design issues that make it difficult to produce material at the highest efficiency possible. This was the issue that CMI Industries Inc., Columbia, S.C., had to deal with at its 103-year-old Robert M. Vance manufacturing complex in Clinton, S.C. In a time when automation and efficiency are required in order to maintain a competitive advantage in a tight textile market, CMI had its spinning facility in several separate areas of its complex. To improve its competitiveness, the company determined that relocating and automating its spinning division was essential for its success. In the summer of 1998, CMI began a $13 million renovation of the spinning facility at its Vance complex. This division produces 100-percent cotton and cotton/polyester blend yarns for in-house use and for outside distribution.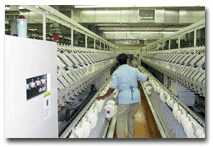 New air-jet spinning machines have dramatically imrpoved production at CMI. Taking The First StepsAs the first major step toward improvement, most areas associated with spinning were consolidated into a 45,000-square-foot production facility. Older ring-spinning machines that did not have auto-doffing were to be removed and replaced with fully-automated air-jet spinning machines. New machinery was also purchased for opening and cleaning, carding, drawing and material handling. The company also put into place a new manufacturing philosophy that created a team-based work force, ideal for its infusion of automated technology.We put all the opening, blending, carding, drawing and spinning all on this one floor, said Wade Wallace, department manager, spinning, at the Vance complex. We staffed it as an independent manufacturing module, or a mini-yarn mill so it operated independent of any other department. We wanted to move from the push/pull type labor to a higher skilled work force by using automation. More Than MachinesWhile the main focus was on improving the machinery, the company also saw the need to improve peripheral areas that would increase employee satisfaction and production. This entailed renovating the rest-rooms, adding a break room, repainting the walls of the production room and creating a blue logoed shirt that all spinning room employees wear to enhance the divisions team mentality.Our President and CEO, Joe Gorga, wanted to ensure that we not only put in new machinery but also that it is aesthetically pleasing as well, said Mike Hopp, vice president, human resources. We wanted the people to feel very special up there like they were getting first class treatment. Worker-Friendly EnvironmentChanges to the management system were made to accompany the renovation. The operation runs 24 hours a day with an on two, off two work rotation. There are four shifts that each have seven associates. The associates are divided into four teams and one preventative maintenance group.There is no direct supervision, but one member of the team does have a lead role. However, workers are equally paid and are cross-trained and rotate jobs.The whole idea is that everybody works in all phases of production, said Robert E. Hooks Jr., director of manufacturing. Everyone has the same pay and does the same jobs. The people that we have here now do more than traditional textile operators. While they have a higher wage, they also have multiple skills, which is more than the traditional textile worker.The employees working in the area also received an increase in pay of about 20 percent. The reason the company was able to raise the wages was the vast improvement in productivity associated with the renovation. We have a lot of people wanting to go to that floor; people have been very excited about the change, Hopp said. Hopp went on to say that because of the strict guidelines given to work in the spinning area, the companys continuing education program has seen an increase in attendance. Workers are now furthering their education in order to work on the spinning floor.CMI points out that while there was a reduction in the work force at the spinning operation, employees were reassigned to other areas of the company rather than laid-off. Even with this reduction, the Vance complex still employs 500 associates. InstillationBecause the project was completed in phases, there was no disruption in plant operation during the renovation. Through the elimination of several separate departments, and by not having a multi-floor facility, CMI was able to create a self-contained environment that was more ergonomic, safer and allowed for a reduced work force.The key to making the plan work was purchasing machinery that was automated, allowing for the utmost efficiency, production and information. CMI replaced about 38,000 ring spindles with 28 Murata 802 air-jet spinning machines. The company also purchased 22 new draw frames from Rieter, 10 Trutzschler DK803 cards, two blend lines from Trutzschler and an automated material handling system for the transportation of sliver from Norcon Systems. The final phase of renovation was the instillation of an automated pallet handling system by Newell Equipment Co New And ImprovedThe only portion of the operation that is not on the floor is the bale opening. These raw fibers are transported from bale opening area to production floor via an air duct. The fibers go to the Trutzschler PWSE 036 and M 588 opening and cleaning lines. After the cotton is opened, it goes to the Trutzschler CVT Cleaner and de-dusted in the Trutzschler DX. The cotton and/or polyester fibers are then blended in the appropriate ratio for carding on DK 803 card.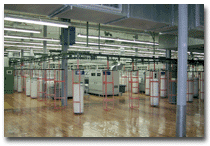 The use of automation has created a safer working environment while increasing worker efficiency. CMI feels that this renovation shows its commitment to the textile industry, and more specifically the American textile industry. After blending, the fibers go through three drawings on D10 and D30 Rieter drawframes. To improve material handling in this area, larce can sizes are used.An overhead can transportation system for automatic sliver transportation designed by Norcon moves full and empty cans throughout the spinning area. The yarn is spun on the new air-jet spinning machines, which run at approximately 270 meters per minute.When planning the floor layout, the company decided against putting in a rail system to move its cans. By slightly sloping the floor, reducing the distance between machines and using the Norcon system, flexibility was increased while cost was reduced. The use of this automated material system created a much safer workplace.CMI also updated its Pnuemafil air systems. The company put in a new air conditioning system and also retrofitted its filtration system. By retrofitting the existing air filtration system, the company was able to reduce cost on a crucial area effecting production. Having all the processes on one floor opening and cleaning, drawing and spinning means you have to maintain three different temperatures and relative humidity conditions at any point in time, said Wallace. Instant InformationOne of the keys to this improvement was the use of on-line monitoring systems. The company used systems provided by the machinery manufacturers, such as Rieters Spyderweb to improve efficiency and to provide constantly updated information. Monitoring equipment is located on the machines, as well as in certain areas of the production floor. Information can also be obtained from a central office on the floor that contains the systems servers.Because of the on-line quality control on all the equipment, everything is measuring in real-time quality parameters, it immediately made the information available to the operator, said Hooks. While we still do off-line testing to calibrate the machines, and for the few tests that can not be done on-line, we were able to cut the loop down substantially. It has made turn-around so quick that the operators can react immediately.Added Hopp: Information doesnt go to two or three managers, it stays in the working unit and the operator can look at the data and make any adjustments, rather than having to go to a manager. Weaving The DividendsResults from the first several months have been extremely positive. Because the complex has a weaving division that uses approximately 65 percent of the yarn produced in-house, yarn quality improvements could be determined almost immediately.Weve seen tremendous improvement down the line in weaving by dramatic stop-level reduction that is directly attributed to the improvements in spinning, said Hooks. While we had some air-jet spinning, adding the back processes and making it into one module made it possible to optimize the technology we had. With all the air-jet spinning now in one location, it allows our suppliers to focus on one area. It has made fiber selection much easier.From the results already gathered, CMI sees the renovation as a success. The automation has cut labor cost by about 40 percent, while improving worker moral and safety. CMI says that it has gone approximately two million man-hours with out an accident at the entire Vance complex.This has basically been a pilot plant operation and it has been very successful. A big key is that it has been done with very few, but top quality managers, Hopp said. Long-Term CommitmentCMI feels that this renovation shows its commitment to the textile industry, and more specifically the American textile industry.In these times, in which the textile industry in general is pretty troubled, the fact that we as a greige mill have invested this kind of money says to our customers that we are going to be around and in the greige goods business for the long haul, said Josh Hamilton, president, Clinton Fabrics Division.It puts us in a very competitive global cost position. I would say that, depending on any major economic variables, our costs are as low as anyones costs in the world. That allows us to price our fabric competitively and in turn allows our customers to be more competitive.


December 1999
Advertisement