Economy Hits High Gear
By Dr. Constantine G. Soras, Economics Editor
As Consumer Spending Speeds Up, Investment In Business Equipment And Software Add Fuel To The Fire
U.S. economic activity was on a high gear in the third quarter with no sign of price or wage pressures.

The nation's output of goods and services grew at a brisk annual rate 4.8 percent, after rising by just 1.9 percent in the second quarter. This was the tenth time in the last 12 quarters that real growth was better than 3 percent.

Consumer spending, investment in business equipment and software, inventory investment, exports and government spending led the way. Inflation, as measured by the GDP price index, rose only 0.9 percent at an annual rate, the lowest in a decade.

Revisions of past data stretching back to 1959, which now count software spending as investment, show that the economy grew at a 3.5-percent annual rate instead of 3.1 percent since the first quarter of 1991.
The latest economic reports point to continued strong growth in the final quarter of this year.

The civilian jobless rate edged down to 4.1 percent in October from 4.2 percent in September. The economy created 310,000 nonfarm jobs in October. Factory payrolls fell by 15,000 in October, with losses in the last four months getting smaller than in the first half of the year.

The producer price index for finished goods slipped 0.1 percent in October, after soaring 1.1 percent in September and rising 0.5 percent in August. The core rate of producer prices rose 0.3 percent in October sharply down from 0.8 percent in September.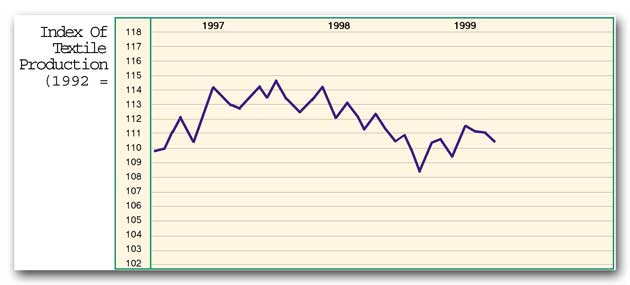 Rebound! Industrial Output Bounces Back In October
Industrial output grew 0.7 percent in October rebounding from a 0.1-percent decline in September due to disruptions caused by Hurricane Floyd. Output for utilities jumped 2.0 percent after plunging 2.5 percent in September. Factory output gained 0.6 percent after no change in September. The operating rate rose to 80.7 percent from 80.4 percent in September.

Housing starts were up slightly in October, paced by gains in single-family units in the Northeast and South. Construction picked up some speed in the East coast to make up for the slowdown caused by Hurricane Floyd. Starts edged up 0.1 percent in October to an annual rate of 1.628 million units.

The U.S. trade gap for goods and services widened in September to $24.41 billion from $23.55 billion as the volume and prices for oil imports surged. Exports eased 0.8 percent to $81.71 billion due to an off month for airplane shipments abroad. Imports gained 0.1 percent to $106.11 billion.

Business sales slipped 0.2 percent in September, while business inventories grew 0.4 percent as retailers and wholesalers stocked up for the holiday season. And, the September inventory-to-sales ratio remained unchanged at 1.33.
Textile Output Also Climbs-Retails Sales Strong As Apparel And Accessory Stores Get Busy
Textile output rebounded 0.8 percent in October after falling 1.2 percent in September. The operating rate for textiles moved up to 82.7 percent from 81.7 percent.

Shipments by textile manufacturers declined 0.6 percent in September on top of a 0.4-percent drop in August. With inventories rising 0.9 percent, the inventory-to-sales ratio moved up to 1.56 in September from 1.54.

Employment in textile and apparel industries has been on a downtrend, but the pace of decline has accelerated this year. The industry's payrolls shrank 0.5 percent in October, following a 0.2-percent retreat the previous month. And the jobless rate for textile mill workers improved to 3.2 percent from 3.4 percent.

Retail sales excluding autos were very strong with gains of 0.5 percent in October and 0.6 percent in September. Apparel and accessory stores sales rebounded 0.9 percent in October following a 1.0-percent drop the previous month.

Producer prices of textiles and textiles and apparel rose 0.2 percent in October. Prices surged 0.9 percent for synthetic fibers, rose 0.2 percent for finished fabrics and were unchanged for processed yarns and threads. Prices fell 0.2 percent for gray fabrics and edged down 0.1 percent for home furnishings.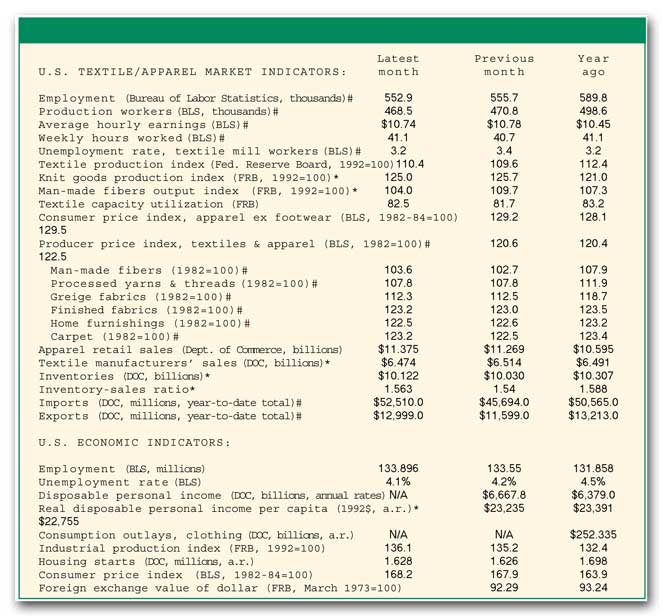 April 2000
Advertisement