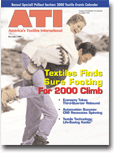 December 1999
On the Cover:
As the year 2000 approaches, textiles prepares for an upward climb towards the 21st centruy.
Textile News
Defining The Future Of ITMA Shows
Paris Revisited
ITMA ReviewAn ATI Staff Report Paris Revisited
The Saurer Group Acquires Barmag
Russell Forms Joint Marketing Venture In Brazil
BASF Bayer And Hoechst Combine Textile Activities
Day International Acquires Armstrong39 S Textile Business
TSSE Still Fighting Growing Pains
DuPont Lycra Realigns Leadership
ATMI Promise Of China Access Could Prove Empty
Celanese Announces Canadian Plant Closing
Tarrant Closes Production Facility In Mississippi
Business & Financial
Quality Fabric Of The Month
To Protect While Serving
DuPont's newest Kevlar® technology is being used in a revolutionary multi-threat body armor for law enforcement and military personnel.
Fiber World
Strata Adds To Stratagrid Product Line
BBA Nonwovens Integrates Filtration Business
Taconic And Dollfus Muller Form Joint Venture
Superior Develops New Line Of Outdoor Fabrics
Knitting / Apparel
Premiere Vision Offers Peek At Fabric Futures
Grandoe And Gore Develop Performance Handwear
Technology And New Trends Prevalent At Bobbin
DuPont39 S Supriva Makes U S Debut In Spring 2000 Line
Port Barre Apparel Re-Opens Plant After Almost Two Years
Math Technology Technique
Textile TechnologyBy Teri Ross Math + Technology = TechniqueAward-winning designer uses innovative strategy to create patterns for menswear line.
Gretchen Bellinger Introduces New Silk Taffeta Line
Duro Industries Acquires Assets Of Handler Textile
Annual Hosiery Convention Not To Be Rescheduled
Celanese Acetate To Be Shown For First Time In India
New Products
HunterLab Introduces Spectrophotometer
Avery Dennison Unveils Heat Transfer Bonders