Cotton Markets Better
By J. Karl Rudy, Technical Editor
A respondent to the Yarn Market who is well versed in this field discussed the continuing decrease in cotton fiber pricing by saying: "There is not a lot of optimism out there. There is a large world supply and it is expected to continue. A record low of 52.45 cents per pound was set on June 17. This is the lowest price since September 1993. The surplus is expected to reach over 41 million bales by 2000.

"Some increase in demand is projected but not enough to offset the increasing worldwide production. Part of the problem is the fact that markets are reacting to world supply rather than domestic supply."

While cotton prices are going down, all of the major fiber producers recently announced increased prices for their products, according to one respondent. This time the increase was announced as a percentage rather than a price-per-pound increase.

Knowing that pricing for sales yarns is extremely low and that cotton prices are also low, does this make a lot of sense to you? Mill managers will instinctively resist price increases of any raw material, especially when their margins are — let's say, marginal at best. One of the first things a manager will do in a situation like this is reduce costs by reducing or eliminating the higher priced fiber.

Then too, fiber producers are not too different from those who produce yarn or fabric. Fiber prices will vary all over the map depending on the deal that has been struck.

As a matter of interest, this respondent feels that customers will strongly resist this increase and that the announced increase will prove ineffective.

A case in point is the recent sale of a 20/1 ring-spun, carded cotton yarn at $1.50 per pound. Compare this to the quoted price on the next page of a 10/1 at $1.53 and an 18/1 at $1.63. This in itself indicates why spinners have such a "hard sell" in attempting to raise prices. You can bet fiber men will have an even harder sell.

Most cotton spinners are saying that business is better. One actually said: "Our markets are running wide open — they are very strong. We have booked the third quarter, but this day and time no one books ahead more than a quarter. We anticipate strong business for the rest of the year. Even our denim business is strong."

This spinner, in commenting about pricing, said that there were no legitimate prices anymore. Prices, of course, are very low with customers wanting them to be even lower. Spinners naturally want the opposite and feel prices must go up to give them a chance of making a reasonable profit.

Another cotton spinner, when asked about his markets, commented: "Our markets are good from a volume standpoint. We are better than we were last year at this time but it was real quiet just before the July 4th holiday. Most of our customers are closing for the week so we will be running about half of our operation. Pricing is still terrible and is not moving much in either direction. We are still selling week to week. Everything is an order though; no one wants a program anymore."& amp; amp; amp; lt; /p>
Synthetics In The Pits
On the other hand, synthetic spinners say their markets are terrible — both volume-wise and price-wise. Weavers, too, say the markets for synthetic filament goods are just about non-existent. The problem seems to be related to the quantities of imported filament fabrics (mostly in garment form).

Weavers say that markets are reasonably good for cottons, particularly for bottom weight. They report that demand going forward also looks good. Like spinners, pricing is awful and there is no long-term business.
World economies seem to be on the upswing, which should prove beneficial to domestic producers.

If people in these areas have money to spend, maybe they will buy a lot of the products that are now being shipped to the United States.

One regular contributor to the Yarn Market said this month that they were shutting down their yarn sales as well as two other divisions by the end of August. Seven hundred people will be affected. Their input to the Yarn Market will be greatly missed.

For those interested in the price of 2-ply yarns from open-end spinning, subtract about 20 cents from the quoted price of the plied carded yarns.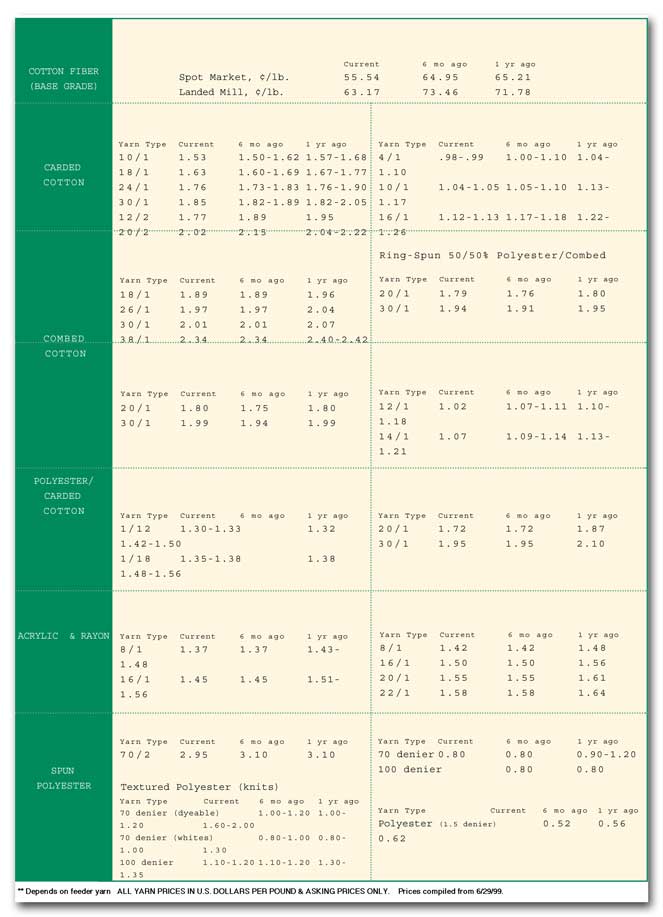 August 1999

Advertisement