Resurgence Of An Original
From the White House to Buckingham Palace to the house down the street, wool carpet is thriving in its diverse market.
Chuck Norton
Resurgence Of An Original From the White House to Buckingham Palace to the house down the street, wool carpet is thriving in its diverse market. Everything old is indeed new again. Although wool was one of the first fibers used in floorcoverings, dating back as far as 5,000 B.C., the use of this natural fiber has become popular again. While the method of production has infinitely improved from the first hand-woven floorcoverings, the reasons for using wool have remained the same. Wool is able to give floorcoverings, such as carpets and rugs, characteristics unmatched by any other fiber.According to Wools of New Zealand, a leading importer of wool to the United States, U.S. wool consumption for floorcoverings increased almost 25 percent from 1995 to 1998. Why Is Wool UniqueMany of the reasons wool floorcoverings have become popular again come from the unique molecular structure of wool. Its structure allows wool to provide many benefits other fibers are unable to provide.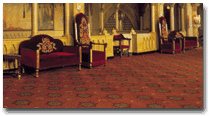 Atlanta's famous Fox Theatre is one of the many prestigious locations worldwide in which wool carpet can be found. Wool is made up of molecular chains of amino acids (also known as proteins) called keratin. These molecular chains of amino acids form three-dimensional helical coils which by acting as miniature springs give wool high resiliency and elasticity.Wools elasticity allows it to stretch up to 30 percent of its natural length and return to its original size. Wools helical molecular structure allows it to withstand daily traffic and also to recover quickly from the crushing caused by heavy objects, such as furniture. The outer surface of the wool is covered by a thin natural membrane that prevents water from readily penetrating the wool fiber yet allows moisture to be absorbed from the air.The outer layer of a wool fiber, the cuticle, has three layers of overlapping scales. These scales, as many as 2,000 per inch, give wool natural soil and dirt resistance. The layer under the cuticle is the cortex. The cortex is made-up of cortical cells that absorb and hold moisture. This makes wool the most absorbent of fibers and due to its hygroscopic characteristic, it can absorb, on average, around 11 percent (and up to 33 percent) of the fibers original weight in moisture, without feeling wet.This high moisture content, along with keratin, helps to make wool flame retardant. Wool fiber does not support combustion and is self-extinguishing. The cortical cells also cause one of wools more commonly known characteristics its spiral crimp. This crimp not only aids in resiliency but also acts as thermal and acoustical insulator. The Health IssueWith health costs mounting, it is important to avoid as many allergens as possible. The use of wool carpets in an indoor environment can provide many benefits by reducing certain allergens.Wool fibers have shown, in several scientific studies, the ability to absorb such gases as nitrous oxide, sulfur oxide and formaldehyde. These gases, produced as by-products of fossil fuels, can pollute the indoor environment. Wool chemically reacts with these gases and binds them in its fiber structure. (Natural fiber backing, such as cotton or jute, has a similar effect.)Wool also assists in stabilizing the relative humidity by absorbing or releasing moisture into the interior atmosphere.There are several other reasons wool carpet can reduce a variety of allergic reactions. Wool fibers cannot aggravate asthma sufferers because its fibers are too long and too coarse to be inhaled.Wool is non-allergenic, does not give off harmful emissions and does not promote the growth of bacteria or dust mites one of the most common causes of asthmatic sensitization. Wool Is Green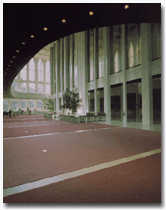 In a time of industrial environmental awareness and goals of zero waste, the wool carpet industry is gifted with a fiber that is not only renewable, but also biodegradable.While wool, along with other protein fibers, is a polypeptide one of the most complex of fiber polymers it readily decomposes in soil. Its by-products carbon dioxide, nitrogen dioxide and water are harmless when returned to the environment.Wool is a renewable resource. Since wool is a sheared animal hair, the animal is not destroyed, allowing for a new season of wool to be grown. Protective FinishesDue to the unique characteristics of wool, it is actually the lack of protective finishes that make it such a desirable fiber. Wool is naturally soil resistant, which eliminates the need for anti-soil agents and also reduces the amount of chemicals needed to clean the floorcovering. Flourochemical-based anti-soil agents are used only as a selling point to gain a competitive market advantage.These anti-soil agents, effective only on light-colored or plain carpets, must be reapplied at regular intervals and can actually have some long term detriment to the durability of the wool. Also, silicone-based finishes cannot be used because they have an adverse effect on the soiling properties of wool floorcoverings. Amazing DurabilityThe most amazing example of the durability of wool carpet comes out of the bombing of New Yorks World Trade Center in 1993.There were 12,000 square yards of wool floorcovering, made from 100-percent New Zealand wool, in the lobby of TowerOne, the area that was destroyed in the bombing.Assuming that the carpet had been destroyed, it was not covered while the month-long repairs went on, including the refurbishing of stainless steal, cleaning soot from marble, reglazing broken windows and repainting the ceiling. After two tolling scaffolds weighing more than 5 tons each were removed at the end of the restoration, the wool carpet had no texture damage. Rather than replacing the carpet, as had been intended, the decision was made to attempt to salvage it.After using the normal extraction method for extra-heavy cleaning, Maria Aasland, interior designer for the Port Authority of New York and New Jersey, stated: The restored lobby looked just as it did before the tragedy, and maybe even better. The Pesky MothNothing is perfect. Everything has an Achilles heel and this includes wool. It is near common knowledge that moths (and select other insects) can damage or destroy wool fibers. It is the larvae of some insects, such as various moths and the carpet beetle, that eat wool or other animal fibers. While storing ones wool carpets or rugs with moth balls or in grandmas cedar chest is neither practical nor desirable, another method of protection is needed. Proper care and durable insect-resistant finishes are needed for wool floorcoverings because infestation generally occurs in dark and undisturbed areas, such as under furniture.Most 100-percent wool or wool-rich (at least 60-percent wool) carpets are treated with permethrin, a synthetic chemical widely used in agriculture. Permethrin has a chemical make-up similar to the naturally occurring pyrethrum, an insecticide found in varieties of chrysanthemums. This treatment can be safely used to prevent the infestation of problem-causing insects.According to the World Health Organizations Environmental Health Criteria 94 on permethrin, released in 1990, there have been no poison cases involving permethrin reported, no indication of adverse effects on humans, and an extremely low or non-existent likelihood of it causing malignant diseases.Wool floorcoverings have only a small amount of permethrin applied to the wool. Humans and domestic animals are at no risk from the low toxicity of permethrin. Under Your FeetWool carpets can be produced in a variety of carpet styles. These styles include: cut pile an upright, smooth and even surface; hard twist (cut pile) the yarn is set with a high degree of twist allowing for a more durable carpet; loop pile formed by continues loops of uniform length for a hard wearing surface; textured loop pile uses different pile heights for a unique sculptured look; berber loop pile uses a blend of naturally shaded wool fibers to give the yarn a natural look; wool sisal replicates the look of woven sisal carpet; and tip-shear cut and uncut pile to give a patterned or textured appearance. Along with the variety of carpet styles comes an almost endless number of color and design possibilities created by the unique dyeing properties of wool. Length of life is a favorable trait that is allowed because the dyes are molecularly bonded to wools chemical structure, allowing it to have superior color fastness.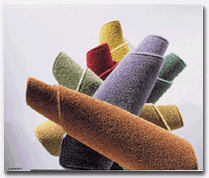 A rainbow of colors are shown by Tintown Original Simply Wool Twist. Wool carpets overcome a higher initial price, as compared to other carpets, through long-term appearance retention. Not only is this caused by the unique bonding process of wool, but its resistance to burning allows such minor damage as cigarette burns to be brushed away with no noticeable effect the carpet.This outstanding durability combined with unique colors and styles has created an impressive list of people and places that own wool carpet.Such celebrities as Madonna, Bruce Willis, Whitney Houston and Robert Redford have wool carpet from Glen Eden in their homes. Ralph Lauren, Walt Disney and Chase Manhattan Corporation are just a few of the many companies with wool carpet in there offices.Bloomsburg also has wool carpet in such esteemed installations as Carnegie Hall, Radio City Music Hall, the Mormon Tabernacle and many other government and private sector establishments. Viewing The MarketThe recent partnership between Artisan Inc., Calhoun, Ga., and Louis de Poortere, Adairsville, Ga., only emphasizes the growing competition and increasing market share within the wool carpet industry.According to Wools of New Zealand, wool carpets and rugs are approximately 4.5 percent of the total U.S. market carpet consumption in square yards and 7 percent in dollars. Broadloom carpet consumption totaled 48 million pounds in 1998, a 37-percent increase from 1993. During this same time period, the U.S. consumption of wool rugs has increased approximately 19 percent to 89 million pounds.Currently the residential market dominates (45.8 percent) other areas, such as corporate (6.25 percent) and hospitality (35.4 percent), as the leading consumer of wool carpet. Projections indicate that 1999 will bring greater increases in the wool floorcoverings market.
August 1999
Advertisement