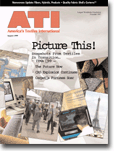 August 1999
On the Cover:
ITMA in Paris, the CAD Expo in New York, new developments in carpets and nonwovens - all parts of the big picture of textiles, and all featured in this issue.
Textile News
Dixie Group Sells Remaining Textile Operations
Industry Veterans Form Management Consulting Firm
Wall-To-Wall Innovations
Consolidation, technology and versatility combine to shape the future of this challenging and ever-changing market.
Springs Expands Springmaid Brand Distribution
HarrietandHenderson Celebrate New Facility
Unifi Technology Group Announces CIMTEC Merger
A Second Look At ITMA
ITMA ReviewATI Special Report
BF Goodrich Coltec And Crane Announce Settlement
Cotton Incorporated Reorganizes Marketing
International Report: Spotlight On Technical Textiles And Nonwovens
Thomaston Mills Announces Reorganization And Downsizing
Pillowtex Workers Vote In Favor Of Unionization
Business & Financial
Economy Slows After Strong First Quarter
Yarn Market
Quality Fabric Of The Month
The Fiber Of The Future
Shell Chemicals to license Corterra for applications from apparel to carpets.
Knitting / Apparel
Lectra Launches Newest Version Of U4ia Software
Cone Mills Announces Alliance With Deborah-Starlite
Organic Cotton Hits The Runway In San Francisco
Burlington Industries And Tarrent Apparel Terminate Joint Venture Talks
Technology Advances At Expofil
Covington Upgrades And Expands Tasco Manufacturing
PCCA Expands Denim Product Line Customer Base
CAD Propels Creativity And Profits