Cotton Outlook's Estimates Indicate Continued Rise In World Stocks
Cotton Outlook's world production number for 2013/14 has been raised by 140,000 tonnes. The biggest increases are for India and Brazil.

Consumption during the same season has been reduced by 90,000 tonnes, owing mainly to a lower figure for China.

As a result, the season's surplus is estimated at 2,301,000 tonnes, against 2,071,000 forecast a month ago.

The 2014/15 world production figure has been reduced by a net 2,000 tonnes. Reductions for China and Uzbekistan have been largely offset by an increase for the United States.

Global stocks are expected to rise by 1,151,00 tones next season.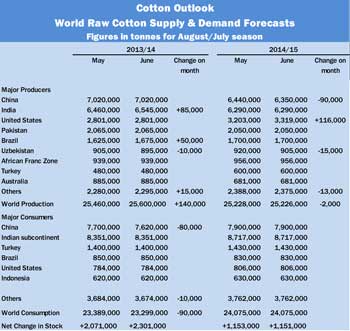 Please click chart to view larger

Posted June 24, 2014

Source: Cotton Outlook
Advertisement