June 2014
The updated test criteria and limit values for the Switzerland-based International Oeko-Tex Association's OEKO-TEX® Standard 100 have gone into force. In other news, the Oeko-Tex Association has named Comazo GmbH + Co. KG, Germany, the April 2014 Oeko-Tex Company of the Month.

The American Apparel & Footwear Association (AAFA), Arlington, Va., has published the 14th edition of the AAFA Restricted Substances List (RSL) covering apparel, footwear, travel goods, home textiles and other fashion accessories.

The Federal Trade Commission (FTC), Washington, has amended the rules and regulations under the Wool Products Labeling Act of 1939 to conform to the requirements of the Wool Suit Fabric Labeling Fairness and International Standards Conforming Act; and align with the amended rules and regulations under the Textile Fiber Products Identification Act. The rules and regulations are effective July 7, 2014.

Charlotte-based Barnhardt Manufacturing Co.'s High Q™ Cotton has received the U.S. Department of Agriculture's (USDA) Certified Biobased Product Certification and Label.

North Wales, Pa.-based TSG Finishing LLC has converted all its fluorocarbon water- and stain-repellent finishes to C6 chemistry.

Australia- and Greer, S.C.-based Alexium International Group Ltd. has received a TechConnect Innovation Award for its Nycolon™ flame-retardant treatment.

The Outdoor Industry Association (OIA), Boulder, Colo., has released its Corporate Responsibility Topline Report.

Rockville Centre, N.Y.-based Carnegie Fabrics' Xorel® and Biobased Xorel fabrics have attained Gold and Silver level compliance with Ann Arbor, Mich.-based NSF Sustainability's NSF/ANSI 336: Sustainability Assessment for Commercial Furnishings Fabric.

The Carpet and Rug Institute (CRI), Dalton, Ga., and the Carpet Cushion Council (CCC), Eagleville, Pa., have unveiled the Green Label Plus program for carpet cushion products.

United Kingdom-based Luxury Fabrics has received the Exporter of the Year Award at the NatWest UK Fashion and Textile Awards 2014.

Laconia, N.H.-based Madeira USA Ltd. has added 72 colors to its Polyneon line of 100-percent polyester embroidery threads.

Spartanburg-based Milliken & Company's modular carpet collections now include labels disclosing their components through Declare®, a voluntary labeling program and database that is operated by the International Living Future Institute™. In other company news, Milliken has been recognized by Americans for the Arts as one of the BCA 10: Best Businesses Partnering with the Arts in America for 2014.

Switzerland-based HeiQ Materials AG has introduced new hangtags for its Glider low-friction textile treatment.

The FabricLink Network (FLN), Tarzana, Calif., has added a free-of-charge Cut & Sew Contractors Index to its textile supply chain indexes. FLN also has restructured its End-Use Index to facilitate its use.

Sheboygan, Wis.-based Rockline Industries Inc.'s Springdale, Ark., manufacturing facility has received an award from the Arkansas Department of Labor's Occupational Safety and Health Division for achieving four million safe working hours.

Humboldt, Tenn.-based Jones Companies Ltd. has received The Chancellor's Award for Philanthropy from Jackson State Community College and the Tennessee Board of Regents.

Montreal-based Gildan Activewear Inc. has released its 2013 Web-based corporate citizenship report, located at genuinegildan.com.

The Cary, N.C.-based Association of the Nonwoven Fabrics Industry (INDA) has launched a mobile app available to download free of charge from iTunes or Google Play. The app allows mobile access to conference information, a directory listing of INDA members, INDA news articles, social media links and INDA office information.

United Kingdom-based Global Inkjet Systems (GIS) has designed a new mini Head Interface Board (HIB-KY-2C) that connects to its existing Head Interface Board for Kyocera KJ4 printheads, and has developed the firmware and drivers enabling it to support the two-color, 300-dpi Kyocera KJ4-03T printhead.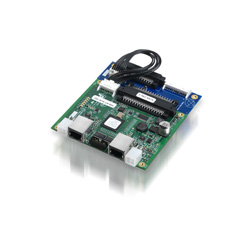 Global Inkjet Systems' Head Interface Board (HIB-KY-2C) for Kyocera KJ4-03T 2-color printheads
Dallas-based
List4data
has updated its opt-in database that provides contact information for synthetic yarn and fiber industry professionals in North America and Europe.
Minneapolis-based
Zepol Corp. has published the 2013 U.S. Port Report.
Winston-Salem, N.C.-based
CNF
has launched a new website, carolinanarrowfabric.com.
Cincinnati-based
Cintas Corp.
's rental facility in Providence, R.I., has received Voluntary Protection Program (VPP) Star certification from the U.S. Occupational Safety and Health Administration.
O'Donnell, Texas-based
Textile Exchange
has released the 2013 Preferred Fibers Market Report.
Ann Arbor, Mich.-based
CIMdata Inc.
has published the CIMdata 2014 Executive PLM Market Report and the CIMdata 2014 PLM Industry Review and Trends Report, the first and second modules of the 2014 PLM MAR Report Series.
Yazoo Mills
, New Oxford, Pa., has reduced its in-line printing costs and has added two in-line printers to its in-house printing capabilities.
New York City-based
Thames and Hudson Inc.
has published "The Fashion Resource Book Men," by Robert Leach; and "The Fashion Swatch Book," by Marnie Fogg.
Schiffer Publishing Ltd.
, Atglen, Pa., has published "The Techniques and Art of Weaving: A Basic Guide," by Marylène Brahic; and "Felting," by Elvira López Del Prado Rivas.
Tonello S.r.l.
, Italy, has released a video detailing its ECOfree ozone washing system.
Glen Raven, N.C.-based
Glen Raven Inc.
has launched a new corporate logo as well as a new logo and updated website for its
Glen Raven Technical Fabrics
division, located at grtf.com.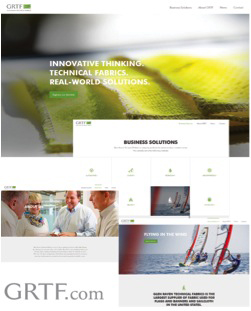 Glen Raven Technical Fabrics' new website
June 2014
Advertisement