Alvanon Introduces Virtual AlvaForms, Launches Fashion Fit Movement
New York City-based technical fit form manufacturer Alvanon Inc. is introducing a virtual fit form avatar based on its AlvaForm technical fit mannequins.

Garment designs may be fitted on the new Virtual AlvaForms — which are an exact 3-D representation of Alvanon's physical AlvaForms — then manipulated and designed in 3-D environments and shared across the supply chain. The new avatars are designed to help garment suppliers apply an accurate fit and size standard consistently across an entire supply chain; and increase speed of the design-to-market process while offering significant savings in physical fittings and sampling, according to Alvanon.

The Virtual AlvaForms are compatible with multiple 3-D fashion design and prototype development systems, the company reports, and will be made available starting Sept. 1, 2014.

In other company news, Alvanon has launched the Fashion Fit Movement, a fashion industry support program designed to help restore and revitalize technical fashion skills and fashion manufacturing in New York City, Hong Kong and Europe.

Alvanon is donating its technical fit tools and consultancy services to certain apparel design and manufacturing businesses that are rebuilding their local production capabilities, as well as to industry associations that support local production efforts. Alvanon has made its first gift — comprising its AlvaForm technical fit mannequins and AlvaBlock pattern templates — to the Council of Fashion Designers of America's (CFDA's) Fashion Manufacturing Initiative (FMI), an investment fund that provides matching grants to certain New York City manufacturing enterprises. New York City-based pattern service Werkstatt has received the equipment, which is expected to enable the company to produce improved fitting patterns.

Alvanon says the CFDA FMI donation is the first of an ongoing series of donations that will be given to apparel manufacturers in New York City, with subsequent donations to be made to manufacturers in London and Hong Kong.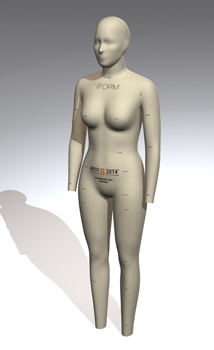 Alvanon Virtual Alvaform
June 3, 2014
Advertisement