Traverse Winding Drive Now With Option For Fine Adjustment Of Travel Distance
ASTON, Pa. — July 9, 2014 — Amacoil-Uhing traverse winding drives now feature an option for fine adjustment of travel distance. The option enhances precision in locating the end stops for setting the traverse reversal points. Precise positioning of the traverse reversal points improves the overall quality of the level wind.

In a standard Uhing traverse assembly, the end stops determining stroke length are situated on hex rods held in place with set screws. Users loosen the set screws, slide the stops to set the travel distance, then re-tighten the set screw. The fine adjustment option has the end stops positioned on threaded rods. The rods extend through the pillow block end supports and a control knob is mounted on the end of each rod. Turning the control knobs rotates the threaded rods causing the end stops to move in very fine increments for setting precise reversal points.

Particularly useful with very fine material such as thread or fiber optic material, an additional benefit of the fine tuning option is that operators may adjust travel distance while the traverse is running without placing hands near moving parts and risking injury. The control knobs are typically positioned on the end of the threaded rods opposite the drive end of the traverse shaft. This assures clearance for connecting the traverse shaft to the drive source. Adding the travel adjustment option does not affect the travel length capacity of the Uhing traverse in the assembly. Therefore existing assemblies are readily retrofitted either in the field or at Amacoil's assembly shop.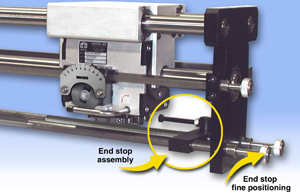 Uhing traverse winding drives are available in seventeen sizes with axial thrust from 7 to 800 pounds. Assemblies are available for winding an extremely broad range of material from thin fiber and thread to heavy gauge wire. A single Amacoil-Uhing assembly accommodates wires of many diameters because the linear pitch of the traverse drive is adjustable -- without gear changes or adjustments to motor speed. Amacoil representatives can provide assistance in selecting the correct size traverse. Periodic light lubrication of the shaft is the only maintenance required on an Amacoil-Uhing traverse drive assembly.
Posted July 15, 2014

Source: Amacoil
Advertisement