Cotton Outlook Forecasts Smaller Addition To World Ending Stocks Than A Month Ago
BIRKENHEAD, England — December 19, 2013 — Adjustments to Cotton Outlook's world supply and demand estimates during the last month imply an addition to world stocks of 1,548,000 tonnes at the end of the 2013/14 season, compared with 1,669,000 indicated a month ago.

A rise of 50,000 tonnes in the Pakistan production number, as well as smaller adjustments for other origins, was more than offset by a decrease of 150,000 tonnes for China.

The global consumption figure for 2013/14 was reduced by 20,000 tonnes. This was attributable to a reduction in the Chinese figure.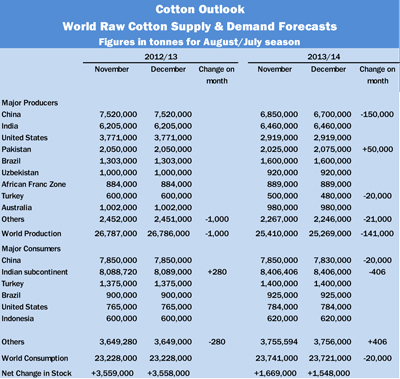 Click here to view this chart in a new window.

Posted January 7, 2014

Source: Cotton Outlook
Advertisement