A Good 2014 Start
Robert S. Reichard, Economics Editor
The new year is beginning to look better and better. And that's true not only for general business activity but also for the domestic textile and apparel industries. Zeroing in on the macroeconomic front first, a growing number of economists have become a lot more bullish, raising their 2014 gross domestic product (GDP) estimate to near 3.5 percent. That's well above the 2.7-percent prediction made late last year by a group of top economists polled by the Wall Street Journal. One key factor behind their rising optimism: The diminishing impact of last year's fiscal tightening, as budget policies on both the federal and state levels begin to ease up. Make no mistake about it; this kind of fiscal change can make a significant difference. According to the Congressional Budget Office, for example, last year's combination of tax increases and spending reductions shaved about 1.5 percentage points off annual economic growth. This year, on the other hand, the expected easing of this fiscal drag could mean a 1-percent positive addition to the overall GDP. Still other bullish signs currently being cited for an improving outlook would have to include today's stronger overall financial climate, continuing recovery in the big housing market, reduced household debt loans, renewed increases in consumer net worth, and assurance by the Federal Reserve Bank that it will not stamp down too hard or too quickly on the monetary brakes as GDP gains begin to accelerate.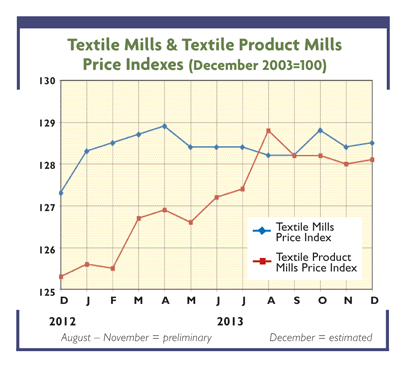 Other Positive News
New private and government reports would also seem to confirm the brightening overall economic outlook. For one, recent holiday sales, despite earlier worries, managed to rack up a sizeable 3.8-percent advance. The latest factory activity survey from the Institute for Supply Management (ISM) is equally upbeat. Their widely monitored leading business index — based on what the nation's top purchasing executives are experiencing — has jumped to near 57 — well above the 50 dividing line between expansion and contraction. It's the culmination of seven straight months of increase from the relatively neutral 51.5 reading for the first six months of last year. Nor is that the only positive news that can be culled from this latest ISM survey. Other encouraging signs include: a continuing rise in new orders, which are now at a 3.5-year high; and somewhat reduced inventories — something that suggests that any new business will be quickly translated into new production and shipments. Last, but not least, this same survey has some good news for the U.S. textile and apparel industries — noting almost uninterrupted activity gains in both these sectors since mid-2013. New Washington numbers — showing textile and apparel manufacturers shipments running 4 percent and 2 percent, respectively, above a year earlier — clearly confirms this improvement. And the picture is much the same on the downstream retail level, where apparel store sales are running 5-percent ahead of a year ago. Bottom line: The new year may turn out to be even better than suggested in
Textile World
's upcoming January/February issue's feature story "Textiles 2014: No Miracles, But Better Days Ahead."
Advertisement
A 10-Year Look Ahead
The really long-term industry prognosis doesn't appear to be all that bad either. One such prediction, courtesy of Global Insight, provides a fairly upbeat picture of domestic textile and apparel trends over the 10-year period ending in 2023. One key projection by this prestigious economic consulting firm: Any further erosion in overall industry activity will be quite minimal — with any losses likely to average out at only about 1 percent annually. And
TW
editors think that even this could turn out to be a little too pessimistic given such positive trends as a narrowing U.S.-foreign production cost differential and increasing interest in reshoring — bringing production back to the United States. In any event, these new numbers are in marked contrast to those racked up over the past 20 years — a period when combined textile and apparel manufacturing shipments fell an eye-opening 52 percent. Meantime, on an even more encouraging note, Global Insight now sees industry earnings advancing substantially over the next 10 years. That's quite a bullish projection, given the fact that textile and apparel shipment numbers are expected to do little more than hold their own over this period. What this profit gain suggests is that the domestic textile and apparel industries are becoming leaner, meaner and healthier. Or put another way — U.S. mills and manufacturers not only will survive, but also will do quite well in what looks to be a continuing competitive dog-eat-dog marketplace.
January 2014
Related Files:
Click here to download Textile Barometers