April 2014
Freudenberg Far Eastern Spunweb Co.
, Taiwan, a subsidiary of the Germany-based Freudenberg Group, has become a member of the Sustainable Apparel Coalition.
Dallas-based
Alok International Inc.
has relocated its New York City showroom and design studio to a 17,600-square-foot building at 105 Madison Ave.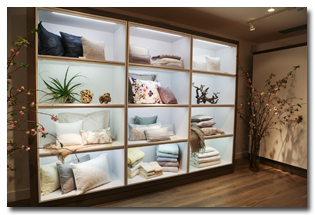 Alok's new New York City showroom
Long Beach, Calif.-based
Epson America Inc.
has now made available for purchase its SureColor® F2000 White Edition and SureColor F2000 Color Edition direct-to-garment (DTG) inkjet printers through its network of Epson DTG authorized professional imaging resellers.
Germany-based
adidas Group
has partnered with Grammy Award winner Pharrell Williams to create a line of apparel that will debut in summer 2014. The Originals x Pharrell Williams line will feature Williams' Bionic Yarn from The Vortex Project — an initiative with Parley for the Oceans to turn plastic debris from the oceans into yarn and fabric.
The
United States International Trade Commission
, Washington, has released the report "Trade Barriers That U.S. Small and Medium-Sized Enterprises Perceive As Affecting Exports to the European Union." The reported may be downloaded at usitc.gov/publications/332/pub4455.pdf.
The
Carpet and Rug Institute (CRI)
, Dalton, Ga., has announced that
Dansk Fashion and Textile
, the trade association for Danish textile and clothing companies, is the first international trade association to endorse CRI's Seal of Approval testing and certification program for carpet cleaning products and equipment.
United Kingdom-based
SATRA
and Professional Clothing Show organizer
Yvette Ashby
have presented the following SATRA Personal Protective Equipment (PPE) Awards at the show: the PPE Innovation of the Year award to Italy-based
OutDry Technologies
and
Creative Srl
for their Fire-Flow OutDry firefighter gloves; Best Innovation in Safety Footwear to United Kingdom-based
Magnum UK
for the Armadillo HPI hospital shoe; Best Innovation in Occupational PPE to Germany-based
HB Schutzbekleidung
for the Orange-Red Hi-Vision Parka; and Best Innovation in Security and Emergency Response PPE to
OutDry Technologies
and
Creative Srl
for their Fire-Flow gloves.
The Switzerland-based
International Textile Manufacturers Federation (ITMF) International Committee on Cotton Testing Methods (ICCTM)
has recognized Italy-based
Mesdan S.p.A.
's AQUALAB fiber-testing instrument for the measurement of a fiber's moisture content and moisture regain.
Puget Technologies
has relocated its headquarters from Ft. Lauderdale, Fla., to CityCentre One, 800 Town and Country Blvd., Suite 300, Houston, Texas, 77024.
The
American Apparel & Footwear Association (AAFA)
, Arlington, Va., and
TEXbase
, Bozeman, Mont., have launched the Voluntary Product Environmental Profile (VPEP) environmental and chemical management tool, available at vpepxchange.com.
O'Donnell, Texas-based
Textile Exchange
has released its 2013 Annual Report; the 2013 Farm Engagement Annual Report; and the Guide to Sourcing Organic Cotton in Turkey; and has made its Responsible Down Standard available for use by the public. Textile Exchange also has formed a discussion group with companies interested in pursuing efforts to address angora animal welfare concerns.
The
International Oeko-Tex Association
, Switzerland, has named
Penfabric Sdn. Berhad
, Malaysia, Company of the Month for February 2014.
The
Textile Rental Services Association (TRSA)
, Alexandria, Va., has launched the Hygienically Clean Food Safety certification program for laundries serving the food manufacturing/processing sectors. In addition, TRSA announces that Cincinnati-based
Superior Linen and Apparel Services Inc.
has earned its Clean Green and Hygienically Clean certifications.
Korea-based
Daejin
has been certified as a partner in Switzerland-based bluesign Technologies AG's bluesign® system.
Mira Loma, Calif.-based
Enduratex/China General Plastics Corp. of America (CGPCA) has introduced the Orient Collection, a rotogravure, three-color print offering featuring Enduratex's PRODURATEC Plus topcoat.
Wichita, Kan.-based
Invista
has updated its website for DACRON® fiberfill, located at dacron.com.
Laconia, N.H.-based
Madeira
USA Ltd.
has made available "The Attributes of Classic Rayon" webinar on YouTube and its website, madeirausa.com.
Rogersville, Ind.-based
HDK Industries
has updated its website, located at hdkind.com.
Italy-based
Eurojersey S.p.A.
has launched a Facebook page for its Sensitive® Fabrics, located at facebook.com/sensitive.fabrics.
Cuyahoga Falls, Ohio-based
Americhem Inc.
has updated its Chinese language website, located at cn.americhem.asia.
The
Center for Polyurethanes Industry
of the
American Chemistry Council
, Washington, has launched a polyurethane campaign entitled "Versatile. Durable. Incredible. Polyurethane." The campaign includes social media, event marketing, advertising and a website located at incrediblepolyurethane.com.
April 2014
Advertisement