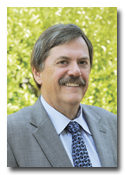 The Rupp Report: Good News From The Weaving Machinery Market
Jürg Rupp, Executive Editor
Italy-based itema Group is reporting good results for the first half (H1) of 2013. Itema comments that profit and cash flow were significantly greater than expected and that weaving machine turnover was 70 percent higher compared to the previous year. The order books are full, and the cash flow from operations doubled compared to H1 2012. Furthermore, the report states that orders for weaving machines enjoyed an increase of 100 percent by the end of 2012, compared to 2011, and a further 50 percent in the first six months of 2013. And the earnings before taxes (EBT) for H1 2013 totals 12 million euros, almost three times the EBT for the same period of 2012.

Exceeded Expectations
As the Rupp Report always prefers to disclose good news, it was obvious it would want to talk to itema CEO Carlo Rogora to learn the reasons for this positive result: Itema reports that it "closes a strong H1 2013, with a record second quarter (Q2), following the already exceptional growth in Q1 2013 and significantly exceeds its expectations for Consolidated Net Profit and Cash Flow from operations."

RR: Mr. Rogora, what are the main reasons for this result? In your message to the press, you comment that this record is primarily attributable to the sound commercial actions implemented by the company in 2012. Can you explain that in more detail?

Rogora: The market is doing better, and we did better. With a bunch of actions, we could improve the results. For example, we reorganized the whole China approach to the market and changed our presence from an agent to our own itema organization.

RR: How did the Chinese market accept this move?

Rogora: Very well. Don't get me wrong, I have nothing against agents; however, your own people can provide much more confidence to the customers than an agent or representative. On top of that, we were very fortunate to find the right people in China to do this job. By the way, we've already organized other markets in the same way - with the same positive results.


Advertisement
Successful Rebranding
RR: We have followed the launch of the new rapier weaving machine R9500 in October 2012 very carefully. It seems that the R9500 now is having some success, right?
Rogora
: Oh yes. Since the introduction, we have sold more than 1,000 machines around the globe. Furthermore, we rectified the whole branding with all brand names and have now only one brand - itema - and we pushed our communication forward.
RR: How did the markets react to this rebranding?
Rogora
: Absolutely positively. We have now one brand and one sales organization, and we are entering new market segments with our machines, while still further optimizing our structure.
Doing Well With Projectile Weaving
RR: Let's talk about China: In your press release, you write that your Chinese daughter company more than doubled its deliveries year-to-date, mainly thanks to the projectile weaving machine P7300HP. This machine is showing great success, with deliveries more than tripled since 2012. It seems that there is still a big denim demand, isn't there?
Rogora
: Not only for denim. The P7300HP is mainly producing technical textiles and the projectile technology is ideal for these products for a lot of reasons.
RR: For example ... ?
Rogora
: Well, the machine is very rigid; it can have a very large working width; and above all, it has a very long production life time. Our own estimations indicate that the working life of such a solid projectile machine is double the life of a rapier weaving machine.
But coming back to your question about denim: There is no doubt that no other technology than the projectile technology is the best for producing top-quality denim. We have some top-quality customers that love the hand and the quality of this denim. And, on top of that, they can sell the product for a better price in this tough market and compete against mass production. One of our top Italian weavers says that he has a unique added-value product with this quality. And so, I can say that denim is a wonderful additional success for the projectile machine, and I hope this will continue next year.
Blending Two Mentalities
RR: And how was the recent unifying of people from Switzerland with Italians? They are not quite the same.
Rogora
(laughing): Well, you see, this is part of our success. We blend Italian passion with Swiss precision to make the best out of each and every person in our company. And we have even a few Japanese people in our research department. And I'm proud to say they all do a great job.
RR: Where are your main markets at the moment?
Rogora
: Still the same suspects. First of all, it is China, then Turkey, South Africa, Europe - and here, mainly Italy, Switzerland and Austria. I can say that the market situation and selling in Europe is not that easy these days, so we are very happy with this.
RR: You are investing a total of 6 million euros this year and mainly focusing on further increasing product quality and reliability. You also write that you continue to successfully streamline your operations with lean manufacturing principles across itema's worldwide manufacturing sites. How do you explain this sentence in detail: "This increased flexibility enables itema to absorb peaks in global demand up to 166 percent compared to the previous year with only a minimal increase in the workforce."?
Rogora
: With pleasure. As I mentioned before, we have undertaken a lot of measures to improve our approach to the markets. First of all, I would reveal flexibility and lean production. It is almost unbelievable how much potential lies in lean production if you follow that carefully and precisely. Thanks to this lean management and the flexibility, we improved our output by 70 percent - with the same people.
Future
RR: By 70 percent? This is quite remarkable. So, how do you see the near future of itema?
Rogora
: Optimistically but cautiously. We are in the position to fulfill and support the market needs, which is positive. We can survive in bad weather, that is, market conditions, we produce a good cash flow, and we are ready to carry on.
Dear reader, if you have some positive news to tell the Rupp Report's global readership, let us all know. Write to
jrupp@textileworld.com
.
---
World Trade In Denim
Just in time, the Rupp Report received the following report from the Washington-based International Cotton Advisory Committee (ICAC): "World trade in denim fabric fluctuated between 530,000 metric tons (mt) and 760,000 mt per year between 2001 and 2011, and averaged 670,000 mt over those years.
"The largest import market is Hong Kong, followed by Turkey and Mexico, with annual imports of 95,000 mt, 58,000 mt, and 53,000 mt, respectively, in 2011. China is the major exporter of denim, about 273,000 mt in 2012.
"The second largest exporter was Pakistan, with 70,000 mt, followed by Turkey, India, and the United States with 37,000 mt, 36,000 mt, and 35,000, respectively.
"The value of annual world denim imports fluctuated between $3.0 billion and $3.9 billion, between 2001 and 2011. Export and import unit values for denim rose from about $4 per kilogram in the early 2000 to between $7 and $8 per kilogram in 2011."
---
September 24, 2013