Waxing Ecological
Schoeller Technologies AG's ecorepel® paraffin-based DWR finish offers a durable, effective, biodegradable alternative to fluorocarbon-based finishes.
By Janet Bealer Rodie, Managing Editor
Concerns raised in recent years regarding the persistence of perfluorinated and polyfluorinated compounds (PFCs) in the environment and their potential adverse effects on human and animal health have brought on the development of several PFC-free durable water repellent (DWR) solutions for performance apparel and textiles. Such solutions include polyester- and polyurethane (PU)-based membranes; silicone- and PU-based coating chemistries; and now, a paraffin-based biodegradable finish developed by Switzerland-based Schoeller Technologies AG. The company's ecorepel® is a modified, long-chain paraffin-based water- and dirt-repellent finish that can be chemically bonded to both natural and man-made fibers to provide permanent, flexible, durable, abrasion-resistant, wash-resistant, breathable, biodegradable performance. In some ways, one could consider it to be the next generation of the older, pre-PFC-era waxed and oiled finishes that are still applied mechanically to certain niche-market sporting and outdoor garments to make them water-repellent.

"Paraffin chains have a certain repellent property. Modified paraffin can be bonded permanently to the fiber surface, and you can have the repellent property while using very few paraffin molecules to make a film that you can't feel but which is very durable and flexible," said Hans Kohn, COO, Schoeller Technologies. "There are other technologies in the market that are also PFC-free, but the structure of the molecules is too delicate. Also, they might have good performance on one fiber, but it could be that on another fiber, the performance is very low."

In testing against PFC and other non-PFC DWR finishes, ecorepel stands up well on both nylon/elastane and polyester fabrics, maintaining the same level of both water repellency and abrasion resistance through more than 10 home launderings and 10,000 abrasion cycles, and performing as well as or better than the other finishes at the end of the test - in some cases, considerably better. ecorepel's superior abrasion resistance performance compared with that of PFC finishes perhaps mitigates the fact that it is not oil-repellent, as are PFC finishes.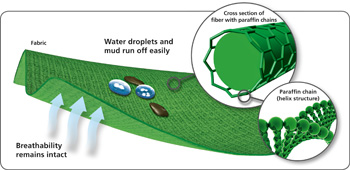 ecorepel® function

"Oil repellency is not an issue with outdoor apparel," Kohn said. "In the outdoor market, each brand has a premium line designed to go the limit, but 90 percent of consumers are average users who just need protection from the rain and cold during normal outdoor activity - this is the big-volume segment." Making a case for segmenting the markets in which repellency is promoted, he acknowledged, "There are some industrial markets that do require oil repellency, such as the military, oil and gas, and others."
Costwise, ecorepel technology is comparable to some of the less expensive branded DWR technologies. "The issue is more that there is an alternative that is probably cheaper and, in addition, is environmentally friendly," Kohn said.
Schoeller first offered ecorepel on its own fabrics, and now also is licensing the technology to other textile manufacturers. Licensees benefit from Schoeller's technical support and must comply with the company's strict quality standards. "We have collected knowledge from our own experience before we license the technology to other textile companies around world, so we know how to handle it to get good results," Kohn said.
"We want to monitor its use by others and be involved in what they are doing and what finally comes to market. Our quality assurance system requires mills to send samples for approval according to our quality standards. The system starts from the chemistry and includes technical support, quality assurance and marketing of the brand. If we want to sell a successful environmentally friendly alternative, it's so important to tell the story in the right manner and to have really brilliant products that convince the consumer. If the consumer is disappointed, we lose this unique opportunity to change the market."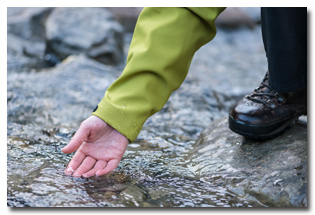 Schoeller Technologies' ecorepel® DWR finish can be chemically bonded to both natural and man-made fibers to provide permanent, flexible, durable, abrasion-resistant, wash-resistant, breathable, biodegradable water- and dirt-repellent performance.
Products featuring ecorepel are already available in Europe. For example, Germany-based mass marketer Tchibo is using the finish on all of its water-repellent apparel. In the United States, Schoeller showed the technology at the recent Outdoor Retailer Summer Market in Salt Lake City, and Kohn said a major U.S. fashion and casual brand will be adopting ecorepel for its fall 2014 collection.
The technology has been recognized for its sustainable attributes, having won the OutDoor Industry Award 2013 in the category "Products of high ecological and sustainable value," which was presented at the most recent OutDoor exhibition in Germany. It also has been selected for inclusion in Material ConneXion's Material Library. In addition, it is compliant with OEKO-TEX® Standard 100 and the bluesign® standard, and Greenpeace has named ecorepel as a positive alternative to PFC finishes.
---
For more information about ecorepel®, contact Shannon Walton +208-424-5080; shannon@schoellerusa.com.
---


October 2013
Advertisement