Cotton Outlook Forecasts Smaller Addition To Next Season's World Ending Stocks Than A Month Ago
BIRKENHEAD, United Kingdom — September 27, 2013 — The most significant revision to Cotton Outlook's production and consumption estimates during the past month has been a reduction of nearly 150,000 tonnes in the 2013/14 world production figure. Higher production foreseen in Brazil and Turkey is more than offset by a reduced output number in China, which reflects unhelpful weather throughout the season.

The other noteworthy adjustment has been an upward revision of the global production number for 2012/13, attributable to an increase for Brazil, in light of the now almost complete 2013 harvest.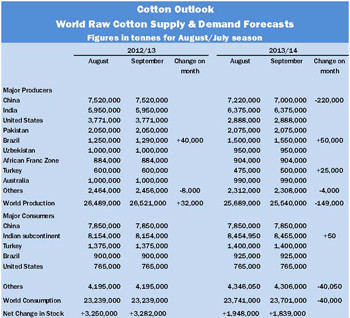 Click here to view the table in a new window.

Posted October 1, 2013

Source: Cotton Outlook
Advertisement