October 2013
Germany-based H. Stoll GmbH & Co. KG has become a partner of the German Engineering Federation's ( VDMA's) Blue Competence Sustainability Initiative.

The International Cotton Advisory Committee (ICAC), Washington, and Generation 10 Ltd. (G10), United Kingdom, have launched the ICAC World Cotton Database, available at icac.org or icac.generation10.net.

Paris-based JEC Group has extended the deadline for submissions for speakers at the 2014 JEC Europe Innovative Composites Summit Conferences as well as the deadline for applications for the JEC Europe Innovation Awards to Nov. 18, 2013.

Newark, Ohio-based TenCate Advanced Armor USA and the U.S. Army Research, Development and Engineering Command (RDECOM), Aberdeen Proving Ground, Md., have entered into a multi-year cooperative research and development agreement to evaluate the TenCate ABDS™ active blast countermeasure system for improved soldier protection.


Advertisement
Germany-based
Toho Tenax Europe GmbH
has received Germany's Federation of Reinforced Plastics 2013 AVK Innovation Award in the Innovative Products category for its Part via Preform, a high-efficiency production technology for thermoset carbon fiber-reinforced plastic.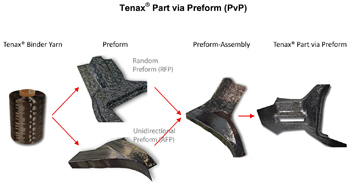 Toho Tenax's Part via Preform technology

Spain-based
Tejidos Royo S.L.
's 7708 CRUDO denim cotton has been certified by
Scientific Certification Systems (SCS)
Global Services
, Emeryville, Calif., to contain at least 18 percent pre-consumer recycled denim cotton.
Wichita, Kan.-based
Invista
's Comparative Claims Standards Process, which evaluates carpets made from Antron® fibers, has been validated by
SCS Global Services
.
Dalton, Ga.-based
Shaw Industries Group Inc.
has been ranked second on Elearning! magazine's Learning! 100 list in recognition of its high performance, organizational culture, innovation and collaboration.
Italy-based
Tessiture Pietro Radici S.p.A.
has achieved UNI EN ISO 14001:2004 certification for its environmental management system and BS OHSAS 18001:2007 for its occupational health and safety management system.
Durham, N.C.-based
PurThread Technologies Inc.
has been certified as a partner in Switzerland-based bluesign Technologies AG's bluesign® system.
The
International Oeko-Tex Association
, Switzerland, has awarded Oeko-Tex® Standard 100 certification to Cantonment, Fla.-based
Cerex Advanced Fabrics
for its chemical-bonded Cerex® and thermal-bonded PBN-II® products; and Oeko-Tex Sustainable Textile Production (STeP) certification to Germany-based knitted fabrics manufacturer
Mattes & Ammann GmbH
.
The
Outdoor Industry Association (OIA) Sustainability Working Group (SWG)
, Boulder, Colo., has released the first of a three-part updated Social Responsibility Toolkit, available for download at outdoorindustry.org/responsibility/social/toolkit.html.
The
American Apparel & Footwear Association (AAFA)
, Arlington, Va., has published the 13th edition of the AAFA Restricted Substances List. The list may be viewed at wewear.org/industry-resources/restricted-substances-list/english/.
Lubbock, Texas-based
Textile Exchange
has released the 2012 Organic Cotton Market Report and has launched the Recycled Claim Standard, developed in collaboration with the Materials Traceability Working Group.
West Conshohocken, Pa.-based
ASTM International
has published the Standard Practice for Sustainable Laundry Best Management Practices, implemented through the Alexandria, Va.-based
Textile Rental Services Association of America (TRSA)
's Clean Green Certification.
The
Carpet and Rug Institute (CRI)
, Dalton, Ga., has released a revised edition of its Commercial Model Specification, available for download at carpet-rug.org.
New York City-based womenswear brand
Cushnie et Ochs'
Spring 2014 collection features fabrics made with Wilmington, Del.-based
DuPont Industrial Biosciences'
DuPont™ Sorona® fiber.
Switzerland-based
SGS Consumer Testing Services
has established the SGS Madagascar SARL textile testing laboratory, located at Immeuble Ariane 5A - Enciente GALAXY Andraharo, BP 1554 - Antananarivo 101, Madagascar.
Pasadena, Calif.-based
Avery Dennison Retail Branding and Information Solutions
has published its Sustainability Report for 2011-12, titled "Our Pursuit: More Innovative, More Sustainable."
Canada-based
Regitex Group
has launched its redesigned website, located at regitex.com.
Englewood, Colo.-based
IHS
has introduced IHS Struxure™ 6.1, a Web-based software application for maintenance, repair and operations supply chain management.
Scranton, Pa.-based
Noble Biomaterials Inc.
and Canada-based
Lululemon Athletica Inc.
have formed a strategic alliance under which Lululemon has the exclusive rights to use Noble's X-STATIC® silver-based antimicrobial technology in its performance apparel.
Gainesville, Fla.-based
Quick-Med Technologies Inc.
's Stay Fresh® antimicrobial textile treatment technology has been featured an article titled "Antimicrobial and Antifungal Fabric Finishing Based on Peroxide Chemistry," published in the October
issue of Research Triangle Park, N.C.-based
American Association of Textile Chemists and Colorists' (AATCC's)
AATCC Review.
Heytex-Group
, Germany, has introduced HEYTex® bellows, a polyvinyl chloride (PVC)-free polyurethane (PUR) fabric for bellows. The fabric is available in widths up to 3.10 meters (m).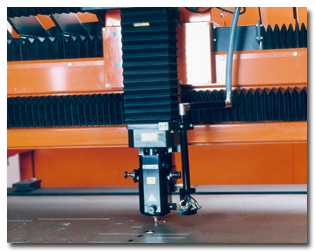 Heytex-Group's HEYTex® bellows PVC-free PUR fabric.

The Norcross, Ga.-based
Technical Association of the Pulp, Paper, Packaging and Converting Industries (TAPPI)
has issued a call for papers to be presented at the 2014 TAPPI International Conference on Nanotechnology of Renewable Materials, to be held June 23-26 at the Fairmont Hotel in Vancouver, Canada. More information may be found at tappinano.org.
Switzerland-based
Mettler-Toledo
is offering "Evaluation of Measurement Uncertainty in Titration" webinars free of charge. Registration is available at mt.com/webinar-analytical.
Greenville, S.C.-based
Coast Apparel
has introduced its Performance Series fall line of fleece pullovers and vests.
American Efird LLC
, Mount Holly, N.C., has released its 2012-2013 Sustainability Report, available at amefird.com.

LANXESS AG
, Germany, has relocated its headquarters to Kennedyplatz 1, 50569 Cologne, Germany.
Nexgen Packaging LLC
has relocated its headquarters to 1130 Windham Pkwy, Romeoville, Ill. 60446; phone +630-455-5500, fax +630-455-5570.
Charlotte-based
Edward C. Gregor & Associates LLC
has relocated to 10432 BethpageDrive, Indian Land, S.C. 29707; +803-431-7427. The company also has updated its website, located at egregor.com.
Greenville-based
Safety Components Fabric Technologies Inc.
has won a 2013 International BoatBuilders Exhibition & Conference (IBEX) Innovation Award in the Boatbuilding Methods & Materials category for its Breakwater X PVC alloy fabric.
Global Inkjet Systems (GIS)
, United Kingdom, has launched PMB-C8-3 Print Manager Boards technology with added USB 3.0 capability.
Ireland-based
Research and Markets Ltd.
has published "Plunkett's Apparel & Textiles Industry Almanac 2013: Apparel & Textiles Industry Market Research, Statistics, Trends & Leading Companies."

Textile Media Services Ltd. (TMS)
, United Kingdom, has published "Personal Protection Textiles: Fabrics for harsh, hazardous and hostile environments."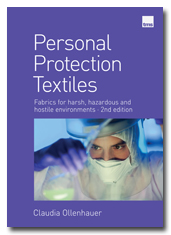 TMS's "Personal Protection Textiles"
October 2013