Buhler Quality Yarns, Corp. Mourns The Death Of Werner Bieri: Founding CEO Dies At 60
JEFFERSON, Ga. — November 4, 2013 — It is with the deepest regret that we announce the passing of Werner Bieri, beloved husband, father, and the founding CEO of Buhler Quality Yarns, Corp., who died Saturday at Emory University Hospital in Atlanta, Ga., after a long fight with leukemia. He was 60. He is survived by his wife, Astuti Sari Bieri, their two daughters, Carolina Sari Bieri and Cassandra Dewi Bieri, his sisters, Heidi Bieri, M.D. and Marlies Rubin, both of Switzerland, and brother, Ernest Bieri of Canada.

Mr. Bieri's experience in the global textile market spanned over twenty-five years. He served as the Managing Director of Hermann Bühler AG for eleven years before bringing Buhler to life in the United States. It is thanks to his tireless commitment and his strategic skills that Buhler Quality Yarns, Corp. survived the upheaval of the American textiles industry to become the successful company that it is today.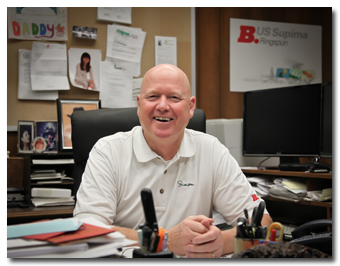 In addition to Buhler, Mr. Bieri served on the executive board of NCTO (National Council of Textile Organizations), was a board member of CCI (Cotton Council International) and the NCC (National Cotton Council), and was a member of the spinners committee in ITMF (International Textile Manufacturers Institute). He was also a member of the Cotton Board from 2001 until his passing.
Mr. Bieri will be remembered not only for his work with Buhler, but for his leadership in the industry, and for the warmth and wisdom he infused in all that he did.
In lieu of flowers, Mr. Bieri's family asks that memorials be made to The Leukemia & Lymphoma Society, Donor Services, P.O. Box 4072, Pittsfield, MA 01202, or http://www.lls.org/#/waystohelp/donate
---
Editor's Note
:
The textile industry suffers a great loss with the recent passing of Werner Bieri. The editors of
Textile World
and
Textiles Panamericanos
could always depend on Werner for a strong, informed opinion concerning current issues effecting today's industry.
A story
celebrating the 10-year anniversary of Buhler Quality Yarns Corp. in Jefferson Ga., ran in
TW
's January/February 2007 issue. Werner and members of his management team are featured. Werner is quoted at length, and hopefully, "Where Quality Counts" captures a sense of the passion and determination he brought to textile manufacturing.
Where Quality Counts
Celebrating 10 years at its Jefferson, Ga., location, Buhler Quality Yarns Corp. focuses on diversifying premium yarn offerings.
Excerpt:
Have 10 short years changed Buhler? "I think we have learned to forget the business plan and to not just focus on one issue," Bieri said. "Keep your eyes open. Have a plan, but be willing to specialize — to invest. David [Sasso] is creative and working with the brands and retailers; Victor [Almeida] is technical and bringing in ideas and know-how," Bieri continued. "We cannot be everything to everybody. The products and processes need to fit. They need to be market-driven and fit within the economics of scale, which is different for every mill."
---
Posted November 5, 2013
Advertisement