The Next Few Months
Robert S. Reichard, Economics Editor
Calling the turn on near-term textile and apparel trends — especially over the current holiday buying season — isn't going to be all that easy. For one, the usual up-to-date government numbers in areas like production, labor, imports and prices are missing due to the recent government shutdown. But far more important is the fact that the uncertainties engendered by all the recent Washington infighting over government funding and the budget ceiling have clearly made American families considerably more cautious as far as their discretionary spending on clothing and other consumer goods are concerned.

To be sure, the National Retail Foundation's early October estimate calling for a fairly impressive 3.9-percent gain for this year's holiday purchases sounded reasonably optimistic when released. However, as just noted, the spending climate has changed — even with the temporary Washington compromise that has been hammered out. And it's easy to see why: The compromise does little more than kick the can further on down the road — to early next year. As such, Textile World editors feel that sales totals over this Christmas season will little more than equal last year's smaller 3.5-percent increase — not really bad, but hardly worth cheering about either.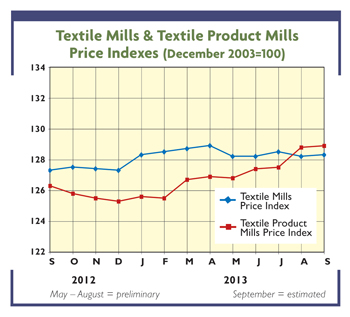 GDP Repercussions And Trends
Equally disturbing, overall fourth-quarter general economic growth — gross domestic product (GDP) — is also being negatively affected. Most analysts, for example, now feel that anywhere from 0.3 percent to 0.6 percent will have been shaved off the October-December GDP advance because of all the political squabbling. Projections made just a few short months ago — calling for as much as a 2.5-percent annual growth rate — could be reduced to somewhere near 2 percent. That's not an insignificant drop. On a brighter note, however, chances of a 2014-15 turnaround look fairly good. That's true even though Washington has done little more than postpone all of today's contested fiscal decisions. Reason: With 2014 midterm elections looming closer and closer, both Democrats and Republicans are likely to think twice or even three times before precipitating another major crisis. As such, odds are that GDP will begin to pick up — with gains equal to or topping 3 percent by late next year. Not only should this help boost consumer willingness to spend a bit more but it could also have a positive impact on today's bothersome unemployment rate — with the jobless number declining to near a more tolerable 6- to 6.25-percent range by the end of next year or early 2015.
Textile And Apparel Trends
This expected economic growth should have a positive impact on U.S. industries — primarily because both textile and clothing demand are highly correlated with GDP. Adding to optimism over the longer pull is the fact that imports of clothing and mill products finally seem to be leveling off. The reasons, as pointed out in previous columns: a narrowing foreign labor cost advantage and increasing appreciation of such other domestic production pluses as lower transportation bills, reduced inventory carrying costs, more quality assurance, flexibility in meeting demand changes; and — last but not least — the recognition that many consumers may be willing to pay a modest premium for a Made-in-USA label. In any event, it's no coincidence that Walmart and a growing number of other U.S. manufacturers and retailers have or are actively considering some production shifts back to American shores. Further backing this up are reports that some domestic firms are now actually finding it difficult to fill specialized jobs — like cut-and-sew — activities that have not been taken over by machines. Still another encouraging sign: the U.S. industry's willingness to invest in new, more efficient plant and equipment — with mill capital outlays running at an impressive $1 billion per year. That should be enough, say industry spokesmen, to both assure relatively healthy profits and maintain the United States' position as a competitive world-class producer. In short, the future isn't looking all that bad.
Statistical note: As noted above, the recently ended government shutdown has delayed the release of many key textile and apparel numbers. Therefore, most of the figures shown in the table below are about one month less current than they normally would be. In all probability,
TW
will be back on its regular schedule by next month.
November 2013
Advertisement
Related Files:
Please click here to download current Textile Barometers