Nordson Introduces VersaBlue® Plus Melters
Nordson Corp. — a Westlake, Ohio-based producer of precision dispensing, plastic extrusion, injection molding, electronics testing and inspection and surface preparation equipment — has added VersaBlue® Plus melters to its family of OptiBond™ variation management solutions for nonwovens manufacturers.

VersaBlue Plus melters provide two new options, in addition to the existing full-feature set offered by the original VersaBlue melters, for up to four channels: melter-integrated flow monitoring, which automatically adjusts the melter pump's output in real time to reduce the difference between the requirement and actual flow rates; and closed-loop flow control, which continuously measures material flow rate and compares it to the application's flow requirement.

The melters feature an easy-to-use graphical touch-screen interface that facilitates setup and operation and provides system statuses for the different melter functions. The display also shows basic graphing and data reporting for flow control, and more detailed information may be exported to a laptop or via field bus.

"VersaBlue Plus melters were developed to meet the current and future market needs of our sophisticated customer base, particularly nonwovens product manufacturers," said Andreas Bornkessel, nonwovens market development manager, Nordson. "Implementing solutions to control material flow allows manufacturers to more efficiently and cost-effectively produce higher quality products for the consumer."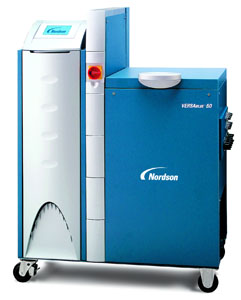 Nordson's VersaBlue® Plus melter

May 21, 2013
Advertisement