Textile Machinery: Negative Order Intake Report For First Quarter Of 2013
MILAN — May 2013 — Following a 2012 already suffering from an 11% drop in production, Italy's textile machinery sector has opened 2013 with a negative order intake compared to the previous quarter. Based on an economic survey conducted by ACIMIT, the Association of Italian Textile Machinery Manufacturers, the overall index for new orders for the first three months of the current year amounts to a value of 82.3 points, a 20% drop with respect to the three previous months. Both the domestic and foreign markets have seen a dramatic slowdown (respectively -28% and -20%). Things look a little better when compared with the same period for 2012: overall orders appear stable at +1%, thanks to a substantial stability on foreign markets, at +4%.

"These are certainly worrisome figures", comments Sandro Salmoiraghi, President of ACIMIT "as they indicate a continuous loss of competitive edge by our manufacturers, tied in to a recessionary environment that has by now gone on for far too long. The entire machinery industry, which the textile machinery sector is a part of, is affected by stagnating domestic investments. Competition on foreign markets is very high, and although our businesses defend themselves through continuous product innovation and trade diversification, the overall context remains very difficult".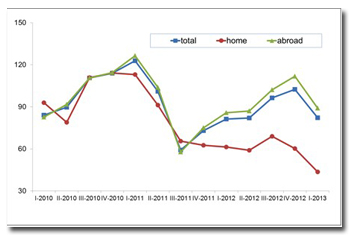 General background information on Italian textile machinery industry and ACIMIT
Italy's textile machinery sector numbers around 300 manufacturers, with roughly 12,000 workers. Production for the industry in 2012 amounted to 2.4 billion euros. Exports accounted for 83% of total production in 2012, amounting to 2.0 billion euros. Foreign sales are directed at some 130 different countries.
Creativity, sustainable technology, reliability and quality are the characteristics which have made Italy a global leader in the manufacturing of textile machinery.
For more information about ACIMIT http://www.acimit.it

Posted on May 13, 2013

Source: ACIMIT
Advertisement