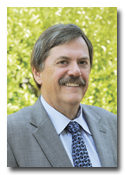 The Rupp Report: Techtextil 2013: The Summit Of The Sector
Jürg Rupp, Executive Editor
On June 13, 2013, Techtextil, the International Trade Fair for Technical Textiles and Nonwovens, closed its doors. Show organizer Messe Frankfurt reports that 1,322 exhibitors from 48 countries were present, compared with 1,199 exhibitors in 2011, welcoming 27,500 visitors from 97 countries, compared with 24,915 visitors in 2011. Messe Fankfurt reports that the parallel event Texprocess had 326 exhibiting companies from 37 countries.

A further positive result is the increased internationality of exhibitors in 2013. It is now 65 percent, compared to 63 percent in 2011. The main exhibitor nations besides Germany are Italy, China, United States, Taiwan, Poland, Turkey, United Kingdom, South Korea and Switzerland.

Big Success
As the Rupp Report has previously reported, the show was a total success from the very beginning (See " The Rupp Report: Paper And Nonwovens? What A Flushable Idea!" TextileWorld.com, June 18, 2013). However, the original start of Techtextil wasn't such an achievement: It was in the mid-1980s, when Messe Frankfurt invited some journalists to a press conference in Frankfurt to announce a new exhibition. Its name would be Techtextil. Some participants were convinced that this concept would be successful in the future because since the early 1980s, textiles for industrial applications had become more and more important.

When Techtextil was first planned, the traditional textile sector was very skeptical: Less than 200 exhibitors took part in the first edition in 1985, and the exhibition occupied only one floor in Hall 4. At that time, DuPont was the only man-made fiber producer that believed in the future of technical textiles, and was therefore the only exhibitor. However, it took the traditional textile industry quite a while to finally understand how this sector works. The rest of the story is quickly told: Techtextil now is a great success. Today, many more textile machinery producers are present than ever. And many of them want either to increase their floor space or at least to attend next time.

However, how did the exhibitors see the outcome of the show? Here are some answers from producers in the different sectors of the industry.

High Satisfaction
All respondents to a survey conducted by the Rupp Report declared they were very satisfied with the outcome of the show as well as with the high quality of the visitors. No wonder they were all very happy, as expectations were met and in some cases even exceeded. Visitors from all over the world were welcomed. Of course, Germany was named most often as the source of the visitors, followed by European countries.

Advertisement
Jutta Stehr, marketing manager at Trützschler Nonwovens & Man-Made Fibers GmbH, Germany, said: "We are amazed about the large number of Chinese who visited our booth." Sabine Duttenhofer, head of corporate communications at Germany-based Freudenberg Nonwovens, added: "Our company welcomed visitors from more than 15 nations."
Johann Philipp Dilo, CEO of the Germany-based Dilo Group, said: "Our expectations were more than fulfilled. Next to a lot of Europeans, we could even welcome visitors from India and Brazil." Dilo has been a regular exhibitor since 1991, "and since that time we have never missed a show," he added. Mentioned also were visitors from Japan, and North and South America.
Market Situation
As the main markets for technical textiles and nonwovens differ from markets for traditional textiles, a large part of the products are still manufactured in Europe. Facilities are mainly in Germany and France, but also in the United States and Eastern Europe, which are in the focus of interest.
Most of the companies were able to conclude contracts, which usually had been prepared well in advance. "We were truly surprised by the high number of very reputable visitors," Stehr said. "If one thinks of the euro crisis and declining growth rates in the BRIC [Brazil, Russia, India and China] countries, it's amazing how high the global investment plans still are."
Florian Boch, head of marketing & communications of Lindauer Dornier GmbH, Germany, also rated the current market situation as positive: "Technical textiles and nonwovens are clearly growing markets."
This assessment was confirmed by Edi Strebel, marketing manager of Jakob Müller AG, Switzerland: "We see a growing market for new applications, mainly in Europe. This is to a large extent provoked by the textile producers who want to compensate for their decline in traditional products."
Similar explanations were given by Sibylle Hänni Hofmann, communications manager for Switzerland-based Sanitized AG: "Sectors such as sunscreen, medicine, outdoor items and protective textiles are showing large growth rates. Therefore, we notice a strong demand for innovative products for antimicrobial protection of PVC [polyvinyl chloride], for heat resistance as well as weatherproof and UV [ultraviolet] stability."
The Future
It is undisputed that the markets for technical textiles and nonwovens continue to grow. Dilo predicts an annual growth of some 8 percent. And Duttenhofer adds: "Megatrends such as traffic gridlock, megacities, sustainability or work-life balance will increase global sales for technical textiles; and it means also that we have to think about new products and solutions."
And how much have requirements and needs changed over the last five to 10 years? Strebel is convinced that there are a lot of new applications for technical textiles. "Many customers seek a much broader application portfolio. Lots of customers are actively looking for new application areas. And many customers are looking for simplified production — in other words, the integration of as many process steps as possible in the same machine."
And Boch added: "Previously, customers had a total solution and argued with us about the details. Today, customers want from us the total solution."
Four Days (?)
Much debated among visitors and exhibitors was the opening and beginning of the two different shows. Texprocess opened its doors one day prior to Techtextil. This led to great confusion among visitors and exhibitors, as the entrances to the Techtextil halls were closed. So the question was obvious: Would three days for Techtextil be enough? Due to the intensity of the discussions in the booths, the quantity and quality of visitors and the very large range of products offered at the two events, most of the interviewed companies voted for a fourth day. Dilo said: "I think the combination of Techtextil and Texprocess creates synergies. Yes, there should be four days." And Strebel added: "We agree to this idea. Texprocess brings new visitors to Techtextil and vice versa."
In contrast to the situation at most other fairs, many Techtextil exhibitors want to enlarge their floor space considerably in two years. It may well be inevitable for the organizers to open an additional hall for Techtextil. However, Boch pointed out: "We don't think that there would be a lot more visitors. Nevertheless, we believe that the flow of visitors would be distributed more evenly, and we could take care of our visitors in a better way. Nevertheless, Techtextil should remain as it is, and should not to mutate into a textile machinery show and compete with ITMA."
One question remains: How is it possible for a visitor to attend an additional program of 66 lectures on top of two fairs? To solve this problem, the organizers must find of solution. Many people declared that it was just not possible to attend any lectures in such a short time.
The next Techtextil Frankfurt is scheduled to take place May 5-7, 2015; and Texprocess, May 4-7, 2015.
July 9, 2013