Oerlikon Neumag Offers Meltblown System Plug & Produce-Solution
Oerlikon Neumag — Germany-based Oerlikon Manmade Fibers' brand offering nonwovens, bulked continuous filament carpet yarn and manmade fiber production technologies — now offers meltblown systems as Plug & Produce-Solutions for insertion in existing and new spunbond-meltblown-spunbond (SMS) plants.

An American nonwovens manufacturer has commissioned two of the new solutions, each comprising a 3.2-meter-wide spinning beam, in a new SMMS line that will produce hygiene and medical products that have two meltblown layers. The beams can produce up to 4,000 tons of polypropylene meltblown nonwovens per year. The meltblown web provides a breathable barrier within the finished nonwovens. Oerlikon Neumag reports that another similar upgraded system has started up as well.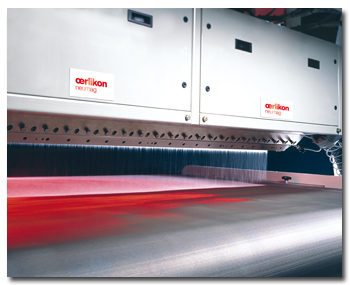 Oerlikon Neumag offers a Plug & Produce-Solution for meltblown technology.


According to Oerlikon Neumag, nonwovens producers using the new technology may adjust nonwoven characteristics to suit market requirement. "Our solution enables a cost-efficient upgrading of new or existing spunbond systems hence offering the nonwoven producers the benefit of access to markets with particularly high quality standards," said Ed McNally, sales director nonwovens, Oerlikon Neumag.
July 23, 2013
Advertisement