Colombiatex De Las Américas Marks 25 Years With 2013 Show
The 25th edition of Colombiatex de las Américas — an annual trade show produced and organized by the Institute for Export and Fashion (Inexmoda), Medellín, Colombia — was held Jan. 22-24, 2013, at Plaza Mayor in Medellín. The exhibition, which is focused on fashion systems and apparel production including technology, materials and machinery, also included a program of 22 related educational seminars and presentations held at Plaza Mayor's Knowledge Pavilion.

The exhibition was officially installed by Colombia's President, Juan Manuel Santos Calderón. Santos presented the Order of Merit in the category of Industrial Grand Officer to Inexmoda to honor the institute's contributions in promoting and strengthening Colombia's fashion system and its success in making Colombiatex and its sister show, Colombiamoda — held annually in July to present finished apparel, among the most important textile trade fairs in Latin America. Inexmoda President Carlos Eduardo Botero Hoyos accepted the award on behalf of the institute.

Botero, in turn, challenged all those involved in Colombia's apparel and textile industry to look forward to the next 25 years. He also recognized the European Union, Colombia's newest free trade partner, which was the designated guest of honor at Colombiatex 2013. In addition, Botero acknowledged the 60 founders of Inexmoda and presented awards to members of the institute's first Board of Directors — including Guillermo Valencia Jaramillo, Carlos Vargas González, Gonzalo Restrepo López, Álvaro Lafuarie Restrepo, Alejandro Ceballos Zuluaga and Alberto Uribe Maya — as well as to Inexmoda's former Executive Director, Roque Ospina Duque, who served from 1987 to 2008.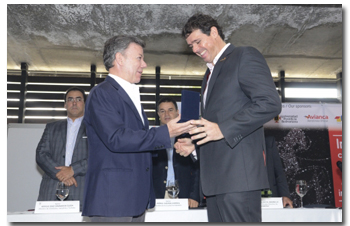 Colombian President Juan Manuel Santos Calderón (left) presents the Order of Merit in the category of Industrial Grand Officer to Inexmoda President Carlos Eduardo Botero Hoyos, who accepts the award on behalf of the institute.
Organizers reported that Colombiatex 2013 generated US$152.5 million in negotiated sales, representing a 26-percent increase over the $120.5 million generated in 2012. The show attracted 475 exhibitors to fill 9,900 square meters (m2) of exhibition space — 14 percent more exhibitors and 19 percent more floor space than at Colombiatex 2012, when 416 exhibitors showed their products and services in 8,300 m2 of floor space. It also exceeded expectations in terms of visitor numbers, with 32,429 people attending - an increase of 2.75 percent over the 2012 total. Visitors included 1,699 international buyers from more than 40 countries worldwide, many of whom attended with support from Proexport Colombia, an agency that promotes exports, foreign investment and tourism in Colombia. In addition, the programs at the Knowledge Pavilion were attended by 15,600 people, and 11,700 people from 22 countries accessed the programs online.

January 29, 2013
Advertisement