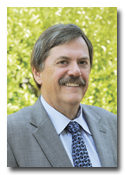 The Rupp Report: Savio: Commitment To The Markets
Jürg Rupp, Executive Editor
In the past decade, a big trend started to turn the European textile machinery industry upside down. It was probably Hong Kong-based Fong's Industries that started this rally when it acquired Switzerland-based Xorella and the Germany-based Then and Goller brands. Then, so-called private Chinese companies started to acquire many European textile machinery manufacturers. One of the remaining companies in Italy is Savio Macchine Tessili S.p.A. in Pordenone, not far away from Venice.

Many Owners …
Savio has a very lively history relative to its owners and acquisitions: In 1911 Marcello Savio opened a small workshop for repairing textile machinery, mainly looms. Over the decades, Savio became one of the leading players in the yarn finishing machinery sector. The company today has a global presence as a manufacturer and marketer of automatic winders, continuous shrinkage and bulking winders, two-for-one twisters, and rotor spinning frames; and has manufacturing plants in Italy, China and India. A short look back shows a lively past with different owners of the company:

In 1976, Savio was acquired by Italy-based Eni, a multinational oil and gas conglomerate. In 1993, Eni sold Savio to a private group of investors and managers, under whose management the company consolidated its market position. In that year, Savio also established its first manufacturing joint ventures in China and India. However, in 1998, the company was acquired by the Radici Group for a certain period of time. In 2001, Miro Radici established the Itema Group, an industrial holding company that included different brands in the textile machinery sector under one roof, and Savio became a member of the group. The current owner of the company is private equity fund Alpha, which in 2011 acquired 100 percent of Savio and its controlled units from Itema Group.

… And Different Brands
To round out its portfolio, Savio acquired in 2008 the Belgium-based Barco Vision Group, including Switzerland-based Loepfe Brothers Ltd., Belgium-based BMSvision, Germany-based Sedo Treepoint and Italy-based Eutron S.p.A. And finally, this year, on February 26, Savio took over the controlling interest in Mesdan S.p.A. With ITMA 2015 in Milan in view, and the changing business environment in mind, the Rupp Report talked to Paulo Puntoni, Savio's marketing director, during a recent visit in Pordenone.

Advertisement
Automatic Doffing On Ring Frames
Today, most modern spinning mills have ring spinning frames equipped with automatic doffing. That, at least, is the general opinion of many people in the industry. "However," Puntoni said, " one has to bear in mind that automatic spinning doesn't mean automatic doffing in every case. In China, for example, the situation is different: To get rid of the bad quality image, China started to retrofit many old spinning mills and moved towards automatic doffing. In the beginning of the ' Chinese revolution in textiles,' more than 90 percent of all spinning mills had only manual doffing. Today, the ratio is around 50:50."
This fact is very important for companies like Savio, because the winding process with machines equipped with the automatic cop feed must be executed in a different way. Savio's new Polar/E Premium model has been designed particularly with the purpose of getting the higher winding process efficiency even in presence of those badly shaped bobbins. Among the newly developed devices, it's worth mentioning the back-up station. "The back-up station is quite successful in the markets," Puntoni added. "With this special end finder station, efficiency can be increased by 2 to 3 percent because of the slow moving speed, and it can remove a faulty yarn portion. Of course, on top of that, the quality of the yarn is much better, and the rejected bobbins — such as badly shaped bobbins, bobbins with yarn remnants — or, in general, bobbins with off-standard-quality yarn values — can be reintegrated into the production process. The diverse and specific movements are possible thanks to the identification system embedded on the machine and peg. The station is also user-friendly, because no intervention is required from personnel."
Market Situation
In spite of all the U.S.-American industry success stories lately, Puntoni sees the market situation as not being consistent. He mentioned that 99.5 percent of all sales are exported. At the moment, China, Turkey, Indonesia, Bangladesh, Pakistan and India are the most important export countries. "And nobody knows where we're going; also, the technology upgradation funds in India to further develop the domestic textile industry will be reduced," he added.
In spite of the obvious advantages in automatic winders, 70 percent of all winders are still manual. Puntoni expects that this ratio will change in 2014 to 50:50.
Market Position
Rupp Report: Savio, together with its sister companies, is one of the major players in the global spinning industry. There are a lot of competitors these days. So, why should one buy your products, Mr. Puntoni?
Puntoni
: Well, for years, we have been not only at the top of quality but also the volume leader, and I suppose our customers can judge a competitive machine. In addition, the policy to be close to customers is shown with our China and India plants and service network spread worldwide, in order to give prompt and reliable assistance to any customer. This whole market presence enables Savio to collect and detect the requirements and needs of our customers.
A Look Into The Crystal Ball
RR: What is Savio expecting from 2014?
Puntoni
: We think next year will be similar to 2013. The markets are very volatile; we have ups and downs, but as long there is a spinning industry, we will be at the forefront of the suppliers.
RR: And what do you expect from ITMA Asia + CITME 2014?
Puntoni
: You know, we go without great expectations and hope that the event will have more visitors from other countries than just China.
According to Puntoni, it seems that Savio doesn't have the same problems as many other exhibitors do with the Chinese organizers. The ongoing discussion about the location of ITMA Asia remains, and the question is obvious: Should ITMA Asia stay in China or go elsewhere? Puntoni's answer is very short: "I think it should stay where it is."
RR: If you compare your customers' market requirements today and those of some five years ago, what are the biggest differences, and why?
Puntoni
: For our sector, the answer is very clear: it's about automation. Years ago, almost everybody neglected to have it. Today, it starts to become a global trend.
Commitment To Service
For Puntoni, service is the key factor to success: "We have a very strong back-up service for our customers with high significance," he said.
RR: How important is the acquisition of Mesdan for Savio?
Puntoni
: Very important. With this acquisition, Savio integrates into its group a company leader in the field of devices for yarn joining and testing instruments for textile laboratories. The acquisition represents a further step on the path to develop a group focused on high technology and excellent solutions. We are convinced that Mesdan has reached a leading position in the production of yarn splicing devices thanks to the development and ownership of several patents in the field of air and water joint technology. However, Mesdan will retain all of its autonomy in the markets and with its customers, in line with Savio Group's philosophy.
RR: You are no doubt one of the leaders in your segment. What do you intend to do to keep this position in the market?
Puntoni
: Carry on in the same way like we do today!"
December 3, 2013